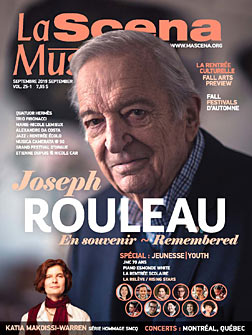 This page is also available in / Cette page est également disponible en:

Francais (French)
Meet opera's new power couple: Canadian baritone Etienne Dupuis and Australian soprano Nicole Car. Four years ago, they met at rehearsals for a Deutsche Oper Berlin production of Tchaikovsky's Eugene Onegin. The run led to a whirlwind long-distance romance, marriage and a 2-year-old son, Noah. These days they sing on the same stage more often than apart. In September they pair up in Place des Arts for the Opéra de Montréal, once again in Eugene Onegin.
The Walk
At the time of their meeting, Dupuis was doing double duty at the Deutsche Oper, making his debut as Rodrigo in Verdi's Don Carlo at night while rehearsing Onegin by day. His Rodrigo was a triumph; Car told Opéra magazine that "he did not lack an ego." What followed seemed right out of the film Before Sunrise. "I enjoyed spending time with her in rehearsal but didn't think more of it," said Dupuis. "Then she came to me and asked me to show her around Berlin. The next day was May 1 and all of Germany was closed. We started at Friedrichstraße station near the Palace of Tears, and since everything was closed, we just walked and talked."
Car enjoyed the walking and the talking. "We realized we had a lot in common," she said. "We were working together for the next month or so. We realized that by the end of Onegin that there was something quite special between us, but I was heading back to Australia for a couple of months and Etienne was heading to Glyndebourne. We had to make the decision then that we would try to find each other again. I came to Marseille when he was singing there in September before I went to London. We just kind of made it work from there, contract to contract, working when we could see each other and not spending too much time apart."
Since their marriage and the birth of Noah, the couple have indeed made it work, setting up housekeeping in Paris. They've been helped by opera companies around the world that cast them in the same operas, including a recent La Bohème at the Met and a Don Giovanni at the Opéra de Paris. Coming up are Don Carlo at the Opéra Bastille and Massenet's Thaïs at the Deutsche Oper. "We've been very lucky," Dupuis said.
Eugene Onegin
The Opéra de Montréal engagement came about initially at the suggestion of Dupuis. "During Les Feluettes in 2016, I discussed Onegin with [OdM artistic director] Michel Beaulac, and told my agent to hold this schedule slot for it," Dupuis said. He identifies with the moody title character created by Alexander Pushkin. "I normally struggle with being a bad guy, but I used to be like him. He is young, and when you are young you think you know everything. He's wrong, of course. But he feels he has nothing to learn, so basically, he's a guy who stops living. He lives in the country and is bored all the time. The second after he kills [his friend]Lensky, he comes back a changed man, more mature, a bit more humble, but not much. My favourite thing is this: when he sees Tatiana again, the Hollywood ending would have [them reunite], but not Pushkin and Tchaikovsky. Onegin doesn't get what he wants. It's Russian tragedy."
Car has sung Tatania widely, even with Dmitri Hvorostovsky in the late Russian baritone's last production in London. "I think I relate to her," she says. "As you grow older you relate differently to characters as well. Now I understand her choices. Why does Tatiana do that? Why doesn't she go back to Onegin? Now I really understand the feelings she has toward [her husband Prince]Gremin and how Onegin has treated her.
"In terms of the vocal challenges, it's just that she sings a lot. Her Letter Scene is very big and long at about 13 or 14 minutes. But what we do afterwards, it's very comfortable for my voice and I was able to sing it with Etienne as well. Tchaikovsky was smart. Nothing sits too high for too long. It sits in a very nice part of my voice, and as well there are these little breaks, orchestral breaks every now and then, every four minutes or so. There's a really beautiful page or two of orchestral music where she's reflecting, or she's finishing writing the letter, or she's excited. We hear it in the winds, we hear it in the orchestra. The trick is taking advantage of those moments to make sure you are breathing.
"I have to admit, though, I don't really think about this so much anymore. The part is so much in my body, and I've done it so often, that it's very much in the muscle memory. Probably the hardest part of the role now would be the final duet with Onegin, especially when I sing it with Etienne, because it's so charged, there is so much emotion in it. But I've had the opportunity to sing it a lot, and to sing it with some great performers. You learn a lot from the people you work with, from conductors. I'm excited to bring it to Montreal. It's like my baptism, right?"
For Car, Tatiana's decision not to accept the overtures of Onegin is entirely realistic. "I understand why she chooses to stay with Gremin, why she's made that decision," the soprano says. "She has – a 'comfortable life' is not the right way to say it. But she doesn't want the heartache that would come with loving a man like Onegin anymore. Every girl falls for a guy sometime in her teenage years. You know if the 'bad boy' comes back, you would have a nice weekend. But that would be about it. I think there are a lot of people today who would make exactly the same choice."
Vocal Maturity
Vocally, both 33-year-old Car and 40-year-old Dupuis are in their prime. "It's more of the same, a bit larger and a bit louder, with age," the baritone says of his instrument. "I have better low notes, while the high notes are the same. The range is a bit more resonant. Like mature wine. It has a bit more oomph and metal."
Dupuis remembers clearly his vocal breakthrough. "When I was 24 and in the Atelier lyrique, I was struggling. [Vocal coach and OdM chorus master] Claude Webster told me to sing with more metal, but I didn't initially understand. Then one day on tour in Lamèque, I hit a note and felt a buzz. I asked him, 'Is that the sound you are looking for?' He said, 'That's a great sound.' My first reaction was, that's so ugly, I'm hearing buzz and metal. But the audience finds it velvety. That's how it works. If it's beautiful for you, it's not necessarily beautiful for someone else." Dupuis has started to teach and finds he gets good results by explaining this principle to advanced students.
Car, on the other hand, seems to have had a natural technique from the start. "I had a really fantastic singing teacher here in Australia," she says. "I was very fortunate in that things fell into place for me at a very young age vocally. I won a major competition here at 21, which gave me the means to do some study overseas. [Opera Australia] changed artistic direction when I was 23 and the artistic director liked me very much. He brought me into the young artists' program. So much in a career is timing and luck.
"I had two very big moments. One was winning the 2013 Neue Stimmen International Singing Competition, and the other one was having [Danish director] Kasper Holten direct my first Onegin. That opened doors to Covent Garden, Paris and the Met, and everywhere else we're singing."
Car believes that the female voice continues to evolve, at least to age 45. She felt a change after the birth of Noah. "You have so many hormones pumping through your body. I think my tone darkened just a bit and got a bit richer, but realistically it's all got to do with stamina. Once you give birth to a child, you can breathe. Nothing is scary after that!"
The change is not only physical. "I think that having a child enables you to have less fear and explore more of what you may be capable of doing. You are less afraid of making mistakes. You are more comfortable with yourself as a person, so you can explore more of yourself as a vocalist."
As international performers, Car and Dupuis are booked for the next four or five years. "We have a lot of great Verdi role debuts, which I'm really excited about," Car says. "And some Czech, and a bit more Russian. But in the next 10 years I'd really like to start looking at doing more Puccini. I've done a million Mimis and would happily do more, but things like Liù in Turandot and, in 10 years, coming into Tosca and Butterfly, would be great. But I think for now, Verdi sits well in my voice. It's written so beautifully. I'd love to do some Otellos and Trovatores. That kind of opera really excites me.
Singing Together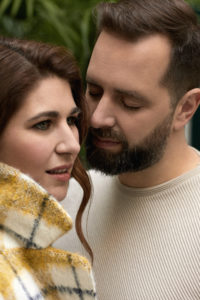 "Etienne's voice is heading into that Verdi repertoire as well," Car adds. "It gets bigger and more beautiful. There's a lot of Verdian repertoire that we'll get to do together. I'd love to convince him to sing Scarpia if I'm singing Tosca. We just like singing together."
As for Dupuis, he can't think of a better partner on stage. "It's extremely useful," he says of their relationship. "It makes us better performers. I hope every singer can have someone they can trust, even just sitting in the audience. The bottom line is more fun, more instant chemistry on stage. I'm comfortable all the time with Nicole. We can talk about things easily, which is not something you can do with people you have just met. She's the ideal person to be on stage with."
Favourite Art Songs

Nicole Car: "September" from Strauss's Four Last Songs. "It's so beautiful, one day I would love to sing it when I am ready."
Etienne Dupuis: "Whither Must I Wander" from Vaughan Williams's Songs of Travel. "It's stuck in my head."

Etienne Dupuis and Nicole Car in 2019-20
This page is also available in / Cette page est également disponible en:

Francais (French)