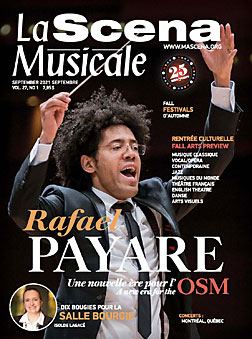 This page is also available in / Cette page est également disponible en:

Francais (French)
Welcome to the eighth issue of La Scena Musicale published in the midst of the continuing pandemic. This is not the way we imagined the start of our 26th season, but we are used to adapting to changing times.
After a lull over the summer, COVID-19 is rising again in Canada in a fourth wave driven by the Delta variant, especially among the unvaccinated. Over the summer, we encouraged our readers to get vaccinated. This is now more urgent as Canada's largest provinces, starting with Quebec, Manitoba, British Columbia and Ontario, have introduced a vaccine passport as a requirement to attend concerts and restaurants. We look at the Quebec model and hope that this tool and the continuing adoption of vaccination will be the pathway to the full return of the arts in Canada. Our COVID-19 update also includes a look at how things are going in the rest of the world.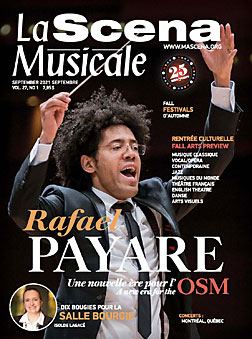 While there is still uncertainty in the arts, many organizations are forging ahead for the 2021-22 season. Our annual Fall Arts Preview covers Music (Vocal/Opera, Orchestra/Chamber/Solo, Contemporary, World Music), Dance, English and French Theatre and Visual Arts, including the LMMC, Orchestre Classique, SMCQ, OSM, OM and Bourgie Hall, which will be celebrating its 10th anniversary. Their intrepid leader Isolde Lagacé was active at the start of the pandemic ensuring that the venue was ready for performances in person or online. We present a special 11-page special section on Bourgie Hall with interviews, profiles and testimonials.
The Montreal Symphony Orchestra is also forging ahead with the first season with its new music director Rafael Payare at the helm. We meet him in our cover profile.
This issue was produced in the midst of a federal election, and as normal, we look at the arts policies of the major parties and the needs of the arts community.
Our events calendar and our Fall Festival Guide list both live and digital concerts, in keeping with the state of the arts in the fall of 2021. As always we offer reviews of interesting recordings. Happily, this industry has persevered in the face of the pandemic.
25 years
This September issue is the first of six (down from the usual seven before the pandemic) planned for our 2021-22 season (three in the fall, including October and November/December*, and three in the winter and summer, including February/March*, April/May and June/July/August*). Three will be regional bilingual issues while three will be national issues (as noted above with *) with separate English and French editions. Our February/March 2022 issue is slated to be a special on the Relaunch of the Arts.
During the pandemic, we kept active with innovative projects such as the Corona Serenades, Corona Serenade Streaming Concerts, La Scena Tête-à-Tête, regular updates on COVID-19 and the arts and our regular news updates on our website. As a small dedicated team, we take pride in our ability to curate news and articles for our readers (consumers, artists and organizations). And we will continue this formula going forward including advice for musicians and students.
In the past, we have celebrated our major anniversaries (5th, 10th and 20th) with fundraising galas. Our Fifth Anniversary Gala with the theme Reader's Choice held on Sept. 12, 2001 was the first concert dedicated to the victims of 9/11. I can remember contralto Marie-Nicole Lemieux and pianist Yannick Nézet-Séguin opening with Henri Duparc's L'Invitation au voyage in a sombre yet moving mood.
Our 10th Anniversary Gala theme was Best of Montreal, and our 20th was Rising Stars. Alas, the pandemic made an in-person event for our 25th anniversary celebrations impossible, but we are looking at other ways to mark our milestone. Stay tuned.
Subscription and Donation Drive
The pandemic has its consequences for publishing. Although we were able to bring back most of our staff through the Canada Emergency Wage Subsidy, this resource expires in October, when the subsidy decreases from 75% to 20%. Since our annual budget depends largely on advertising revenues (about 70% of which are related to concerts), we saw a decrease in advertising of 88% in spring and summer of 2020 and 50% in 2020-21. We hope you will consider supporting our magazine through a donation and/or join our fundraising committe by contacting us at [email protected]
Because of the pandemic, we have changed from street distribution to home delivery. Many of you are holding a free sample issue. We hope we have sparked your interest with our passionate team of writers and editors. To make sure you continue to ­receive the magazine at home, please become a subscriber or give a subscription to someone special. It makes an ideal gift for parents or an artist.
As always, La Scena Musicale maintains a vigorous presence on Facebook, Twitter and Instagram. The website offers new resources almost daily. Pandemic or no pandemic, the arts will thrive. As will La Scena Musicale.
Have a great musical and artistic 2021-22 season!
This page is also available in / Cette page est également disponible en:

Francais (French)