Advertisement / Publicité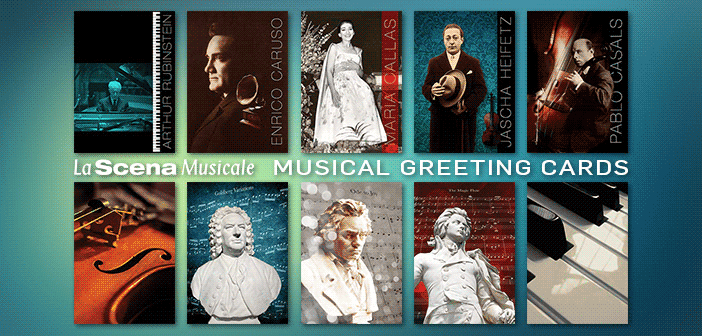 This page is also available in / Cette page est également disponible en:

Francais (French)
The name Airat Ichmouratov has been a regular in La Scena ­Musicale's calendar. I first heard of the Russian-Canadian clarinettist as a prodigy of late I Musici founder Yuli Turovsky, then as a conductor and now more commonly as a composer. A search in our calendar database turned up 44 concerts between 2008 and 2016. What better way to celebrate Canada 150, Montreal 375 and Longueil 360 than with this triple talent on the cover of our September issue. Ichmouratov premieres his First Symphony with the Longueil Symphony Orchestra to mark the occasion.
Ichmouratov's compelling story illustrates La Scena Musicale's own trajectory. Now starting our 22nd season, La Scena Musicale has always been the go-to resource for the Arts in Montreal, Quebec and Canada, establishing ourselves as Quebec's #1 Arts Magazine and one of Canada's most respected Arts publications. With the vast amount of information on the Internet, we've always prided ourselves as a magazine of innovative content, curating original stories and news for the benefit of our readers and the artistic community we serve.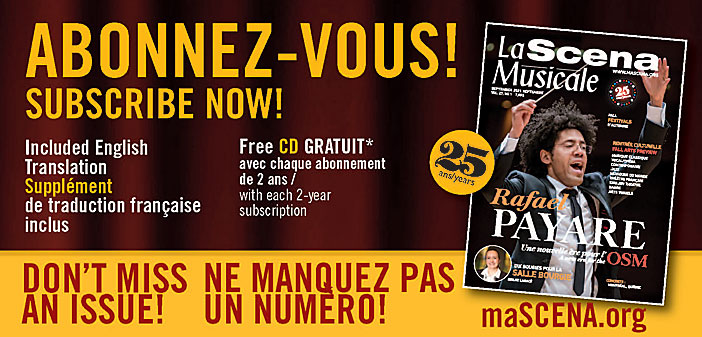 A new season always brings new ideas and direction, and we begin 2017–18 with renewed vigour, more content, longer essays, and eventually, more colour. La Scena has always been a place of quality crafted for the expert to the beginner.
This September issue gives a good view of our scope. When a composer dies, one normally asks, what enduring works will we remember? Thus we asked Vincent Ranallo to tell us the three enduring works of the late Gilles Tremblay, who passed away at the end of July. Also on great compositions, Kiersten van Vliet talks to pianist Alain Lefèvre about his new recording of André Mathieu's Concerto de Québec.
Music is about passion and the emotion it stirs. We begin a new column La Mélomane/The Music Lover, wherein Denis Robert tells us about his love of the great soprano Magda Olivero. Robert Lewis writes an essay about Jazz Improvisation. New contributor tenor Adrian Rodriguez writes about Vocal Health, Pierre Chénier looks at his favourite Canadian tenors of all time, and our La SCENA Arts Feature is Rebecca Clark's analysis of Anne, the new TV adaptation of Anne of Green Gables.
The rest of the magazine includes our Back to School and Fall Preview sections that guide readers to the coming arts season in classical music, jazz, theatre, dance and visual arts, including a look at New Opera Creations and what Canadian musicians are doing abroad. Our Fall Festival Guide rounds up our look ahead.
This season, with seven issues (five bilingual local issues and two national issues with separate language editions) and one annual Arts Resource Guide, we aim to create and curate more content than in the past, in both our print magazine and website at mySCENA.org. We also hope to begin our own La Scena Podcast. Our print magazine will focus on feature articles and long-form essays, while our website will publish more timely concert and product reviews. Would you like to contribute an essay or review concerts? Please contact us at [email protected]
mySCENA.org
Last fall, we launched our new web platform mySCENA.org to replace our award-winning website SCENA.org, which we launched 21 years ago as the first arts magazine to be offered completely free on the Internet. Our goal was to provide visitors with curated news and reviews in classical music as well as the other arts.
Importantly, events can now be submitted directly online to our Calendar of Events, and the flexible system now accommodates all arts events.
New
We have added the capability for organizations to submit their own press releases, to post job announcements, to create a profile, and to include a download of their season brochure. During our beta trial, these features remain free until December 31.
Moreover, the mySCENA platform allows users to customize their profiles so that they may receive the news and events that most interest them at their customized home page. Stay tuned for more features as they become available to the public.
Subscription Drive
It's no secret that the media landscape is changing due to rising popularity of the web. Advertising budgets are shifting, and this impacts negatively our advertising receipts, which have traditionally accounted for 80% of La Scena's revenues. We hope that our moves to present more quality content will win your support in the form of a subscription or donation. See the sidebar for all of our fundraising opportunities.
Have a great fall, full of music and the arts. Viva!
—Wah Keung Chan
This page is also available in / Cette page est également disponible en:

Francais (French)