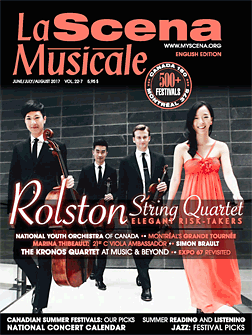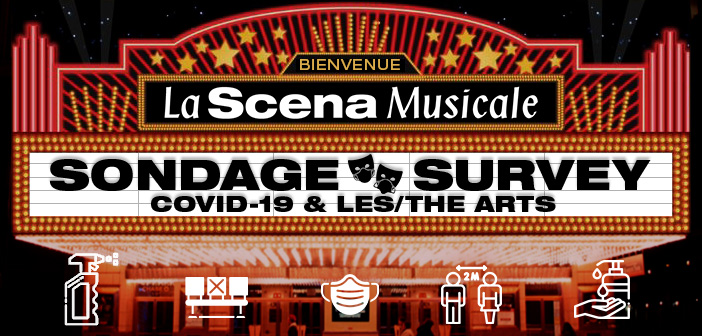 This page is also available in / Cette page est également disponible en:

Francais (French)
2017 is a big year for Canada and for Montreal, and for La Scena Musicale magazine too! That's why our 21st annual national Summer Festival Guide is all colour, glossy and in a bigger 3-column format with its own cover. The Guide is a supplement to  this June-July-August issue of La Scena, which came out on June 2, 2017 in separate English and French editions, doubling our normal distribution from 25,000 to 50,000 copies. This is Canada's largest directory of summer arts and music festivals – classical music, jazz, world, folk, country, pop and rock music, theatre, dance, film, visual arts and competitions. Last year we listed over 400 festivals, and this year, we have over 500, proving that Canada is indeed the land of festivals. Ontario leads the way with 194 while Quebec is second with 117. Our writers highlight the most exciting events and tell you about any important changes to the established festivals.
Canada 150
This issue continues our celebration of Canada 150 with a nod to youth. The Rolston String Quartet (winner of last fall's Banff International String Quartet Competition) graces the cover of the English Edition, while violist ­Marina Thibeault (Radio-Canada's Révelation prize) is on the French cover. The National Youth Orchestra, cover feature for our English Festival Guide, are about to embark on a ­national tour with the theme of reconciliation. On the same theme we interview indigenous composer Barbara Croall on the new commission Wiikondiwin, which will premiere in ­August at the Highlands Opera Studio. We also talk to Simon Brault, who is renewing the Canada Council for the Arts on the occasion of the organization's 60th anniversary.
Montreal 375
As Montreal also celebrates its 375th this year, we highlight the Grand Tournée on the cover of the French Festival Guide cover. Marc ­Chénard revisits Expo 67, illustrating how both Montreal and Canada have changed. Visit ­www.mySCENA.org to find out more about the Canada 150 and Montreal 375 celebrations in our 150/375 tab.
National Calendar and mySCENA.org
For the second time in our history, we present a national print calendar, containing 600 classical music concert listings from coast to coast to coast. Due to space limitations, all listings are in summary form. We invite readers to visit our new website, www.mySCENA.org, to see complete details in both English and French.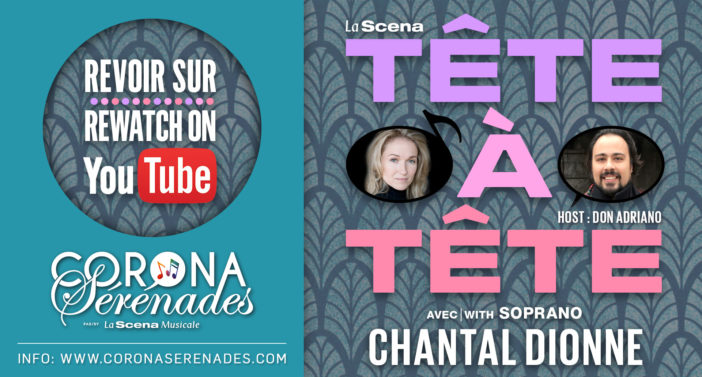 For the past 11 months, we've been ­migrating our previous site (www.SCENA.org) to www.mySCENA.org thanks to funding from the Canada Periodical Fund. Although it remains a work in progress, our calendar software is ready to take on music events from across Canada, other arts events, and even international events. Thanks to funding from Young Canada Works and Canada Summer Jobs, our web programming interns will add more features and tools this summer. We invite both arts organizations and arts consumers to visit our site for the latest news and informational tools.
Michel Buruiana
Last February, one of La Scena Musicale's long-time ambassadors and advisors, Michel Buruiana, passed away suddenly from cardiac arrest. I had had lunch with Michel two weeks before, and he had again been generously full of suggestions for articles on some of Canada's great artists. Over the years, Michel had a great influence on the development of the La Scena arts magazine. It was his suggestion to publish separate English and French editions to improve our reach as a national magazine. As an artist and philanthropist, Michel understood the power of La Scena Musicale to promote the arts. He himself had lived the challenges of an arts magazine when he helped turn around 24 ­Images and Séquences with his long multipage interviews. I am proud to call him my friend. Thank you, Michel. You can read more about him here.
Mécénat Placements Culture
As we go to press, La Scena received a letter from Culture minister Luc Fortin approving our application for the second envelope of the Quebec Culture Ministry's Mécénat Placements Culture grant. This will give our charitable organization $16,800 a year for the next three years, representing about 5% of our annual budget. This is the third grant La Scena has received from Mecenat Placements Culture; the first two in 2010 and 2013 went towards our 10-year endowment fund at the Fondation du Grand Montréal. The new component allows the money to go directly into our operations, helping us pay our staff and freelancers. Our application had been on a waiting list for almost a year; we are grateful to the Quebec government for providing funds in its recent budget to clear the waiting list.
To be eligible for a larger grant in the next three-year cycle, we need to increase our fundraising over the next two years. By our calculations, each dollar donated now will add about 25 cents to any future grant. To stimulate our summer fundraising, LSM board member Sandro Scola has offered to match all donations received by July 31, 2017 up to $10,000.
Regular readers of La Scena may have noticed that this 80-page issue, as well as the previous one, contains more pages and more colour pages than last year's editions. We have already received much positive feedback on the April/May issue. This is a conscious ­decision to present the magazine as we always ­envisioned it, to tell rich stories about musicians and artists. Do join us in this vision – yours, mine, Michel's – by buying a subscription or making a donation.
Have a great summer full of arts and celebration. The stage is yours.
—Wah Keung Chan
Founding Editor
This page is also available in / Cette page est également disponible en:

Francais (French)