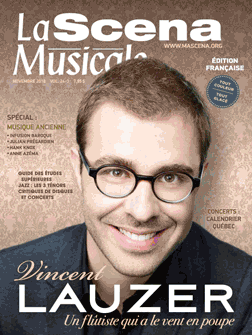 November is La Scena Musicale's month for Higher Education and our 19th annual Higher Education Guide. We take the occasion to salute the 100th anniversary of the University of Toronto's Faculty of Music, Canada's largest music school. At the other end of the spectrum, the University of Sherbrooke's music school celebrates its 25th anniversary fresh from new installations and new programs.
The Baroque music scene is buzzing in Montreal and the rest of Canada. Baroque music groups have been popping up all over the last few years, but this scene remains fragile, requiring a growing audience and financial support from the various levels of government to maintain excellence. That's why we dedicate a special issue to Baroque music (coordinated by Benjamin Goron), where we return to the specificity of its aesthetics, its musical language and its history, while giving the floor to the artists who make live this scene. Artists, but also artisans, like the harpsichord maker Yves Beaupré, who shares his passion for period instruments.
We have decided to also shine a light on the young generation of Baroque musicians: the English cover features Infusion Baroque and the French cover is recorder virtuoso Vincent Lauzer. While the beginning of the Montreal Bach Festival is approaching, read the interview with the conductor and singer Julian Prégardien who will star in several concerts at the festival. Baroque music education being essential to the survival of this scene, we also visit with harpsichordist Hank Knox. Finally, we also look at medieval and Renaissance music.
Montreal is a capital of circus! La SCENA arts magazine continues in the French edition of the November issue to celebrate the 25th anniversary of Cirque Éloize and introduces you to the main artisans of an effervescent, fraternal and generous environment. Get acquainted with the mission of the TOHU and that of the Festival Complètement Cirque; discover the organization of humanitarian artists Clowns Without Borders and the Centre recherche en art clownesque. The circus special (coordinated by Nathalie de Han) wouldn't be complete without shinning a light on the National Circus School and the Cirque du Soleil, which will soon remount Alegría, the success that made it known around the world.
Check out our regular features – music coverage, CD reviews, jazz column, regional calendar, concerts picks, along with our concert reviews.
Next Great Art Song
Last month, we participated for the first time in the Aviva Community Fund, which gives projects with the most votes up to $100,000. Thanks to all of you who voted between Sept. 25 and Oct. 4 for our idea, Canada's Next Great Art Song Project, in which the winning song will be determined by public vote. The official results will be announced on Nov. 25, and whether we receive the Aviva funding, we would still like to move forward with the idea, so any donation and sponsorship would be welcomed.
In the meantime, we are asking you our readers to vote for their favourite art songs in our Great Art Song Challenge at www.nextgreatartsong.com. We will soon be posting some of the choices on our website.
Subscription and Donation Campaign
It was last November when we upgraded the magazine to all-colour, all-glossy and at the same time increased our content. So far, we have received overwhelming encouragement from both readers and advertisers. In the spring, we were buoyed by a Special Projects grant from the Canada Council to fund three issues (February/March, April/May and June/July/August). Unfortunately, special project grants are competitive and there are no guarantees for renewal, and our applications for the fall issues were not successful.
Last year, subscriptions and donations accounted for 20% of our revenues and we hope that our efforts to present more quality content will win your continuing support in the form of a subscription or donation (see page 5).
Did you know that 95% of our content is fully translated, making La Scena the ONLY bilingual arts media in Canada. If you subscribe, you receive each issue by mail (we also have an option for weekend Montreal home delivery) with supplementary translations in your preferred language. Furthermore, every two-year subscription comes with a free commercial CD (including Infusion Baroque's new CD). A subscription will also be a great holiday gift for music students and fans (especially parents and grandparents).
LSM Boutique
Thanks to our partners we have acquired tickets to select music, dance and theatre performances, including those of the Montreal Opera, Danse Danse, Centaur, Cirque Éloize, TNM and Salute to Vienna. We sell these tickets to raise funds; LSM subscribers get a 15% discount. Look up the details at www.lascena.org or sign up for our e-newsletter at ­enews@lascena.org.
Have a great November full of music and the arts!