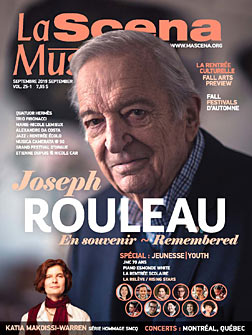 This page is also available in / Cette page est également disponible en:

Francais (French)
Joseph Rouleau
On July 12, the Canadian music community was saddened by the passing of bass Joseph Rouleau at the age of 90. International opera singer, educator and builder, Joseph touched fans and deeply affected musicians and arts organizations. He is the last of a group of Canadian musicians who made careers internationally in the 1950s and 1960s and then returned home to help build the infrastructure of today's musical institutions. The Opera de Montréal, Opéra de Québec, the Orchestre Métropolitain and the Concours musical international de Montréal are some of institutions he played a role in founding. He also was instrumental in convincing newspaper baron Pierre Péladeau to give $1 million to build the Centre Pierre-Péladeau, a success that propelled Joseph to great heights, as Richard Lupien, chairman of the Jeunesses Musicales Canada Foundation, told the crowd that packed St. Viateur Church for Joseph's funeral. Joseph rescued the Jeunesses Musicales du Canada (JMC) in the late 1980s, which led to his partnership with the late André Bourbeau and the creation of the CMIM.
Joseph was always supportive of La Scena Musicale. He was the guest of honour at our first Benefit Dinner on Valentine's Day of 2002. "A very lively Joseph Rouleau charmed the audience by declaiming several poems set to music, dedicating the last to his better half (Renée)," wrote the late Lucie Renaud in our March 2002 issue. Ever the romantic, Joseph appeared again at our 2007 Valentine's Dinner. After this he was a regular subscriber, donor, LSM Ambassador and member of our Advisory Committee. While he was best known for giving opportunities to young singers and musicians, Joseph also realized the importance of La Scena Musicale in telling the stories of musicians to the public.
More recently, Joseph seemed to get a kick out of his role as a "professional beggar." It came as no surprise when Lupien revealed that he was still working the phone from his hospital bed, selling tickets to the JMC's next golf tournament. He will be greatly missed.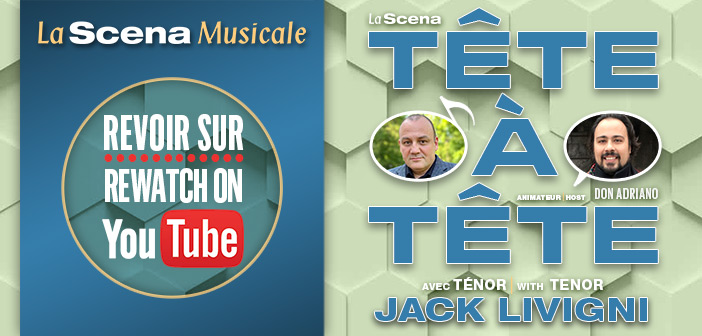 This issue is dedicated to Joseph's memory, with reprints of articles and interviews published in La Scena and comments from the community. We also look at the 70th anniversary of the JMC; we recall how Gilles Lefebvre founded the JMC after hearing Joseph sing as a way to help his career. To round off the theme of youth, we publish our annual Rising Stars profiles, and start a new section on Back to School in the arts.
La Rentrée
The issue includes our Fall Preview sections, which guide readers through the coming season in opera, orchestral and chamber music, Baroque, contemporary music, world music, youth concerts, jazz, English and French theatre and dance. Our Fall Festival Guide rounds up our look ahead.
2019-20 Season
This season, our 24th publishing year, consists of seven issues of La Scena Musicale (four bilingual and three national editions) and the 11th annual La Scena Arts Resource Guide. Each issue will have a different musical theme; five will also be paired with the La SCENA arts magazine with special arts themes (see list below).
September
Theme: Youth
October
Theme: Chamber Music, Theatre
November
National Edition, separate English and French editions; Theme: Opera and Choir, Visual Arts
December/January
Theme: Recording Industry, Dance
February/March
Theme: Orchestras and Conductors, Film
April/May
Theme: Piano, Creativity
June/July/August
National Edition, separate English and French editions
The 24th season will continue the all-colour, all-glossy format La Scena adopted in November 2017 and will feature more pages with a target of 80 to 96 pages, hopefully more than the previous year.
We are pleased to welcome Arthur Kaptainis as co-editor. Last year, Arthur joined our team as English copy editor, and in his new role, he will continue to help improve the quality of our content. Our print magazine will focus on feature articles and long-form essays, while our website will publish timely concert and product reviews. Watch out for new features, including a twice-weekly curated column on our website of must-read news and articles. Would you like to contribute an essay or review concerts? Please contact us at [email protected]
Subscription Drive & NEW Discovery Box
It's no secret that the media landscape is changing owing to the Internet. Advertising budgets are shifting. This impacts negatively our advertising receipts, which have traditionally accounted for 80% of La Scena's revenues, but has now decreased to 70%. Furthermore, a change in Quebec's Mécenat Placements-Culture program will mean the three-year grant under Volet 2 will not be renewed, leading to a shortfall in this year's budget.
We hope that our efforts to present more quality content will win your support in the form of a subscription or donation. La Scena has always operated on the nonprofit model – a model to which many commercial media are turning to.
La Scena is the only arts magazine in Canada that is fully bilingual, dedicated to serving Canadians across the country. If you subscribe, you receive each issue by mail (we also have an option for weekend Montreal home delivery) with supplementary translations in your preferred language. Every two-year subscription comes with a free commercial CD.
Furthermore, we are launching the NEW La Scena Discovery Box, which will allow customers to discovery concerts/events and recordings three times a year; it comes in a modest $99 or a premium package at $299. See the ad on page 49 or the article on p. 77 for more details. Any form of contribution is greatly appreciated and will go far in promoting artists here and abroad.
Have a great fall, full of music and the arts!
This page is also available in / Cette page est également disponible en:

Francais (French)