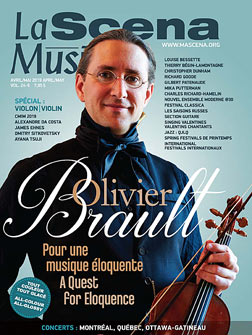 Advertisement / Publicité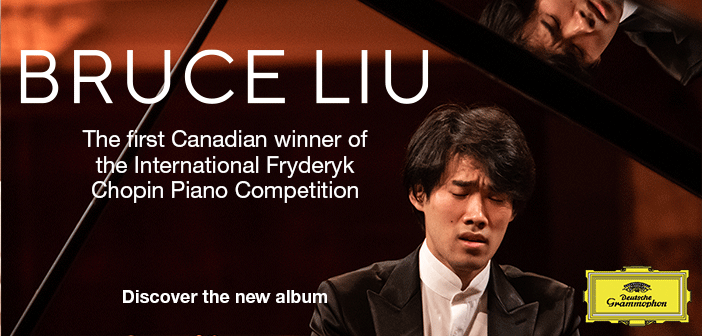 This page is also available in / Cette page est également disponible en:

Francais (French)
Our April/May issue celebrates the violin. It is timed to coincide with the 2019 Concours musical international de Montréal. Last year La Scena was able to predict most of the winners. This year our guest editor, violinist Alexandre Da Costa, listened to publicly available recordings of all 24 participants from 22 countries to make our forecast of the podium awards. Da Costa also discusses the various paths to a career and the im- portance of choosing one's instrument, and our cover features passionate baroque violinist Olivier Brault insisting on the eloquence of music. We also hear from Grammy Award-winning James Ehnes, who will perform all of Beethoven's violin sonatas at the Montreal Chamber Music Festival this summer.
On the news front, we profile conductor and composer Gilbert Patenaude, recipient of the 2018 Opus Homage Award; interview pianist Louise Bessette, recipient of the 2019 Governor General's Performing Arts Award; meet renowned classical pianist Richard Goode; and reveal Canadian pianist Charles Richard-Hamelin's secret dream. We drop in on Christopher Dunham, a Canadian baritone on the rise, and we profile Mika Putterman and her series "Autour de la flûte". We launch a new regular column on audio with an article about the choice of microphones for the studio.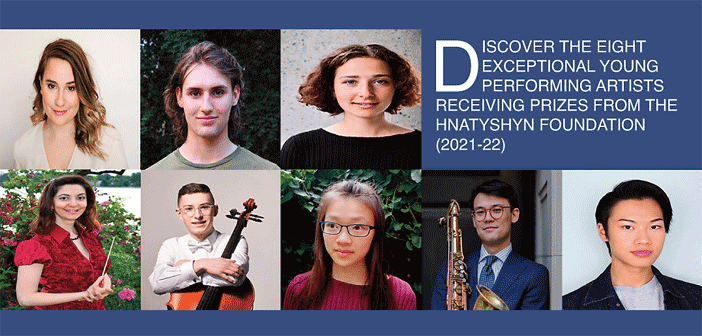 This issue also celebrates Canada's Spring Arts Festivals with our annual Guide, comprising 65 festivals, along with profiles of Les Saisons Russes and Festival Classica; and we continue our International Festival Guide.
Finally, readers may check out our regular Jazz column, CD and concert reviews, and our concert calendar with concert picks.
2019 SUBSCRIPTION CAMPAIGN
The April/May issue continues our all-colour glossy format, which we embraced in November 2017; your feedback has been overwhelmingly positive. However, in January 2019 our printing costs rose by 20% due to increased paper prices. We are therefore launching our 2019 subscription campaign with the goal of doubling our paid subscriptions, which will allow us both to cover increased printing costs and to provide more and better content.
Part of our campaign is to seek out new readers. For those discovering La Scena Musicale for the first time, we publish seven issues plus one Arts Resource Guide each year. The April/May number is one of five bilingual issues, meaning that with the exception of the cover article and the editorial, the other articles usually appear untranslated in the language of our writers. Two issues in November and June are national issues, meaning that they appear in separate English and French editions and have double the normal distribution.
As the only bilingual arts magazine in Canada, La Scena Musicale is fully translated on our website, and each paid subscriber receives a printed, translated supplement in the language of their choice. Furthermore, all subscribers get an extra discount for concert tickets in our Boutique, and two-year subscribers receive the gift of a classical CD.
Let us celebrate this spring with music!
This page is also available in / Cette page est également disponible en:

Francais (French)