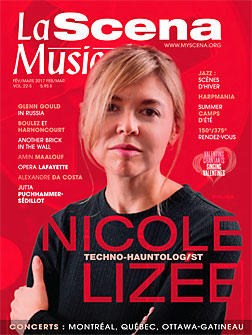 This February/March issue of La Scena Musicale emphasizes both the "new" and "old" in classical music: cover artist composer Nicole Lizée is finding new sounds in retro instruments and machines, composer Julien Bilodeau turns Pink Floyd's pop opera Another Brick in the Wall into opera, violinist Alexandre Da Costa takes a new approach to concerts with Stradivarius at the Opera, Opera Lafayette creates a following for French Baroque opera in Washington with an all-Canadian cast, we revisit Glenn Gould's landmark trip to Moscow, librettist Amin Maaloff discusses his collaboration with Kaija Saariaho on L'Amour de loin that was revived at the Met in 2016, Pierre Boulez and Nikolaus Harnoncourt's artistry is honoured, Harpmania explores the passion for the harp at the Jeunesses Musicales, music lover Denis Robert finds new sounds in traditional sound systems, and Lewis Furey's recital of Brahms inspires me to reveal my ideas on the future of the song recital.
In honour of Canada 150 and Montreal 375, we begin a new column highlighting the events of the celebration. La Scena's 20th annual summer music and arts camp guide includes a list of over 100 arts camps. Don't forget our standard features: Jazz column, Regional Calendar with larger type, and CD reviews.
More Glossy Colour
At one of our consultation meetings last August, Universite de Montréal's Stéphane Pilon told us that La Scena ­Musicale was a prestigious magazine, but unfortunately, the magazine's preponderance of newsprint did not match its quality. Normally, our budget only permits 25% of our pages to be colour glossy, but in this issue, we were able to get 43% colour glossy for about the same price, allowing more editorial pages to feature colour. Let us know what you think, by emailing us at [email protected].
We hope you consider subscribing to the magazine. All subscribers get full translations in either English or French, a monthly Discovery CD download, discounts on tickets, and a chance to win free concert tickets and recordings.
Since our next issue is April/May, keep on top of classical music news and events by visiting mySCENA.org for the daily news roundup and This Week in Montreal posts, or like us our Facebook page at www.facebook.com/LaScenaMusicale for daily updates, or sign up to for our weekly e-newsletter at [email protected].
Singing Valentines
Our 2017 Fundraising Campaign begins with our 7th ­annual Singing Valentines Fundraiser featuring sopranos Chantal Dionne, mezzos Marie-Annick Béliveau and Kathrin Welte, tenors Wah Keung Chan and David ­Menzies, and baritone Simon Fournier. For a donation of $30 to $60 ($20 for students), offer your loved ones a unique Valentine on Tuesday, February 14, a song sung by trained opera singers over the telephone. Visit www.lascena.ca to see the song list (which includes such favourites as "Mon Coeur s'ouvre à ta voix," "Che gelida manina," and "My Funny Valentine"). See singer availabilities, listen to clips, and read the testimonials before you place your order at 514-948-2520×3 or [email protected].
Happy 2017, the year of the Rooster.
Wah Keung Chan
Founding Editor