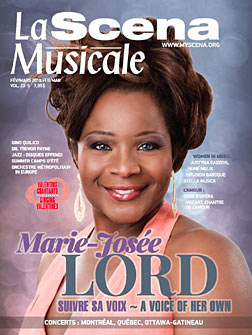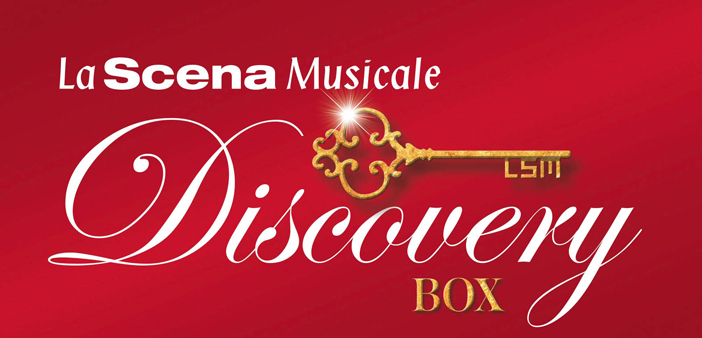 This February/March issue of La Scena Musicale is a shout-out to both International Women's Day (March 8) and Black History Month (February). Cover artist soprano Marie-Josée Lord speaks eloquently on the subjects of women in music and race in opera. Justyna Gabzdyl, Nuné Melik, Infusion Baroque and Stella Musica fill out our lineup of Women in Music. We also visit with Dr. Trevor Payne following his retirement as the conductor of the Montreal Jubilation Gospel Choir.
After a 40-year career, baritone Gino Quilico is embarking on new challenges, as a stage director in Brazil and as a bass in the role of Mephisto in Gounod's Faust. Jazz editor Marc Chénard looks at 20 years of Effendi Records. And we reprint all three of Arthur Kaptainis's online dispatches from the Orchestre Métropolitain's highly successful tour of Europe in November and December.
LOVE and Singing Valentines
What better way to celebrate the month of love than with the three top operatic love duets as determined by an online survey we conducted through our Facebook page, plus an article on Mozart and love. Also, check out our page of concerts and activities for Valentine's Day.
On Feb. 14, La Scena's 2018 Fundraising Campaign begins with our eighth annual Singing Valentines Fundraiser featuring sopranos Chantal Dionne, Raphaëlle Paquette, Marie-Claire Fafard-Blais, mezzo Marie-Annick Béliveau, tenor Wah Keung Chan, and baritones Simon Fournier and Dino Spaziani. For a donation of $30 to $60 ($20 for students) – the cost of a bouquet of flowers – you can offer your loved one a unique Valentine on Wednesday, Feb. 14 in the form of a song sung by trained opera singers over the telephone.
Apparently, this was a great hit in Sutton last year. Visit ­www.mySCENA.org to see the list, which includes such favourites as "Mon coeur s'ouvre à ta voix," "Che gelida manina," "My Funny Valentine" and some pop delights. See singer availabilities, listen to clips, and read the testimonials before you place your order at 514-948-2520×3 or [email protected]
La Scena's 21st annual summer music and arts camp guide includes a list of more than 100 arts camps. Our Regional Calendar, CD and concert reviews round out a 64-page issue.
Constant Improvement
As we were wrapping up this our 222nd issue, we received news on Jan. 25 that our latest application to the Quebec Arts Council (CALQ) for special project grant has been rejected. This lack of operating funding reminds me of the juggling in the sports salary-caps world. La Scena has always had to make do on autonomous revenues with only eight to 15% government funding in the form of employment grants and Placements Culture – a full 20 to 30% less than other arts and literary magazines. We constantly perform above our budget class.
While disappointing, it's important to bear in mind that the CALQ application was submitted on Oct. 16, before our transformation to an all-colour, all-glossy format. Despite these challenges, we strive to improve. For this issue, we welcome on board Arthur Kaptainis as our new English copy editor and Evelyne Ridyard as our volunteer French copy-editing intern to add more rigour to the quality of the written word – and give you another reason to buy a subscription. All subscribers get full translations in either English or French and discounts on tickets in the La Scena Boutique.
And make sure you receive our April/May special on voice with coverage of the 2018 Montreal International Music Competiion and featuring soprano Sondra Radvanovsky on the cover. It's sure to be a blockbuster issue. Happy 2018, the Year of the Dog.