Advertisement / Publicité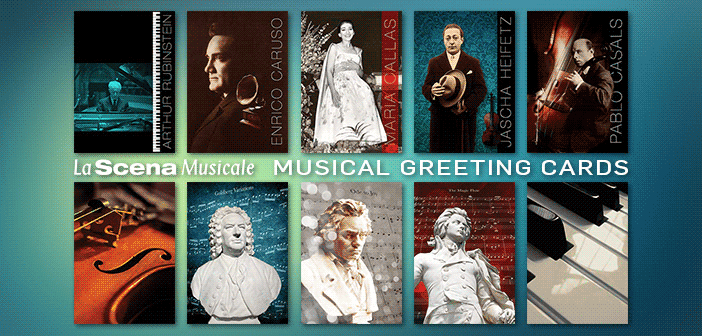 This page is also available in / Cette page est également disponible en:

Francais (French)
October is La Scena Musicale's month for youth and our sixth annual Rising Stars issue. Here we feature 15 musicians and ensembles that have distinguished themselves in recent Canadian and international competitions, from Honens, CMIM, OSM and Prix d'Europe to Operalia. At the same time we offer our annual Competition Guide.
Continuing our editorial plan of presenting special themes, this issue concentrates on Jewish Music in keeping with the 2018 Azrieli Music Gala. On the cover is Kelly-Marie Murphy, winner of the Azrieli Commission Prize. Thanks to section editor Shira Gilbert for managing this and other articles, including a discussion of the core concept of Jewish music by conductor Yoav Talmi.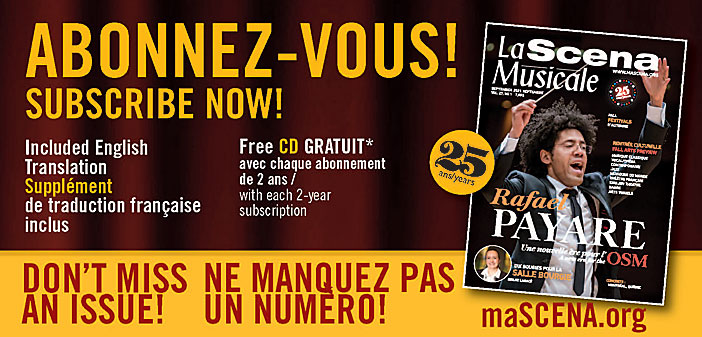 Following the success of last year's "Women in Theatre" issue, the La SCENA Arts magazine returns with a special issue section on theatre (directed edited by Nathalie de Han), celebrating 50 years of theatre in Montreal through the lens of the Centaur Theatre and Théâtre d'Aujourd'hui. Additional articles on this subject make this another special issue.
Marc Chénard's jazz section looks at the upcoming Off Jazz Festival. We feature an interview with film director Tom Volf, who turned his new passion for opera into an intimate documentary of Maria Callas. Our CD section offers dynamic critiques by the experienced team of Paul Robinson and Norman Lebrecht (translated into French by Benjamin Goron).
Last month's spread on Yannick Nézet-Séguin omitted some detail, so we are republishing it in more complete form.
Next Great Art Song
As mentioned last month, we are bringing back the idea of the Canadian Art Song Competition in the form of Canada's Next Great Art Song Project where the winning song will be determined by public vote. We have been approved to compete for a $100,000 Aviva Community Fund that is awarded to the project with the most votes received between Sept. 25 and Oct. 4. Each person is allowed 10 votes. We invite all readers to support the idea with a vote of approval at avivacommunityfund.org or through maSCENA.org.
We hope to garner enough funding to launch the official call for compositions in January. The competition would be open to Canadian composers of all ages, so start thinking about your favourite poems and set them to music. We are asking you our readers to vote for their favourite art songs in our Great Art Song Challenge at www.nextgreatartsong.com.
2018-19 Season
This season, our 23rd publishing year, consists of seven issues (five bilingual and two national editions) of La Scena Musicale and the 10th annual La Scena Arts Resource Guide. Each of the issues will have a different musical theme, and five issues will also be paired with the La SCENA arts magazine with special arts themes (see list below).
September Special Theme: Art Song
October Special Theme: Jewish Music, Theatre
November National Edition, separate English and French editions; Special Theme: Baroque Music, Circus
December/January    Special Theme: Choral Music, Dance
February/March Special Theme: Contemporary Music, Film
April/May Special Theme: Violin, Visual Arts
June/July/August National Edition, separate English and French editions
The 23rd season will continue the new all-colour all-glossy format La Scena adopted in November 2017 and will feature more pages with a target of 80 to 96 pages, 15% more than the previous year.
Our print magazine will focus on feature articles and long-form essays, while our website will publish more news and concert and product reviews. Furthermore, our Facebook page will share breaking news, so please be sure to like our Facebook page at www.facebook.com/LaScenaMusicale. Would you like to contribute an essay or review concerts? Please contact us at [email protected]
Subscription Campaign
It's no secret that the media landscape is changing owing to the Internet. Advertising budgets are shifting. This impacts negatively our advertising receipts, which now accounts for 65% of La Scena's revenues. Last year, we were able to better diversify our revenues with more donations (18%) and grants (15%). We hope that our efforts to present more quality content will win your support in the form of a subscription or donation.
Did you know that 95% of our content is fully translated, making La Scena the ONLY bilingual arts media in Canada. If you subscribe, you receive each issue by mail (we also have an option for weekend Montreal home delivery) with supplementary translations in your preferred language. Furthermore, every two-year subscription comes with a free commercial CD. Any form of contribution is greatly appreciated and will go far in promoting artists here and abroad.
LSM Boutique
Thanks to our partners we have acquired tickets to select classical performances, including those of the Montreal Opera, Danse Danse and the Canadian Opera Company. We sell these tickets to raise funds; LSM subscribers get a 15% discount. Look up the details at www.lascena.org or sign up for our e-newsletter at [email protected]
Have a great October full of music and the arts!
This page is also available in / Cette page est également disponible en:

Francais (French)