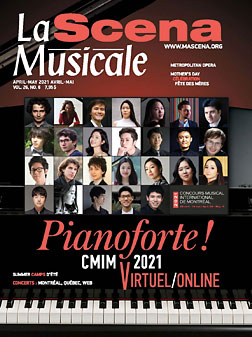 This page is also available in / Cette page est également disponible en:

Francais (French)
Welcome to the fifth issue of La Scena Musicale to be published in the midst of the pandemic. It has now been more than a year since COVID-19 changed the world.
Reopen, Reclose, Reopen?
Since our February/March issue, lockdowns in Canada have been extended, relaxed and extended again. The third wave carried by COVID-19 variants might well be in full force by the time you read this. In Quebec, curfews seem to have tempered the new surges of infection seen in the rest of Canada. Uncertainty appears to be the norm until COVID-19 vaccination reaches the majority. We recommend you get a vaccination as soon as you qualify. Please check our website for the latest news.
Music and arts organizations (see, for example, our annual camp guide on p.56) are still questioning whether to postpone their activities or continue them online. Our events calendar will keep you informed of the virtual events not just in Quebec, but also across Canada. To stay up to date, please visit our online calendar at mySCENA.org.
CMIM 2021
This issue's cover story focuses on the Concours musical international de Montréal, which runs from April 26 to May 14. The 2021 edition, dedicated to the piano, will be the first major international competition to take place entirely online. We have included a five-page section of profiles to help you follow the 26 candidates, who perform from around the world.
Mother's Day Celebration
Fresh off the overwhelming success of our Singing Valentines in February (see article on p.34), we are continuing our personalized serenades with our Mother's Day Celebration. This includes a concert on May 7 featuring performances by Aline Kutan and Gino Quilico. Serenades will be delivered on May 8 and 9. We will continue to share 50% of donations with the musicians. Visit mySCENA.org.
Because of the pandemic, we have changed from street distribution to home delivery. Many of you are holding a free sample issue. We hope we have sparked your interest with our passionate team of writers and editors. To make sure you continue to ­receive the magazine at home, please take out a ­subscription for yourself, or give it to someone special. It is ideal for parents (especially, this month, for mothers) or an artist.
Subscription and Donation Drive
The pandemic has affected all media. Last March, we wrote to our regular supporters asking them to donate earlier in the year than normal. This helped us weather the storm. As the outlook remains uncertain, we hope you will continue to donate early and help through a subscription.
As always, La Scena Musicale maintains a ­vigorous presence on Facebook, Twitter and ­Instagram. The website offers new resources daily. Pandemic or no pandemic, the arts will thrive. As will
La Scena Musicale.
Have a great musical and artistic spring!
This page is also available in / Cette page est également disponible en:

Francais (French)