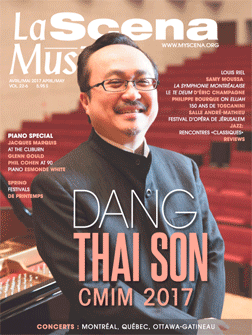 This page is also available in / Cette page est également disponible en:

Francais (French)
The most anticipated event of the 2016-17 season was Opéra de Montréal's creation of Pink Floyd's Another Brick in the Wall: The Opera. Ticket sales were so brisk that it was extended twice, to 10 performances, 150% more than the company's usual four-performance production. Reviews were, however, mixed. Originally published online, my comments reflected my misgivings (reproduced in print on page 35). Publishing more critical content is one of the recommendations from our advisory committee, and we have begun to have more concert reviews on our website (mySCENA.org). When we have space in our print magazine, we will publish some of the best reviews.
It gives me great pleasure to present to our readers an 80-page issue, our biggest in several years, which you are holding in your hands. With 20 pages of paid advertising (only 25%), the issue is jam-packed with informative and enlightening content: 75% content pages and 40% colour pages. We thank the partnership of our advertisers, without whom we would not be able to convey the stories of musicians and artists.
This April/May issue returns to a combined La Scena Musicale / La SCENA arts magazine and features pianist Dang Thai Son on the music cover, and dancer/choreographer Louis Robitaille on the arts cover. With the upcoming 10th edition of the Montreal International Musical Competition focusing on the piano, this issue is also a special issue on the instrument. We've assembled many articles on the subject, including visiting with Jacques Marquis, formerly director of the JMC and CMIM, who is leading The Cliburn to new heights. We pay tribute to 90-year-old pianist and educator Phil Cohen, who has mentored several generations of Canadian pianists. We present part II of Robert Kilborn's look at Glenn Gould, and Kristine Berey meets up with Piano Esmonde White, who is trying to revolutionize the construction of the piano.
We celebrate creativity in interviews with composers Samy Moussa and Eric Champagne. Both are debuting new large-scale works to celebrate Montreal 375. See more celebrations of Canada 150 and Montreal 375 in Hassan Laghcha's regular column. We also look at Beethoven's quartets through the eyes of the Dover Quartet, who will present the entire cycle at the 2017 Montreal Chamber Music Festival, Mendelssohn's Elijah through conductor Philippe Bourque, who will present the work to celebrate the St. Lawrence Choir's 45th anniversary, and a look at the art of Arturo Toscanini on the occasion of his 150th.
La SCENA arts editor Rebecca Clark has assembled an interesting lineup. We look at some of the exciting events celebrating this anniversary year, including the Théâtre aux Écuries project Jusqu'où te mènera Montréal?, the Ballade pour la Paix, a collaboration between Montreal's museums and universities, and a special edition of National Canadian Film Day. We also look at how the Centaur Theatre is exploring social issues, and the critically acclaimed new show at the TOHU.
This issue also celebrates Canada's Spring Arts Festivals with our annual Guide, containing 60 festivals. Our June Summer Festival Guide will be a grand celebration of Canada 150 and Montreal 375.
Translations
Finally, I want to thank Rebecca and our team of translators who make sure all of our print content is translated, provided in our translation supplement for paying subscribers, and eventually available on our website, making us the only national arts magazine available in both official languages. Why not support this effort with a subscription? See page 72.
Have a musical and arts-filled spring!
—Wah Keung Chan
This page is also available in / Cette page est également disponible en:

Francais (French)