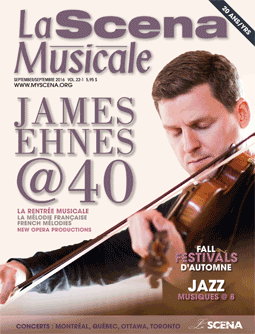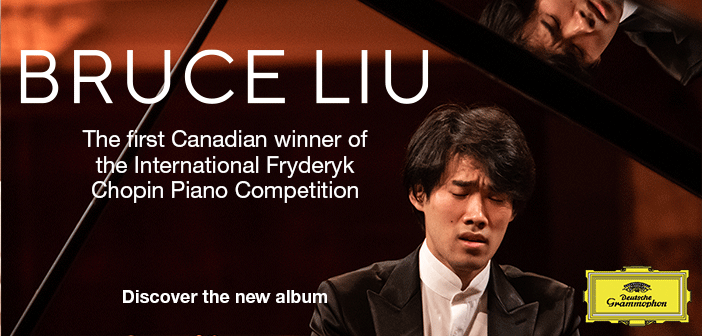 This page is also available in / Cette page est également disponible en:

Francais (French)
How La Scena Came to Be
Classical music has been an important part of my life since my teenage years. When I started grade 8 at the old Outremont High School, while my friends were in woodworking and metal shop, I chose music for my general elective. I reasoned that it was the source of inspiration for all the arts. In my first class, our music teacher Violet Grant States had each student try out the mouth pieces of the instruments. Flute, clarinet, and even the trumpet (the instrument every teenage guy dreamed of playing) failed my lips. I finally succeeded with the slide trombone, but alas, my arms were not long enough to play all the notes. Mrs. States came to the rescue by refurbishing a baritone horn, including fixing the crushed bell. It was a great compromise, the mouthpiece was the same as a trombone and the valves and fingerings were the same as the trumpet.
The next summer, Mrs. States recommended me for a training camp offered by Montreal Symphony musicians in the east end. I was too shy and too young to understand the opportunity so I declined. Unfortunately, after two years of high school music and band, the school's music program was cancelled due to budget cuts and low enrollment. I was one of the culprits as I opted for Deductive Geometry over third-year music. I often wondered what became of  Mrs. States. A couple of years ago, I heard her voice on the CBC radio as part of a documentary on Ethel Stark, founding conductor of the Montreal Women's Symphony Orchestra, and who was recently honoured with a street by Montreal mayor Coderre. I then discovered that as a black woman in the 1930s and 1940s, Mrs. States had to struggle to follow her dream of becoming a musician and a music teacher. With the MWSO, she became the first black female orchestra member to play Carnegie Hall.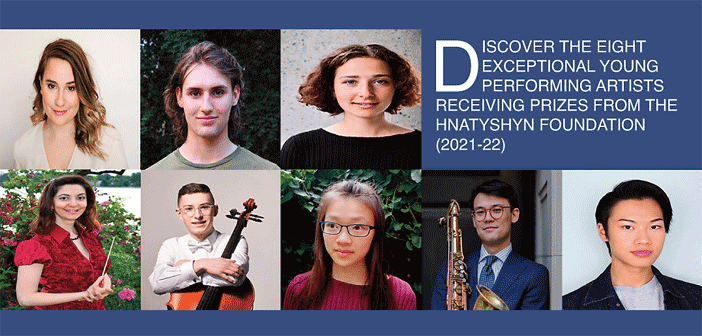 When I started CEGEP in pure & applied sciences, Vanier's music department became a bit of a respite. I remember sitting in a rehearsal of the Concert Band and Bach's Air on a G string lifted my spirits. At that time, maestro Charles Dutoit led the Montreal Symphony (MSO) in landmark recordings on the new Compact Disc format. One of their first recordings was of their award-winning performance of Berlioz's Symphonie fantastique, which saw me through many lonely teenage years. I also remember a 1985 performance of Beethoven's Ninth on CBC Radio by Mario Bernardi and the Calgary Philharmonic for the opening of Calgary's Jack Singer Hall, which I recorded and listened to over and over again.
At McGill, I rediscovered music-making in my second year of Engineering after seeing a poster for the McGill Choral Society (MCS) that read, "Do you sing in the shower?!" I found my baritone voice thanks to charismatic director Mary-Jane Puiu, who made Wednesday night rehearsal fun. In my first year in 1985, the 80-member choir sang through the usual SATB pop and Christmas songs. That December, I attended the MSO's annual performance of Handel's Messiah for the first time, and was captivated by the closing "Amen" chorus. I asked Mary-Jane, who sang professionally in the MSO Chorus, if we could do it at the MCS. In the following fall, MCS performed not just the chorus, but the entire Messiah, adopting the formula which still works today: a major classical work in the first half of the concert followed by a more popular second half. Following this change, the choir quickly grew to more than 200 members. I performed Mozart's Requiem, Vivaldi's Gloria, Brahms's Requiem, among many other masterpieces. Coincidentally, it was also my start in print media for music; back then I was co-editor of two student publications, so I put these talents to work on the MCS's concert programs.
During those years, I took a student subscription to the Montreal Symphony Orchestra. Under maestro Dutoit, I discovered the expansive symphonies of Gustav Mahler and Anton Bruckner. Back them they put students in row W in the parterre at Salle Wilfrid-Pelletier, with the seniors; the hall was full in those days. After returning to Montreal in 1992 from two years in graduate school at the University of Michigan, I re-subscribed to the MSO, and was again placed in row W, but this time, to my horror, the six rows in front were always empty. In my mind, the classical music that I cherished was being threatened and I had to do something about it, although I wasn't sure what.
By this time, I needed a break from academia and scientific studies, and I wanted to become an opera singer. My two years singing with the late Christopher Jackson in the Concordia University Chorus (1988–90) was the catalyst. One day, Christopher said to me, "You should take some voice lessons." At first I hesitated, but Christopher replied wryly, "I don't say this to everyone, you know." I then took it seriously. Two years later, I decided to study it full-time at Concordia University, and then after finishing my degree in two years, I began my transition from baritone to tenor with the help of my teacher, soprano Adrienne Savoie. Along the way, I approached studying voice like a science, attending masterclasses and concerts in order to understand how sound is made.
Naturally, with my publishing background, I made a list of concerts and formatted it into a newsletter which I circulated in 1996 in print and via email. After positive feedback from my friends, I produced the first official two-page newsletter La Scena Vocale in September 1996, with 300 hand-folded legal-sized photocopies. Within a few months, the magazine had increased to 10,000 copies and expanded to all aspects of classical music. I founded the non-profit charity La Scène Musicale/The Music Scene with a mission to promote music and the arts. We adopted a controlled circulation model in order to democratically engage all music audiences and to share the passion for the live concert-going experience.
After 20 years publishing 210 issues and distributing 6 million copies to Canadians, and with 25,000 copies per issue, our mission is still relevant today, as the arts continue to be important, but their future remains in jeopardy.
20th anniversary Gala
To celebrate our 20th anniversary, we plan a year of celebration, including a Gala concert with the theme Rising Stars. I remember our 5th anniversary Gala which was held on September 12, 2001. The theme was Reader's Choice where readers voted on the repertoire each musician would perform. Our line up included Daniel Taylor, Denis Brott, Donna Brown, Nathalie Paulin, Les Voix humaines, Julian Armour, and Marie-Nicole Lemieux accompanied by Yannick Nézet-Séguin (the first and only time they've played together). When I arrived at the Centre Pierre-Péladeau for our sound check in the afternoon of September 11, the tragic events of that morning had already changed our world. I consulted each musician and we dedicated the next day's concert to the victims of 9/11, perhaps the first such memorial in Montreal.
As it happens, we are returning to the Centre Pierre-Péladeau again for this year's Gala, this time on Thursday, November 24. And we hope to present you a lineup just as prestigious. Tickets are $130 (VIP and reception), $30 (regular), and $20 for students. Stay tuned for more details or visit www.lascena.ca.
mySCENA
All summer long, our team has been hard at work on our new web platform mySCENA.org. The web platform replaces our award-winning website SCENA.org, which we began 20 years ago as the first magazine to be completely free on the internet. Our goal is to provide visitors with curated news and reviews in classical music as well as the other arts.
In addition, events can now be submitted directly online to our Calendar of Events, and the flexible system can now accommodate all arts events. We invite all arts organizations to create an account and submit their events all year long.
Moreover, the mySCENA platform allows users to customize their profiles so that they can receive news and events at their customized home page. Stay tuned for more features as they become available to the public!
We are also excited to welcome many new collaborators from around the world, including the return of Norman Lebrecht for his weekly CD review. At this time, we invite new collaborators and volunteers to review concerts, CDs, and to help with our daily news round-up; if you are interested, please send an email to [email protected].
To celebrate the launch of our new web platform and the start of a new artistic season, we are launching a raffle for Glenn Gould's Complete Columbia Discography on 78 CDs. The box set, which is valued at over $200 CDN, can be yours by following the simple steps here. The contest ends October 21 and the winner will be announced in our November issue.
Fall Arts Preview
On the cover of this September issue is violinist James Ehnes who is taking a spiritual journey across Canada to celebrate his 40th birthday. Ehnes has been on our cover twice before (in 1998 and 2001) and we are glad to have chronicled his journey.
One of the improvements we have made is to increase the size of the font in the regional calendar to make the listings more legible. Our online calendar contains full details of each event.
This issue contains our annual Fall Arts Preview focus, and I can't help think how many young musicians and artists are following the same journey of discovering music and the arts I had in my teens and twenties. As they say: the more things change, the more things remain the same.
Have a great fall full of music and the arts!
—Wah Keung Chan, Founding Editor
This page is also available in / Cette page est également disponible en:

Francais (French)