This page is also available in / Cette page est également disponible en:

Francais (French)
La Scena Musicale is shocked and saddened to learn of Boris Brott's senseless death by hit and run in Hamilton, Ontario on the morning of April 5, 2022. Boris has been featured in the pages of La Scena Musicale several times. As a tribute, below are some of the featured articles. Boris was also an LSM Ambassador every year, and we thank him for his support.
Boris also wrote a tribute to his mother Lotte Brott, which we are publishing in three parts in La Scena Musicale:
Funeral

An in-person funeral service was held on Sunday, April 10th, 2022, at 2:00 PM at Temple Anshe Sholom, 215 Cline Avenue North, Hamilton. The service was streamed on Zoom. Here is the video.

Media:
---
Orchestre classique de Montréal: New Name for a Classic Ensemble
by Michael Schulman, originally published in La Scena Musicale, October 2019
Why did it take so long to change the name? This is my first question for Boris Brott, artistic director of what is now called the Orchestre classique de Montréal.
"Well, it was a hard decision and a matter of finding the right name," the conductor says in what he calls his Toronto office – the Library Bar of the Fairmont Royal York Hotel. "Whatever we considered didn't seem to fit until one day, our accountant said, 'Why not call it Orchestre classique de Montréal' and everybody said, 'Wow, that's the right name!' Even unilingual anglophones will understand it!"
Boris had just returned from Montreal – as we've been on a first-name basis for more than 40 years, he'll be "Boris" rather than "Brott" – where the evening before he had conducted the first-ever concert by the ensemble under a name other than the McGill Chamber Orchestra/Orchestre de chambre McGill (MCO/OCM). The word "chamber" was dropped, explains Boris, "because from a general audience point of view, it often suggests something not quite for them, something esoteric and elitist – which we are not!"
The McGill Chamber Orchestra had evolved from the McGill String Quartet, founded by Boris's father, composer-violinist-conductor Alexander Brott (1915-2005) when he joined the McGill University faculty in 1939. Cellist Lotte Goetzel became a member of the quartet in 1942 and the following year she and Alexander Brott were married. As Lotte Brott (1922-1998) she was the mother of Boris (b. 1944) and his brother Denis (b. 1950), who himself has enjoyed a successful career as a cellist and festival entrepreneur.
Gradually, the McGill String Quartet expanded its range and repertoire by performing in larger ensembles conducted by Alexander Brott, and in 1953 the McGill Chamber Orchestra was officially established. Depending on the repertoire, the number of musicians at any given concert could vary from its "chamber music" nucleus of 15 or 16 string players to as many as 60, making it a true "classical orchestra." "This flexibility," says Boris, "to diminish or enlarge our numbers has always been part of the orchestra's DNA and still is."
As the ensemble developed, members of the Montreal Symphony Orchestra, for which Alexander Brott served as concertmaster and assistant conductor, with Lotte Brott in the cello section, were recruited to perform as part of the MCO/OCM. A who's-who of Canadian and international superstars appeared as soloists, including singers Maureen Forrester and Marilyn Horne, pianist Glenn Gould, flutist Jean-Pierre Rampal, violinists Yehudi Menuhin, Isaac Stern and David Oistrakh, and cellists Mstislav Rostropovich and Yo-Yo Ma.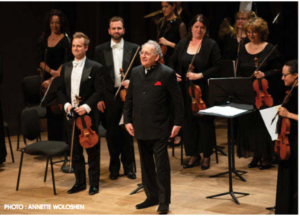 But in 1980, when Alexander Brott retired from the McGill faculty, the now internationally-acclaimed ensemble, which had long been performing off-campus at major Montreal venues, effectively severed its ties with the university. Yet Alexander Brott insisted on retaining the "McGill" in its name.
"It's because my father felt great loyalty to McGill and we discussed keeping the name while he was alive." Recognizing that many concertgoers logically assumed that the ensemble was still connected, one way or another, to the university, "The board," says Boris, "wanted to rename it Orchestre Alexander Brott." Never ego-driven, "my father was completely against that, using as an excuse the traditional Jewish belief that naming someone or something after a living person hastens that person's death." So the McGill name remained. Until now.
In 1989, Boris was appointed the ensemble's associate conductor and became its artistic director upon his father's death in 2005. For its first season under a new name, the OCM is performing a total of nine concerts, culminating next June 7 in the Maison symphonique with Beethoven's Ninth Symphony. For this, the ensemble's core of 16 players (nine violins, three violas, three cellos and one double bass) will be sitting with another 40 or so musicians plus, of course, a chorus for the Ode to Joy. That core will be more modestly enhanced – with oboe, trumpet and timpani – on Nov. 3 for a program in Salle Pierre-Mercure that includes the Busoni arrangement of Bach's Piano Concerto in D Minor (with Anne-Marie Dubois as soloist) and Vivaldi's Gloria with Les Petits Chanteurs du Mont-Royal.
Boris's connection with the ensemble has truly been lifelong, as he grew up watching and listening to his parents rehearsing at home and attending their performances with the quartet, chamber ensemble and the OSM. According to what he told me back in 1976, Boris's musical education may even have begun in utero. He had said, "When I study symphonic works that I've never studied before, sometimes I find I will know the cello line intimately and literally know what's coming next. And then I've checked with my mother or looked in her scrapbook, and each time it's turned out to be something she played during the time she was carrying me, before I was born!"
Boris was only three years old when his father brought home a one-eighth-size violin and began giving him lessons. He was a fast learner. At five, Boris made his solo debut at an OSM young people's concert, playing the first movement of a Vivaldi violin concerto. But when he was about 12, he put down his bow and fiddle in favour of the baton. "It was because I didn't like feeling so isolated from my school colleagues, practising the violin at home instead of playing sports. And one day, I brought my violin to an assembly and it was a big disaster – I got snowballed all the way home. I had two neighbours in the same grade who became my 'protectors' and went everywhere with me to make sure I wasn't bullied too much.
"Igor Markevitch, then music director of the Montreal Symphony, who spent a lot of time in my home, as did many of the visiting musicians, told me that I had a remarkable way of expressing myself and should consider becoming a conductor. It was he who saw this in me and announced at the dinner table that I should come to study with him in Mexico City."
Boris began studying conducting with Markevitch and Pierre Monteux and again, he was a very fast learner, winning first prize at the 1958 Pan-American conducting competition in Mexico City. The following year, at 15, he founded the Philharmonic Youth Orchestra of Montreal, making his public conducting debut, following in the footsteps of his baton-wielding, orchestra-founding father, with whom he shared, along with talent, a birthday – March 14.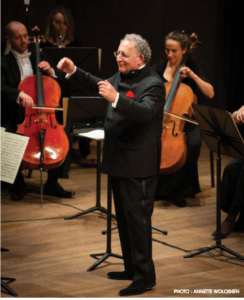 Boris's conducting career has now spanned 60 years, during which he has specialized as a builder of orchestras – and their audiences – serving as artistic director and/or principal conductor of the Lakehead/Thunder Bay Symphony Orchestra, Regina Symphony, Hamilton Philharmonic Orchestra, CBC Winnipeg Orchestra, Northern Sinfonia (U.K.), Symphony Nova Scotia, Ontario Place Pops Orchestra, BBC Welsh Orchestra and New West Symphony, California.
Looking back, he recalls with particular pleasure his association with Leonard Bernstein. "I won the Dimitri Mitropoulos competition in 1968 and became Bernstein's assistant conductor with the New York Philharmonic, spending time studying scores with him. He was a tremendous influence on me, so it was a very special experience when I conducted the first performance at the Vatican of Bernstein's Mass in 2000, with the pope in attendance, a work that had initially been severely disparaged by the Catholic Church."
Boris's many awards include the Order of Canada, Order of Ontario and Order of Quebec, but I wasn't surprised when he told me he was proudest of the Canadian National Child Day award he received in 2007 in recognition of his having introduced over a million children to the beauties and thrills of classical music. Boris has always enjoyed performing for children and for many years he regularly conducted the children's concerts of the National Arts Centre Orchestra. "After all," he says, "children are our next audiences, so we have an important role to perform."
Are there any favourite works, so-called "party pieces," that he's often returned to? "Not really," he says. "For me, the work I'm studying and performing has to be, at that moment, my 'favourite' piece; otherwise I couldn't perform it convincingly. But the styles that I love to perform over and over again are the German and Russian Romantic repertoire – I come from a background that's Russian on my father's side and German on my mother's – and also the music of the last century, although I've never found the greatest degree of sympathy with the Second Viennese School of Schoenberg, Berg and Webern.
"From a programming aspect, the Baroque has been taken over by those who subscribe to 'authentic performance practice' with so-called 'original instruments.' Well, the OCM isn't that kind of an orchestra. Our repertoire tends to be away from the Baroque and includes lots of music from the 19th century to the present. That was always the orchestra's practice, including fostering Canadian music and composers. Every year, they commissioned one new work and we're continuing that tradition."
With some 50 concerts scheduled for the 2019-2020 season, Boris shows no signs of slowing down. Why should he? At 75, he's in the prime of life for conductors, a profession that encourages longevity in its practitioners by requiring prolonged physical, emotional and mental activity, so that many distinguished conductors have performed well into their 80s and 90s. Boris continues to direct the annual summer Brott Music Festival that he founded in 1988 in Hamilton, his home base, and the festival's training adjunct, the National Academy Orchestra of Canada. "With the NAOC," he says proudly, "we have 'graduated' well over 1,600 musicians into the profession all over the world. We see it as our mission to help them make the transition from school to employment – often that means not only musical talent but other 'people' skills useful when applying for jobs.
"My goals for the future are to breathe new life into the OCM, to expand not only the quantity of our activity but our cultural boundaries. Our Music for Everyone program is intended to increase the diversity of our audiences and create connections with all our different ethnic and cultural communities, getting their composers and performers to work closely with us, marrying their magical musical cultures with our classical, European-based traditions.
"I'm in the process of reconstructing Opera Hamilton, the company I started 40 years ago. We've already done La Bohème, set in contemporary Hamilton. We'll concentrate on the Italian repertoire at first, because the second language in Hamilton is Italian, not French. I've always wanted to conduct Wagner's Ring cycle, but that's probably never going to happen.
"Of course, I've performed many orchestral excerpts from Wagner's operas and have loved them since I was a child, listening to them with my German grandfather. I'm also interested in the medical aspects of music – 'music hath charms to soothe' – and how we can get the OCM working with seniors' homes and programs for people struggling with emotional and mental problems. I think there's a tremendous contribution to be made in that field."
Despite a long career filled with accomplishment, Boris is still clearly looking forward, rather than back. There's still lots yet to be done and – who knows? – maybe even Hamilton's first-ever Ring.
For information about the Orchestre classique de Montréal, go to www.orchestre.ca. For information about Boris Brott, go to www.borisbrott.com.
---
Brott Music Festival at 20
by Wah Keung Chan, The Music Scene Magazine, Summer 2007 (June)
For many Canadians, the City of Hamilton would not normally be among the top of the list of the country's notable music centres but each summer and fall for the last 20 years, the city has been home to the Brott Music Festival, a unique 20-week festival that has contributed to both the musical life of the region and to the training of some of tomorrow's Canadian professional musicians. To celebrate this milestone, the festival will present Canada's biggest concert of the summer in the form of Mahler's monumental 8th Symphony (a.k.a. the notorious Symphony of a Thousand). At the helm will be the festival's mastermind and jet-setting conductor Boris Brott, the Montreal native who, for the last 38 years, has resided in Hamilton.
Brott's relationship with Hamilton may never have started if his mentor Leonard Bernstein, had not advised the then 25-year-old to "go spread your own wings" as artistic director of the Hamilton Philharmonic Orchestra (HPO) rather than becoming Georg Szell's assistant in Cleveland. The young Brott was riding high on a string of successes. At 17, he was assistant conductor of the Toronto Symphony Orchestra, and he was winning prizes in major international competitions leading up to the Dimitri Mitropoulos International Conductors Competition in New York which awarded him a two-year apprenticeship with Bernstein. Over the years, Brott has contributed to at least six Canadian orchestras.
In 1988, Brott founded the Boris Brott Summer Music Festival in Hamilton, with Ardyth Webster, his wife of 31 years and with whom he has three children, as the festival's Executive Director. "Then Hamilton mayor Robert Morrow suggested I start a cultural event in the summer and he provided the funding," Brott recalls. Initially, the festival was a five-concert event lasting over 11 days with a budget of $50,000. The following year, Brott came up with the idea of the National Academy Orchestra (NAO) to partner recent music graduates (Brott is adamant that they also be referred to as professionals) with established professionals in a symbiotic mentor- apprentice relationship. "My wife and I were organizing a concert at the National Capital Commission in Ottawa and to supplement the strings section, I paired members of my father's Les Jeunes Virtuose de Montréal with members of the National Arts Centre Orchestra (NACO)." The concert was rained out, but the rehearsal proved fulfilling enough for the seasoned pros and young professionals alike that Brott decided to make the mentorship program a regular part of his festival. To pay the apprentices a wage, he convinced the then Minister of Labour Barbara McDougall of the need to help make Canadian music graduates more competitive in the job market against the more experienced Americans. Hearing Brott talk about the necessity for training, mentoring and entrepreneurship courses makes one wonder why they didn't exist before. His credibility on these topics clearly stems from his years of experience in the industry.
In 1990, after 22 years of tenure at the HPO, Brott was dealt a surprising blow when he was asked to leave. "Its development from a community orchestra to a full-time professional ensemble with a 42- week contract and more subscribers than the Hamilton Tiger-Cat football team has been my life's work," says Brott. Nevertheless, he's quite philosophical and frank about what went wrong. "I was lucky to have had a lot of success early in my life, too early. I was brought up with adults from an early age, and my personality really did not mature to the point where I really listened and understood what leadership was all about." Brott readily admits that he had been a dictator and explains, "Often, insecurity makes you aggressive because you want to protect yourself. I wish I had the knowledge and wisdom that I do now although I'm constantly learning. The process of collaborating with musicians is a learning process, not a teaching process. I needed to control myself and learn how to work with people better, understand myself and my relationships and my communication skills better. It's not everyone else's fault that I've had this problem in my career, it's my fault."
From 1992 to 1995, Brott and Ardyth both enrolled in law at the University of Western Ontario and this proved to be a turning point for the maestro. "You learn everything you need to know to get along with people in being taught by the Socratic method. You learn to argue with logic, approach each subject with passion and each with a point of view, but you must know when to put it away. Before you go to bed, you say, I agree with this and not that, and then you go on to live your normal life. It doesn't overtake who you are, otherwise, you would not be able to fight a case in court."
The Brotts' training has helped steer the festival through 20 years of zero deficits with Ardyth managing the finances and Brott looking after the music. "We argue about budgets all the time, but as an artistic director, you can't be both the inspiration and the control at the same time," says Brott. "We are quite conservative. We don't do anything we can't afford to do." A case in point is Mahler's 8th. Brott cited hall rental and advertising fees in Toronto that were three times more than in Hamilton as the reason why they decided against taking the performance to Toronto. Instead, for the first time, he's lending the NAO to Agnes Grossman's production of Barber of Seville in her Toronto Summer Music Festival while looking into doing some concerts at the 450-seat Glenn Gould Studio, a venue that would be easier to fill. "I teach my apprentices the importance of being practical," he says.
Looking back, Brott is thankful. "It's more difficult to re-build a career than to build one (from scratch). And still today, there are places where I am not a welcome guest and I have to live with that. I'm blessed to have had the opportunities I've had and I live a full and happy life. I'm very lucky to have had the experiences, the parents, the wife and kids I've had." Since 1995, he has been busy developing a second career as a maestro jet-setting between the New West Orchestra in California, the McGill Chamber Orchestra in Montreal, and the National Arts Centre Orchestra in Ottawa (where he is Principal Youth and Family Conductor) as well as doing various guest conducting appearances. Since 1995, Brott has been a motivational speaker to Fortune 500 companies around the world talking about the key to successful teamwork and using music as the example.
Musically, what does he look forward to in the future? "I would like to do all the Bruckner symphonies and to re-examine all of Vaughan Williams' symphonies, and I'd like to explore more contemporary music. We have to develop a way to speak with our own voice to a new generation and do so in a way that is acceptable to our existing audiences, and that's a real challenge." Brott's constant hunger for self-improvement and for innovation becomes even more evident when he says, "Your reach must extend your grasp…what's heaven for?" ■
The Brott Music Festival celebrates its 20th anniversary with a busy season, the highlight being the performance of Mahler's 8th Symphony with Boris Brott conducting on August 23rd at the Great Hall in Hamilton Place. The key to the work, says Brott, "is to give time for the folk episodes to be charming but not rob the momentum of the piece as a unit. Bruckner is not as indulgent as Mahler." www.brottmusic.com.
---
The Maestro's Choice: Schoenberg's Verklärte Nacht (Transfigured Night)
by Boris Brott / October 2, 2002
---
Schoenberg's Verklärte Nacht (Transfigured Night)
I love music that touches the soul–music that gives both audience and performers goose bumps–music appreciated on many different levels, from the most academic and analytical to the most emotional. Arnold Schoenberg's Verklärte Nacht is just such a work.

One hundred years after its composition, most of Arnold Schoenberg's music still inspires fear in the average concertgoer. It is a measure of the man's achievement that 50 years after his death, much of his music can still empty any concert hall on earth. This statement does not apply to his Verklarte Nacht, which is an excellent place to start discovering this 20th century genius who stood music on its ear and whose "serial" method of composition became the bedrock of musical modernism for the rest of the century.
Verklärte Nacht is pure program music. One can analyze each stanza of Richard Dehmel's poem, on which it is based, and compare it to a melodic element of Schoenberg's score or a shift in his late romantic post-Wagnerian harmony. With the exception of a few unorthodox chords, nothing in this piece hints at the atonal convulsions that Schoenberg was soon to let loose.
The poem itself was very controversial for its time. Critics and audiences at the turn of the last century considered it too sexually explicit. Even today, its frank depiction shocks many of us and yet warms our souls with the triumph of romantic love. In short, the text describes a couple walking in the cold moonlight. She confesses that she has been unfaithful and that she is carrying another man's child. She had lost belief in love and surrendered herself to a stranger. He speaks: Let her not burden her soul with guilt. See the moon's chill waters, but a flame from each other will transfigure the child she bears him. They sink into each other's arms. Their breaths meet in kisses in the air. Two mortals wander through the wondrous moonlight!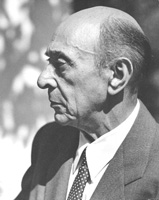 Transfigured Night is an uncanny depiction of the moods of each of the two lovers. The music traces the transfiguration of its initially gloomy, agitated materials into an incandescent serene resolution. The point at which the man begins to rely on the woman's confession is unmistakable in its shift from minor to major.
This long single movement work, escapes the confinement of textbook notions of the sonata, rondo or other forms. It is nevertheless intensely symphonic in the way it develops its musical ideas with a compelling blend of logic and imagination.
Schoenberg's music is hugely demanding on the technique, intonation, blending and emotional commitment of the musicians. As the conductor, I am looking forward to the challenge of shaping the extended phrases of this one-movement, thirty-minute work and keeping it interesting and alive. You will be blown away by the work's gut-wrenching, overt, romantic sentiments.
Suggested recording: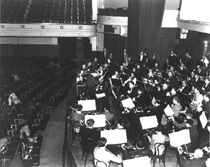 I have looked in my library and the only recording I can find is an old vinyl LP with Leopold Stokowski conducting. The interpretation is very personal but convincing nonetheless. I like it precisely because it brings the work to life. An interpretation is best when it gives you the feeling that the work is being created right there in front of you, at the very moment you are listening! (On the Seraphim label, a division of Angel records # s-60080).
Schoenberg's Verklärte Nacht is the principal work for the second Connoisseur Concert of the McGill Chamber Orchestra on October 28, 8:00 p.m., at Pollack Hall, McGill University.
Boris Brott is Artistic Director, McGill Chamber Orchestra
This page is also available in / Cette page est également disponible en:

Francais (French)