This page is also available in / Cette page est également disponible en:

Francais (French)
The strength of La Scena Musicale has always been that it's written by musicians who are not afraid to be curious and talk shop with other musicians. And as editors, we have never underestimated the intelligence of our readers. Our modus operandi is to look at the creative process.
I remember talking voice technique and shop with Renee Fleming for the November 2000 cover story, and when I went to see her after her Ottawa recital, she told me she rarely enjoyed an interview as much as ours. Earlier that summer, I was supposed to interview Charles Dutoit for 15 minutes following a rehearsal at Place des Arts before an evening concert at Festival Lanaudière. Due to delays, I ended up conducting the interview as the maestro drove his Lexus the 45 minutes to Joliette, resulting in another landmark interview. Prophetic words from Dutoit I still remember, "It's hard to build excellence, but it takes no time to destroy it." Another favourite was my conversation with Bryn Terfel for the April 2002 cover; a few years later, a friend still remembered the article for the question was "Do you sing out of one side of your mouth?" The answer: he favoured his right side.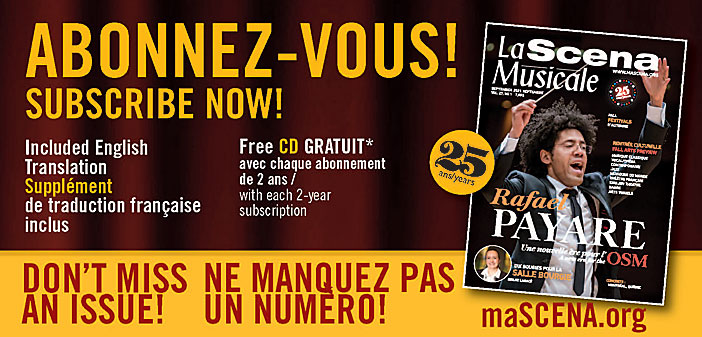 Kent Nagano's first year as Artistic Director of the Montreal Symphony was a busy one, and it took 10 months to prepare the December 2006 cover story, as I was only able to get 5 minutes here and there following each press conference. As I overheard and later reported, "The maestro is like a salami; you can only get a sliver of him here and there." Journalism gold. That constraint forced me to be creative and I ended up writing a critical portrait and was rewarded with an honourable mention at the 2006 Canada Magazine Awards.
From the start, we were at the right place at the right time – some might call it the nose for a good story. In 1997, Toronto soprano Isabel Bayrakdarian made national news when she won the Met auditions while completing a biomedical engineering degree at the University of Toronto. Having studied engineering myself I was intrigued, so I contacted her for an interview and we met for afternoon tea at the Royal York Hotel, resulting in a feature in our July 1997 issue. Since October 1997, we had been following Daniel Taylor. My interview with him for the December 2000 issue required several meetings, and the result was an intimate behind-the-scenes human story.
In 1997, I had seen the name Yannick Nézet-Seguin advertised as the conductor of the Choeur Polyphonique in LSM. Since being named chorus master and assistant conductor of Opéra de Montréal in 1998 (replacing Jacques Lacombe), he won three Opus Awards. For this reason, we decided to feature him on the cover of the February 2000 issue, our month at the time for rising stars. Quite timely, as internal turmoil at the Orchestre Métropolitain caused Joseph Rescigno's unjust firing on March 9, 2000 and the appointment of Yannick to replace him as its artistic director. The rest is history. In May 2000, we were there to witness mezzo Marie-Nicole Lemieux win the Jeunesses Musicales du Canada Joseph Rouleau Competition (before it became the Montreal International Musical Competition) over Measha Brueggergosman, and within weeks, Marie-Nicole went on to win the Queen Elisabeth Competition in Belgium, and a new star was born. We featured her on the cover of the July-August 2001 issue, and for our Fifth anniversary Gala in September 2001, we matched Marie-Nicole and Yannick together in performance for the first – and perhaps only – time.
This page is also available in / Cette page est également disponible en:

Francais (French)