Ana Sokolovic (Photo : Alain Lefort)
Ana Sokolovic on Serbian Folklore
Composer Ana Sokolovic is very well known to most contemporary classical music lovers in Canada. In its 2011-2012 season, the Société

de musique contemporaine du Québec (SMCQ) dedicated its third Série Hommage to Ana Sokolovic and brought her music to new listeners in the far corners of the country. Today, Ana Sokolovic is an icon of the Canadian contemporary music scene – an artist whose work is a unique blend of two very distinct cultures.
Ana Sokolovic's success story is of special interest to me as we share the same background. My parents emigrated from Yugoslavia to Montreal in 1991, just one year before Ana arrived in Canada. Both my parents are artists and they became close friends with Ana back in the 1990s, when all three were graduate music students. (Incidentally, I gave my first solo performance as a young pianist at a joint concert of my parents'

and Ana's students.)
While there are many published interviews and articles about Ana's life and work, I felt that two questions remained unanswered: the development of her early career in Canada and the specific aspect of Serbian folklore that is reflected in her music.
I interviewed Ana in October 2014 at her home in Montreal; the original interview was in Serbian.
VL: What brought you to Montreal?
AS: In 1992, I left Yugoslavia for two very concrete reasons: the country's political instability and the absence of a fulfilling career as an artist. I realized that all the efforts that my colleagues and I had put into changing the political situation had been in vain. I was drained of the energy I needed to compose music and I could see no future there for what I was truly qualified to do

–

composing music. At that point I was ready to try my luck elsewhere.
I remembered a childhood friend who was then living in Montreal. The idea to move to Quebec appealed to me because I had been a great Francophile my whole life. This turned out very well for me, as I consider Quebec a perfect mix of European culture and North American organization. I fit right in from my first day in Montreal and everything came easily to me here.
VL: Could you tell me more about that initial period after you came to Montreal?
AS: A year went by between the day I arrived and when I began my studies. Yet I used the time well by learning the languages, getting to know the city and the people…

During my Masters, I met many performers and musicologists, as well as other composers. This was my first contact with Montreal's musical circles.
It would have been harder for me to start my life and career from scratch had I been already established in Yugoslavia. In my case, since I had nothing to look back at, it was easier to start from zero in a new place.
I had many projects right away, but the piece that really kicked off my career was Ambient V for two violins. I wrote it for two friends of mine: Milan Milisavljevic and Marian Mosczak. They performed it at the CECO [Cercle des étudiants en composition], where my husband, Jean Lesage, then only a colleague, had heard it for the first time. He happened to be on the board of the artistic committee of the SMCQ and he liked my piece so much that he proposed they program it on a concert featuring Canadian composers who were born abroad. And so it was!
How very lucky I was that my piece was performed at a professional concert only a year after its premiere! In terms of my career in Canada, everything truly started with that.
VL: I also wanted to ask you, what are the specific elements of Serbian folklore that inspire you?
AS: Growing up, I listened to classical music as well as pop and rock with my friends. Of course, I was aware of Serbian folklore, sort of peripherally, but never as a main focus – until I came to Canada. Interestingly, it all started with a critique of my piece Ambient V: a colleague wrote that my music had a sharp bite to it and praised it for its "Slavic soul." As I considered myself a contemporary composer in the European tradition, I could not have been more offended!

At the time, I didn

'

t think that, artistically speaking, being modern and having an ethnic colour could go hand in hand.

However, this phrase caught on and kept reappearing over the years. Suddenly I told myself that there must be some grounds for this assumption and I began to reconsider my original opinion. Perhaps there was something Slavic in my work, something in my music pertaining to the Balkans. Perhaps, this could even be a very good thing!
And so I began to look deeper into Serbian folklore in search of elements that were at the heart of my music. As it turns out, very few of these actually had anything to do with Serbian folkloric music itself, but rather with the character of Balkan folklore: embodied in contradictions, extreme and opposite feelings.
A perfect example of this can be found in Serbian medieval literature.
VL: Serbian epic poems?
AS: That's right. Serbian epic poetry can be divided in three categories. Epic poems, which were

mainly about the heroism and suffering of national heroes in the context of the rebellion against the Ottoman invaders.

The second category is lyrical poems, where love is described in very abstract ways, from romantic love, to love between a mother and her child, or love between parents and the third generation…

Finally, there are the

lyrico-epic

poems in which both of the two previous types coexist in one single type of poem. This cohabitation of extreme elements is unique to Serbian folklore and this is precisely what gives it its beauty and originality!
In musical terms,

this is evident in my music through the quick succession of dramatic and delicate elements and their coexistence.
Another element which has had a lasting influence on me is the idea of the kolo [a traditional Serbian dance in which dancers make a circle, hold hands and twirl for a long time to the sound of rhythmic music].

This dance is usually performed at joyous occasions such as weddings or anniversaries,

when people dance for hours at a time,

fuelled by several drops of brandy

. A type of

collective trance

takes place, where the dancers

are led more

by the rhythm than by the melody. This element

of trance-like repetition

is also something I want to express in my music.
Finally, the Serbian language itself serves as a source of inspiration through its highly rhythmical qualities. In fact, the sound of the Serbian language changes throughout the country: it is more melodic in the North and becomes increasingly more dry and sparkly as you move down South. The sounds of this sharp, hard, glittery language continually fascinate me! My latest work inspired by the Serbian language is my opera Svadba – meaning "wedding"

– for which the libretto was written in Serbian.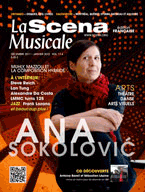 You can find an article on
Sokolovic

by Caroline Rodgers in our December-January 2011 issue. The article is available in French and in English.