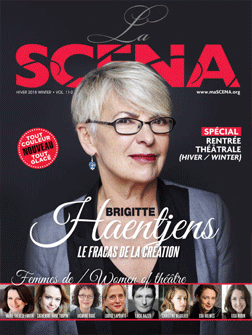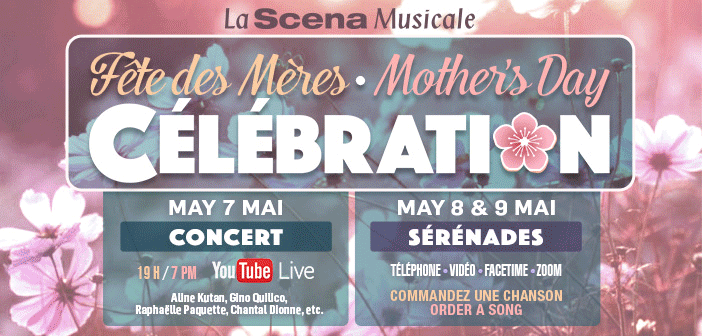 This page is also available in / Cette page est également disponible en:

Francais (French)
On the first anniversary of Leonard Cohen's death, November 7, 2017, Montreal's Musée d'art contemporain (MAC) opened a vast exposition devoted to Cohen, his work, and his work as interpreted by other artists. This expo, despite its occasional weaknesses, is certain to become the largest and most successful show in the museum's 53-year history. It displays such a richness of Your Man to make it moving and deeply satisfying.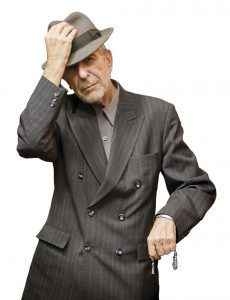 Cohen, or rather Leonard, to use the affectionate case, spoke to a worldwide audience and was beloved on all continents, as few Montrealers have ever done. In his final years, reflecting on his legacy, he opened up from his accustomed privacy. It allowed, as he would say, some light to get in on his creative workings.
First, well in advance of Montreal's 375th anniversary celebrations, he allowed his entire artistic output — comprising poems, novels, song, and sketches — to be used as the basis of a massive retrospective at the MAC. Perhaps only Leonard knew that it would be a posthumous show, with sorrow to shade the joy.
Then, in the final summer of his life and aware of his advancing cancer, Leonard invited David Remnick, the editor of The New Yorker, to interview him over several days at his home in Los Angeles. The resulting literary and personal biography, "Leonard Cohen Makes It Darker," appeared on October 17, 2016, just three weeks before the singer's death. This article and the current exhibition are strikingly complementary for appreciating Leonard the artist.
Let museum goers be aware, this exhibition demands your time and your attention. Don't try to see it in less than four hours, and six is better. (We recommend seeing the major exhibits, going out to Ste-Catherine for a food break, and coming back for a second helping of ideas). Don't bring the kids! The Exhibit as a whole is crowded and likely to remain so. At least two of the installations require a line-up. (Yes, it's a scandalous decision by the artists and the Musée, but as of this writing the line-ups remain). Clara Furey's well-received dance performance apparently lasts three hours each day, so consult the daily museum program if you want a chance to see it.
Pick up the printed program — separate versions in English and French — near the ticket desk; it is not handed out. And it is the first of many pleasures, with black-and-white photos and insightful texts that mostly avoid the airy-fairy. Kudos! You might also wish to study the layout of the show, which is on yellow cards at the ticket desk and nowhere else. This is because the show, on the second floor, is divided between a large section on the right side and a smaller section on the left. Since there is almost no signage to tell you where to go, you may very well need help. Fortunately the staff are mostly bilingual, knowledgeable, and friendly. Sadly, you will hear almost no French. The videos do have subtitles, and there is one glorious moment in Paris where Leonard sings en français and the audience sings along.
Leonard revealed
The exhibits are broadly of two types: (a) those that show Leonard in his video and audio recordings and (b) those that are interpretations of some aspect of his work. Leonard himself is unfailingly a delight. His thoughts are wise, free from trivia, self-deprecating, and often witty.
The principal video retrospective of Leonard's life, the 35-minute "Offerings" by Kara Blake, is the best place to begin. It runs continuously on a loop. To avoid any distraction, wait and take a seat when one opens up; it doesn't matter where in the archival footage you start watching. From Leonard as a boy on his bike in Westmount to his triumphal return to the stage late in life in London, it is mostly there.
The revelations come one after another. One high point is his decision, on the Greek island of Hydra, to overcome a writer's block by forgetting about structure. We see him at his portable typewriter, outdoors under the Mediterranean sun, "ten hours a day. The neighbours thought I was crazy." Or his famous dalliance with Janis Joplin at the Chelsea Hotel, from which several photos have survived.
And always, sex, humour, and an enduring concern for the timeless. The Museum's program puts it very well: "His interweaving of the sacred and profane, of mystery and accessibility, was such a compelling combination that it became seared into memory." The critics did not always see him that way at the time. Do not miss the hilarious segment in which a stern interviewer accuses him of selling his anguish to the world. "I can't think of a better thing to do with my anguish than selling it," he deadpans.
Elsewhere, Leonard also appears in the longer (56-minute) video collage called "Passing Through". The singer is better than the editing of him, but it is a pleasure nonetheless. A projection of a series of "Self-Portraits" is delightful. Who knew that the man could sketch a caricature so effectively? Finally, there is a recreation of Leonard's surprisingly small work studio in his Los Angeles home. This is the only scene in which Leonard's real-life memorabilia appear to be displayed. (Anywhere else the absence of original handwritten manuscripts would seem to be an omission, but for some reason not here).
Leonard interpreted
With a few exceptions, the commissioned interpretations are far less successful. As the museum's program states, these artists were "struggling with the weight of admiration and revision, not to mention Cohen's enormous reputation, crushing profundity, enduring relevance, and playful riddling."
That said, the large room with the installation "I'm Your Man" is pure genius. Eighteen different men, together with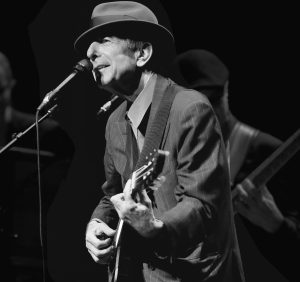 the choir of Leonard's synagogue, sing along to the tracks of the Cohen album of the same name. Each man having been recorded separately, the installation displays the videos side-by-side in a huge circle of older men and their voices. It is shockingly intimate, and ultimately sublime.
Shocking too, but for a different reason, is the outstanding film by Michael Rakowitz. He examines war and peace, Jew and gentile, in an imagined letter to Leonard Cohen about the latter's role in the 1973 Arab-Israeli war, as well as Cohen's later attempt to give peace concerts in Tel-Aviv and Ramallah in 2009. At moments I felt I could hardly breathe. Be sure to see the film in its entirety. French subtitles.
Until April 9, 2018. macm.org
This page is also available in / Cette page est également disponible en:

Francais (French)