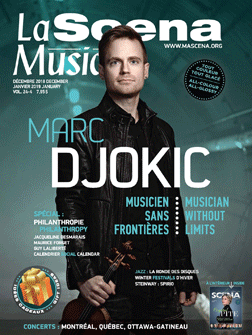 This page is also available in / Cette page est également disponible en:

Francais (French)
Red Sky Performance is a leader in contemporary Indigenous performance across Canada and around the world. The company creates, produces and disseminates shows that shine a light on Indigenous themes, aesthetics and values. Founder Sandra Laronde, who is of the Teme-Augama-Anishinaabe (People of the Deep Water), is executive and artistic Director. Born in Temagami, northern Ontario, she created the company in 2000 as a vehicle for First Nations, Métis and Inuit artists. Indigenous people are at the core of Red Sky, although people from all backgrounds work on the shows.
Laronde employs an analogy to explain what for her constitutes an Indigenous artistic lens. "It's like making a braid – there are three parts to it," she says from Toronto, where Red Sky is based. "I see the three parts as spirit/mind/body. What makes a creation powerful? If it has these three elements."
Montrealers will be able to judge the merits of one of Red Sky's recent successes early in 2019, when Backbone opens at the Cinquième Salle of Place des Arts under Laronde's direction. Here "backbone" refers not only to the human body but to an Indigenous concept concerning land. According to this idea, the mountain ranges that run down the west coast of the Americas to Antarctica constitute the backbone of these continents. Indigenous peoples perceive the mountains as a "spine" as seen from the air. Originally commissioned and co-produced by the Banff Centre for Arts and Creativity, the show was later reworked and premiered at Toronto's Berkeley Street Downstairs Theatre (one of Canadian Stage's venues) in 2017, followed by performances in Europe and Asia.
"Red Sky" are the first two words of Laronde's Ojibway (Anishinaabe) spirit name. Director of Indigenous Arts at the Banff Centre from 2007 to 2016, she started the Indigenous dance residency there. It was an exciting time. Under her leadership, the Indigenous Arts program grew substantially to involve hundreds of Indigenous artists from across Canada and beyond.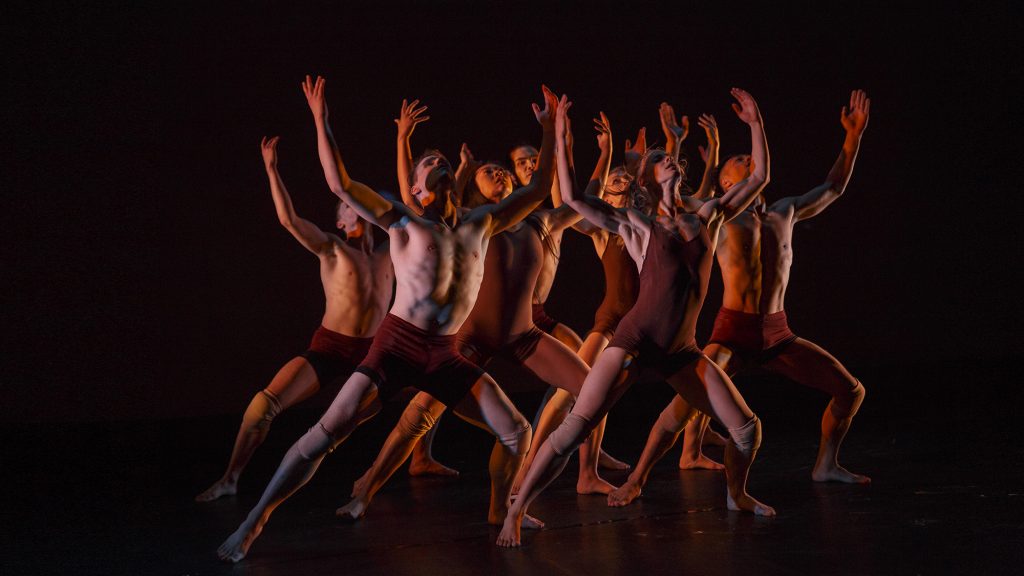 Indigenous Mapping and Western Cartography
The Indigenous vision of land stands in stark contrast to the non-Indigenous outlook. Laronde says she was "tired of the point of view of land as inert and dead, as witnessed by the phrase 'to climb a mountain.'
"To make this understood by a Western [i.e. non-Indigenous] audience, I chose the human spine, which is intact, alive and sentient." Another important disconnect between Indigenous and non-Indigenous world views concerns the issue of national borders. Western cartography differs from Indigenous mapping in that the former recognizes national borders. Indigenous mapping, according to Laronde, is "much more intact, fluid and continuous."
Laronde does not like the use of the word "descriptive" to characterize the type of language her people use for place names. Whereas Western cartography would use a place name – e.g. "Angus Lake" – with Indigenous mapping, the "characteristics of the land are clearer." An Indigenous place name would be, for example, "where the two rivers meet."
Three Choreographers
Backbone has three choreographers: Laronde, Jera Wolfe and Ageer. Wolfe is a Red Sky associate artist who dances with the company. He choreographed its production Miigis. A graduate of Canada's Royal Winnipeg Ballet School, Wolfe has focused on contemporary dance. His CV includes the Disney musical Tarzan, on which he spent a year in Germany. In addition, he was a faculty member at the Banff Centre's Indigenous Dance Residency.
Guest artist Ageer comes from Inner Mongolia. He studied dance performance at the Art Institute of Inner Mongolia University from 2006 to 2008 and has won awards for his dancing. Since 2009, Ageer has been a principal dancer with the Hohhot Performing Arts Group in Inner Mongolia. He dances in the latest version of Backbone, which features nine dancers and one musician. "He is fully embodied in nature, the way he moves onstage," Laronde says. "He is electric and compact."
Rick Sacks is the composer/musician. His music includes a lot of big sounds: a stampeding buffalo herd, a big fire, an earthquake. Sacks plays a malletKat, a kind of electronic marimba. Other members of the company, Laronde says, also contribute to the musical score.
One aspect of the show that reviewers often mention is its athleticism. Red Sky performances are known for this. Laronde has said that the company's performers are "not only extraordinary dancers, but also high-level athletes."
Since 2003, Red Sky has given more than 2,253 performances in Canada and played 12 countries in four continents. These include appearances in two Cultural Olympiads (Beijing and Vancouver) and in the opening show for Canada at Expo 2010 in Shanghai. The company has received two Dora Mavor Moore Awards, plus three nominations; the Smithsonian Institute's Expressive Arts Award; and two Canadian Aboriginal Music Awards. Laronde has received, among other distinctions, an honorary doctorate from Trent University. She has been widely recognized for her mentoring and leadership.
Backbone will play the Cinquième Salle of Place des Arts from March 19 to 23. www.redskyperformance.com
This page is also available in / Cette page est également disponible en:

Francais (French)