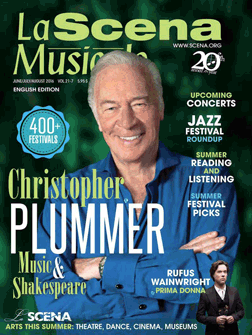 This page is also available in / Cette page est également disponible en:

Francais (French)
Adam Johnson has been named assistant conductor of the Orchestre symphonique de Montréal for the upcoming season, succeeding Dina Gilbert. The conductor and pianist from Hinton, Alberta, spent this past season as Associate Conductor of the Calgary Philharmonic Orchestra, following two seasons as Resident Conductor. Johnson holds a Doctorate in Piano Performance from the Université de Montréal and a Prize in Orchestral Conducting from the Conservatoire de musique de Montréal. He was the winner of the 2015 Jean-Marie Beaudet Award in Orchestral Conducting from the Canada Council for the Arts.
Pierre Dufour leaves his position as General Director of Opéra de Montréal at the end of the current season to develop the opera Another Brick in the Wall, after having been with the organization for the past 16 years. Dufour began his career at Opéra de Montréal in 2000 as Production Director, and was named General Director in 2006. At the Opera America Conference, he revealed the OdM's 2017-18 season: Tosca, Cenerentola, JFK, and Carmen.
Violinist Jonathan Crow will become the new Artistic Director of Toronto Summer Music beginning in September. Crow takes over from violist Douglas McNabney, who will oversee his sixth and final season this summer. Crow is in his fifth season as Concertmaster of the Toronto Symphony Orchestra and is a founding member of the New Orford String Quartet. Now in its eleventh year, Toronto Summer Music runs from July 14 to August 7.
Martin Arnold has been named the new Artistic Director of Arraymusic starting this July. Arnold is an established composer and performer in Toronto, and holds teaching positions at both York and Trent Universities. Martin takes over the Toronto-based contemporary music ensemble from interim Artistic Director Rick Sacks, who has held the post since 2010.
Wins & Honours
Toronto-based pianist and composer Matt Poon was named the top prize winner at the Eckhart-Gramatté National Music Competition for the performance of Canadian and contemporary music. Poon received a $10,000 cash prize, a debut recital in Italy at the Casalmaggiore International Music Festival, and a Cross-Canada Winner's Tour in November 2016. The second place winner was pianist Naomi Woo, and third place went to Jesse Plessis.
Pianist Jeanne Amièle from Saint-Bruno-de-Montarville, Québec, has been awarded the  $8,000 top prize in The Shean Piano Competition which took place in Edmonton. Currently pursuing a Doctorate in Music at the Université de Montréal, Amièle also wins the opportunity to perform with the Edmonton Symphony Orchestra. The 26 year-old pianist is a past winner of the Grand Prize of the Canadian Music Competition as well as 3rd Prize in the OSM Manulife Competition.
Polish-American composer Wlad Marhulets is the winner of the inaugural $50,000 Azrieli Prize in Jewish Music for his Klezmer Clarinet Concerto.
Mauro Bertoli, an Italian-Canadian pianist currently living in Ottawa, is the 2016 recipient of the CAB Foundation's Arturo Benedetti Michelangeli Prize for young performers, awarded in collaboration with the International Piano Festival of Brescia and Bergamo. Bertoli is the first recipient of this new prize for "young interpreters" and is recognized alongside this year's "career prize" winner, Mitsuko Uchida.
Western University in London, Ontario, awards pianist Louise Bessette an honorary doctorate in music at its convocation ceremony in June. The Montreal-born pianist is honoured for her 35-year career during which she has appeared in performance throughout the world. Bessette has been a professor of piano at the Conservatoire de Montréal since 1996, and was named Ambassador of Canadian Music by the Canadian Music Centre in 2009.
Classical guitarist Thierry Bégin-Lamontagne, born in Cowansville, Quebec, is the winner of the international guitar competition of Anthony, a town near Paris. Bégin Lamontagne received the 10,000-euro first prize and the 300-euro audience award, as well as a new guitar created by the Japanese luthier Masaki Sakurai.
The Molinari Quartet has announced the winners of its 6th International composition competition. The $3,000 first prize was awarded to Italian composer Gianluca Castelli for his work Mythoi; the 2nd prize of $2,000 went to Liliya Ugay, from Uzbekistan, for her String Quartet No. 2; and two 3rd prizes of $500 each went to Jean-Patrick Besingrand from France, and Canadian Alexandra Fol, who also took the public's choice prize for her work The ELGEA Quartet. The winning works were chosen among 86 quartets by composers from 28 countries.
Concert pianist Jon Kimura Parker was among those named an Honorary Fellow of The Royal Conservatory in May, for his noteworthy contributions to culture and the lives of millions of people. Parker, a Conservatory alumnus, has performed on many of the great stages around the world.
New Music
The Canadian Music Centre has newly assumed responsibility for Berandol Music's collection of nearly 1,000 works by Canadian composers, which will be added to the CMC's already vast catalogue of over 24,000 works. The collection was purchased in 1972 by record producer and composer Ralph Cruickshank during his time at BMI Canada.
Big Benefits
The Société pour les arts en milieux de santé (SAMS), which offers 600 concerts each year in hospitals and other health centres in Montreal, Quebec, and several other regions, recently held two successful fundraising events. A Cabaret-bénéfice at Montreal's Salle Bourgie and a concert-dînatoire in Quebec City together raised over $150,000.
The benefit Gala La Dolce Vita was held at the Marriot Château Champlain in support of the Montreal Chamber Music Festival, which runs June 9-19. World-renowned tenor Ben Heppner gave a rare performance at the sold-out event, which raised $160,000.
New Name
Queen's University recently announced the naming of the Dan School of Drama and Music in honour of Aubrey and Marla Dan, who have donated $5 million to the school. The donation will be endowed to fund visiting instructors, scholarships and research. The significant gift follows last year's opening of the Isabel Bader Centre for the Performing Arts and the merger of the Department of Drama and School of Music.
Violin Gift Goes Viral
When Montreal violinist and busker Mark ­Landry had his violin stolen recently, Orchestre Métropolitain and violin store Maison du Violon quickly came to his aid, offering Landry a new instrument, along with a bow and case. The heart-warming story was picked up by numerous media outlets in Canada, as well as by The Strad, the Washington Post, and columnist Norman Lebrecht.
This page is also available in / Cette page est également disponible en:

Francais (French)