Advertisement / Publicité
This page is also available in / Cette page est également disponible en:

Francais (French)
The COVID-19 pandemic is challenging the traditional concert model in the classical world. Organizations like the Montreal Symphony Orchestra, the Metropolitan Opera and the Seattle Opera have brought performances to the public by migrating to the digital sphere. The name of the game? Pay-per-view.
An online pay-per-view event is defined as a virtual service for which viewers are required to pay a fee to watch an exclusive program. Although not yet universally popular, pay-per-view events have the potential to flourish. Can they generate enough income to replace the seats that have been lost through cancellations?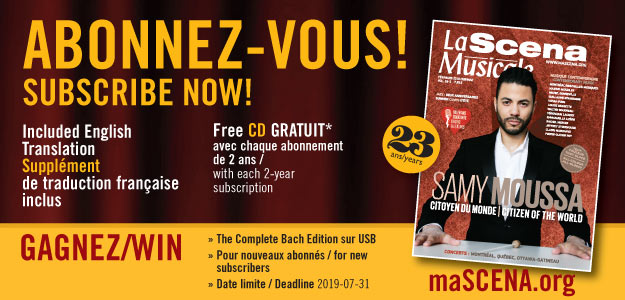 Although expectations for the fall 2020 season are low, producers are still determined to bounce back. "As this abruptly interrupted season reaches what would have been its conclusion, we realize all the more concretely the essential role music plays in our lives," says Lucien Bouchard, chairman of the MSO board of directors, in a press release. "Despite the enormous challenges we face, we are unwaveringly determined to find creative solutions that enable us to gather together – even if this means virtually – to experience the joys of music." 
The Seattle Opera had nebulous expectations, says Gabrielle Nomura Gainor, communications and public engagement manager at the Seattle Opera. "But we knew the artists were excellent and would attract viewers, and they did," she says.
On average, half of the Songs of Summer recital series averaged between 1,500 and 2,000 views. No donations or tickets were required. "Free virtual content is an important part of our programming strategy during COVID as a way to introduce new people to opera, who might not otherwise give it a try in person," Gainor says.
But for its current season, the Seattle Opera has added pay-per-view streaming to its musical roster, in addition to free virtual content. "We have approximately 6,500 tickets sold for each production in our 2020-2021 season via subscription sales," Gainor says. "Subscribers will be receiving virtual content created just for them, including a new staging of Elixir of Love, designed specifically for streaming." Subscribers will also receive concerts by Angela Meade and Jamie Burton. 
According to Pascale Ouimet, head of public relations and media relations for the Montreal Symphony Orchestra:
The MSO has made 40 concerts available online, each receiving between 2,000 and 10,000 virtual spectators.
The Maison symphonique online concert on June 4 received 5,000 views.
Of approximately 30 home-musician videos, the top three received 100,000 views each.
Clarinetist André Moisan received 11,500 views for his 10 performances.
The MSO has received 1.4 million views for all online videos since March 13.
"In the first month of the pandemic, we had twice as many visitors as we normally had before the pandemic," says Ouimet of the orchestra's virtual spectators. 
In July, the Metropolitan Opera launched a pay-per-view series, Met Stars Live in Concert, featuring 12 concerts with opera stars like Jonas Kaufmann, Angel Blue and Diana Damrau. "This new initiative is intended to create live performance opportunities for our artists and our audience at a time when they both sorely need it," said Peter Gelb, the Metropolitan Opera's general manager in a July press release. 
The series is unique because of the exotic locations. From a former abbey in Bavaria to Eze, France, castles in Oslo, palaces in Vienna, and a church in Wales, the COVID-19 pandemic has not stalled the show-must-go-on mentality of the Met. Running for about 75 minutes and costing $20, the first recital by tenor Jonas Kaufmann attracted 44,000 viewers. 
Online concerts come with perks. They can be watched with all the comforts of home for lower prices, and together with friends and family. In the age of the coronavirus pandemic, pay-per-view is also one of the most accessible ways for a musician to continue performing, gain a following, and introduce music to people who don't frequent traditional concert halls. 
In the past, watching virtual livestreamed concerts was not considered a premier experience for serious music listeners. But the coronavirus has prompted a transformation of the digital medium, and now, pay-per-view events have become increasingly tempting as a viable source of income for some established musicians in the pandemic. 
One of the cons is the shortfall in revenue. In an article by FR24 News, director general of the London Philharmonic Orchestra David Burke said that the orchestra receives approximately 200,000 streams on their online content per day, but the income is negligible: "The income from these streams amounts to roughly $52,000 CDN, which would pay for one rehearsal." 
Burke laments that many streaming services "don't take track length into account […] from a two-minute song to a one-hour orchestral piece, the payoff is the same."
The New York Philharmonic projects a loss of $10 million in revenue after cancelling its season in March and the Met anticipates a loss of $60 million. The revenue generated by pay-per-view concerts is not likely to cover these projected losses for either institution.
However, the culture of live classical music has defiantly stood its ground in the face of pandemics before. New York Times reporter William Robin writes that despite the severity of the 1918 outbreak of the so-called Spanish flu, its long-term effect on music was limited. November 1919 brought on a concert season "of record-breaking proportions," according to Musical America.
Times were different in terms of science and hygiene awareness. We have more tools at our disposal today. And although it is too early to say, it may not be farfetched to expect the future of live music to be an interesting blend of in-person attendance and pay-per-view streaming of live concerts. 
This page is also available in / Cette page est également disponible en:

Francais (French)