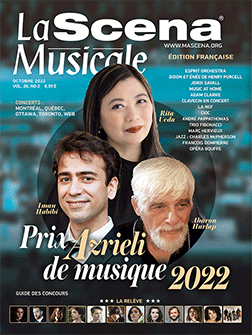 This page is also available in / Cette page est également disponible en:

Francais (French)
For the first time in its 111-year existence, the Prix d'Europe was awarded to a violist in 2022. "This was quite an accomplishment for me," said Wilhelm Magner, whose prize comes with $50,000. "It would not have been possible without the ­support of my teacher at McGill, André Roy, during the past three years." Magner is heading to Yale University this fall, to begin his master's in Ettore Causa's viola studio.
Like many violists, Magner began playing violin. "As a child, I first wanted to play the flute, but after watching Fiddler on the Roof, I decided I had to play the violin," he said. He immediately fell under the spell of Jascha Heifetz's recording of Tchaikovsky's Violin Concerto. "This was my first great musical love and I must have listened to it at least 100 times in the first month—until I got tired of it and had to go listen to other concertos!" He only transitioned to viola during the COVID-19 pandemic. "I did the majority of my viola lessons online for almost two years," he said. "Being locked up at home really allowed me to work a lot."
In July, Magner travelled to Switzerland to take part in the Gstaad Menuhin Festival. Next March, he'll return to Montreal to play William Walton's Viola Concerto with the Orchestre symphonique des jeunes de Montréal. Parallel to his life as a musician, Magner is a chess enthusiast—he even had designs on a career as a professional chess player before the violin and viola won him over. Check out his chess-themed YouTube channel.
www.wilhelmmagner.com
*reprinted with permission from cbc.ca/music/30-hot-canadian-classical-­musicians-under-30-2022-edition-1.6521874
This page is also available in / Cette page est également disponible en:

Francais (French)