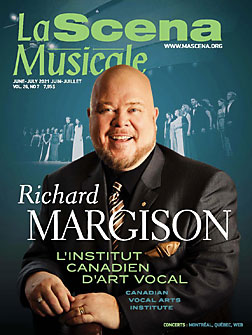 This page is also available in / Cette page est également disponible en:

Francais (French)
OVER THE COURSE OF 47 YEARS, JAMES LEVINE CONDUCTED MORE THAN 2,500 PERFORMANCES AT THE METROPOLITAN OPERA?
Levine died on March 9 of this year at the age of 77.
ALL THE MOST FAMOUS ITALIAN COMPOSERS' LAST NAMES END IN LETTER "I"?
Tartini, Corelli, Vivaldi, Scarlatti, Salieri, Boccherini, Cherubini, Paganini, Rossini, Donizetti, Bellini, Verdi, Puccini, Respighi. There are many other Italians, of course, but not quite at the same level of fame as these.
NO FEWER THAN FIVE VERDI OPERAS HAVE A CHARACTER NAMED CARLO?
There's of course the eponymous opera, one of Verdi's greatest. There are also Don Carlos in Ernani and La forza del destino. In Giovanna d'arco he becomes the French King Carlos VII, and in I Masnadieri one of the brothers is a Carlo.
THE WORLD'S MOST SOUTHERLY PROFESSIONAL SYMPHONY ORCHESTRA IS IN CHRISTCHURCH, NEW ZEALAND?
That's well south of all of Australia, all of Africa, and all but the very tip of South America.
THERE IS MUSIC WRITTEN WITH SEVEN SHARPS IN THE KEY SIGNATURE?
C-sharp major is rarely used, and for obvious reasons (who wants to keep track of seven sharps?). But there are a few cases (in addition, of course, to those in Bach's Well-Tempered Clavier): Brahms's Waltz Op. 39 No. 6, Korngold's Concerto for the Left Hand, the Allegro de concierto by Granados, and the Ondine movement from Ravel's  Gaspard de la nuit.
THERE IS LIKEWISE MUSIC WRITTEN WITH SEVEN FLATS IN THE KEY SIGNATURE?
That's A-flat minor, and again, the examples are extremely few: the very beginning of Stravinsky's Firebird ballet, Evocación from Book I of Albeniz' Iberia, the slow movement of Strauss's Horn Concerto No. 1, the first movement of Bruch's Concerto for Two Pianos, and Dimitrie Cuclin's Symphony No. 11.
TOKYO HAS MORE FULLY PROFESSIONAL, FULL-TIME, FULL-SIZE ORCHESTRAS THAN ANY OTHER CITY IN THE WORLD?
There are eight of them, and some have maddeningly similar names: Tokyo Philharmonic Orchestra, Tokyo Symphony Orchestra, Tokyo Metropolitan Symphony Orchestra, Tokyo City Symphony Orchestra, Japan Philharmonic Orchestra, New Japan Philharmonic Orchestra, Yomiuri Nippon Symphony Orchestra, and NHK Symphony Orchestra (the most famous internationally). NHK, by the way, stands for Nippon Hōsō Kyōkai (Japan Broadcasting Corporation). 
THERE IS JUST ONE SYMPHONY BY A FAMOUS COMPOSER WHOSE ALL FOUR MOVEMENTS END QUIETLY?
That's Brahms's Third, which, exceptionally among this composer's four symphonies, is sometimes offered on the first half of a program.
STRAUSS WASN'T THE ONLY COMPOSER TO WRITE A WORK INSPIRED BY THE MISCHIEVOUS ROGUE TILL EULENSPIEGEL?
There are operas by Jan Blockx, Jan van Gilse, Cyrill Kistler, Emil von Rezniček, Nikolai Karetnikov, and Walter Braunfels; an oratorio by Wladimir Vogel; an orchestral rondo by Eduard Erdmann; and a piano piece by Leopold Godowsky. None of these names rings a bell? Well, here's one that will: Tchaikovsky. The twelfth of his little piano pieces Op. 72 is entitled "L'espiègle"  the French word directly derived from the legendary character's name! 
OPERATIC ENSEMBLES (TRIOS, QUARTETS, QUINTETS, ETC.) DECREASE IN FREQUENCY AS THE NUMBER OF VOICES INCREASES?
Well, that's fairly logical, but just how many SEXTETS can you name? The most famous ones come from The Marriage of Figaro (Act III), Lucia di Lammermoor (II) The Tales of Hoffmann (the Venice act), and La Cenerentola (II). SEPTETS are harder to find, but they do occur in Tannhäuser (I), The Marriage of Figaro (end of II), Les Troyens (end of IV), Les Huguenots (III), and in two of Verdi's least-known operas: Act I of Steffelio and the finale of Un giorno di regno. OCTETS? Fewer still: Les Troyens (I), Strauss's Capriccio (midway through the single act) and Halévy's La Juive (prayer scene in II). As for NONETS, the only one in a famous opera is in Verdi's Falstaff (Act I, scene 2). Falstaff also takes the prize for DECETS – two of them, in fact, one in II/2 and one in III/2.
IN STRAUSS'S DIE FRAU OHNE SCHATTEN, ALL FOUR LEAD SINGERS FINISH UP ON THEIR RESPECTIVE HIGH Cs, JUST BEFORE THE END OF THE OPERA?
They are two sopranos, a tenor, and a bass-baritone. It's a unique moment, and it's absolutely thrilling when hurled forth fortissimo. Top that!
BEETHOVEN'S THIRD SYMPHONY ("EROICA") WAS THE LONGEST SUCH WORK WRITTEN TO DATE (1805)?
Shortly after it was introduced to the public, London's Harmonicon noted that it "contains much to admire, but …is infinitely too lengthy… If this symphony is not by some means abridged, it will soon fall into disuse." H-m-m-m-m.
THE LAST WORD SUNG IN WAGNER'S IMMENSE, FOURTEEN-HOUR CYCLE DER RING DES NIBELUNGEN IS "RING"?
It is sung by the villain Hagen, making one last desperate attempt to get his hands on the cursed object (Zurück vom Ring!). He drowns in the Rhine.
This page is also available in / Cette page est également disponible en:

Francais (French)