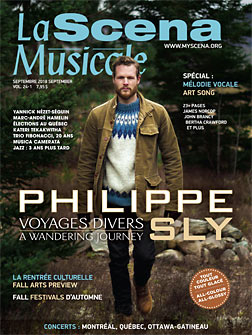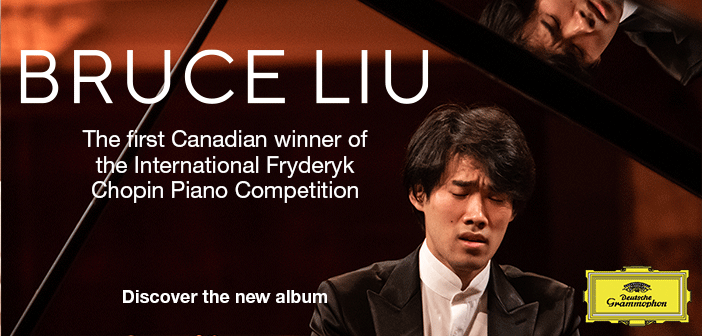 This page is also available in / Cette page est également disponible en:

Francais (French)
Since the beginning of the century, soprano Karina Gauvin and contralto Marie-Nicole Lemieux have demonstrated their affinity for the vocal recital and their need to integrate this form of expression into their artistic lives. These two remarkable artists have presented recitals (often jointly) not only in Canada but especially on the largest international stages.
Their vocal talent, mastery of style, linguistic coherence and literary knowledge have won them world renown both in concert halls and on recordings. Will the inspiration and the example of Gauvin and Lemieux lead to another generation of recitalists from Quebec and Canada? It is the emergent generation of vocal artists in Canada that holds both a multitude of sources for hope and an answer to this question.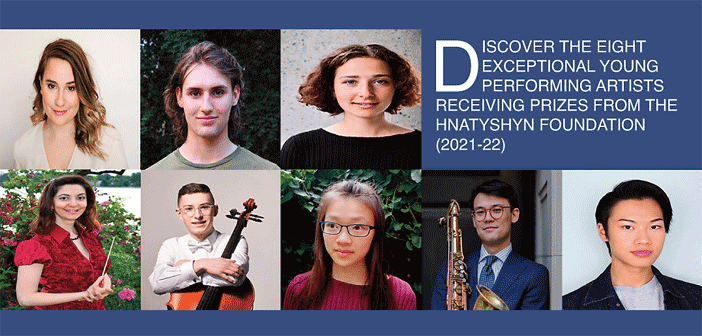 The starting point is without a doubt the young baritone Philippe Sly, laureate of several major prizes, including the Concours musical international de Montréal (CMIM). His recordings on Analekta with Michael McMahon display the same qualities as the foremost interpreters; the voice is of striking beauty, the musicality is omnipresent and displayed through flexible phrasing and a remarkably clear diction whether in French, English or German. His interpretation of Dichterliebe (on the Analekta CD titled In Dreams) is imbued with a youth but also a weight of existence rare in a man of his age.
Sly's recording of British art song (Love's Minstrels) is full of vocal jewels: the three melodies of John Ireland, certainly, but especially Roger Quilter's Shakespeare settings and Vaughan Williams's The House of Life, in which the fusion of words and music reminds one of the master, Gerald Finley. Finally, there is his CD dedicated to Schubert with guitarist John Charles Britton. An die Musik, Ständchen, Wohin?, Der Leiermann, among others, are invested with verbal intelligence and vocal involvement rare today. Good to see that his 2018-2019 season contains so many recitals in Canada and Europe.
Another winner of the CMIM, soprano Marianne Fiset has recorded three CDs dedicated to Lieder, French mélodie and Russian art song. In the mélodie but especially the Russian art song, the participation of the sublime pianist Marie-Ève ​​Scarfone is to be emphasized. The sumptuous soprano voice of Fiset is combined with a real ability to create atmosphere and musical ambiance.
Michael McMahon is the pianist for soprano Kimy McLaren, who turns to the mélodie (she is, despite what her name suggests, a francophone) for a first recording on NoMadMusic. These mélodies by Berlioz, Fauré, Massenet, Chausson and Debussy reveal a gorgeous soprano voice but above all a strikingly accurate interpreter of a moving musical truth and stylistic intelligence. The question that arises is simple: how is it that McLaren does not have a great international career?
The mélodie is at the heart of the repertoire choices of most of the new generation of singers from Quebec. It is obvious that soprano Hélène Guilmette and mezzo-soprano Julie Boulianne are celebrated more on opera stages than in recital, but it remains that they stand out and must be recognized as recitalists of high calibre. Boulianne and Guilmette both participated in the enterprising complete recordings of Poulenc and Fauré songs by ATMA Classique. Just listen to the idiomatic ease Guilmette displays in Trois poèmes de Louise Lalanne and Reine des mouettes by Poulenc. Boulianne is both surprising and endearing in Poulenc's Huit chansons polonaises but staggering in the simplicity and emotion of her Main dominée par le cœur or Les berceaux and Au bord de l'eau by Fauré.
Another mezzo, the fabulous Michèle Losier, has a remarkable career in opera, but her interpretive qualities are revealed even more pointedly when she sings mélodies. Losier began her recording career with a beautiful album dedicated to Henri Duparc but it is a recent recording, called Temps nouveau and featuring mélodies by Gounod, Massenet, Bizet, Saint-Saëns and Franck, which reveals her as a formidable interpreter. Losier demonstrates a newly acquired assurance, singing with charm (Si vous n'avez rien à me dire by Saint-Saëns), elegance (Nocturne by Franck) and a vocal opulence and a sense of drama (L'attente by Saint-Saëns). Her powers of storytelling and communication are both irreproachable and impressive.
The newcomer is the mezzo-soprano Caroline Gélinas (Révélation Radio-Canada 2017-2018). Her recording Confidences contains mélodies by Robert Fleming and Lieder by Robert Schumann, but it is above all the mélodies of Debussy (Chansons de Bilitis) and Ravel (Shéhérazade) that illustrate her affinity for this repertoire. Her vocal timbre, reminiscent of Janet Baker, features a persuasive sensuality.
It seems obvious that these Quebec and Canadian opera artists are at the forefront of the defense and evolution of the art of French mélodie on the world stage. The last four singers also have two things in common: they work and record with the magnificent pianist Olivier Godin, a pillar of this renaissance of the art of art song in Quebec. Furthermore, all four record for ATMA Classique. Quebec and Canada are particularly fortunate to have record companies such as ATMA and Analekta that provide great opportunities for local vocal artists.
The fact remains that for Canadian vocal artists the world of opera offers more opportunities to showcase their talent than the field of recital at present. But let's remain optimistic and excited about the day when we will have the opportunity to hear other Canadian operatic talents in recital and on record, including mezzo-soprano Emily d'Angelo and baritone Gordon Bintner.
This page is also available in / Cette page est également disponible en:

Francais (French)