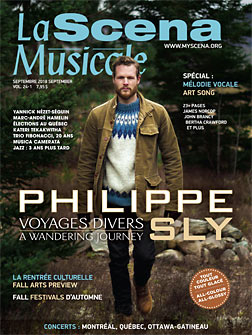 This page is also available in / Cette page est également disponible en:

Francais (French)
Although American song is almost as old as the nation itself, the American art song is a much younger creation. Until the end of the 19th century, folksong and popular song (such as the music of Stephen Foster) blended an emerging American voice with the influence of the European tradition of "romance" and ballad. This tendency was exemplified by such influential female composers as Amy Beach, Pearl Curran, Clara Edwards and Mary Howe until the emergence of a new voice in Edward MacDowell.
At the turn of the 20th century, the American art song came of age. Serious composers from the United States began increasingly to break from the existing European traditions, none more so than the highly original Charles Ives (1874–1954). Ives's innovative music is intimately related to his native New England and includes quotations from popular tunes, revival hymns and classical European music.
His self-published 114 Songs vary from ballads to satire, hymns and romantic songs. In technique they range from highly complex to straightforward and simple. Such songs as The Greatest Man and The Things our Fathers Loved – especially as performed by Gerald Finley and Julius Drake in their two CDs devoted to Ives – created a standard by which other composers were now to be measured.
A near-contemporary of Ives, Charles Griffes (1884–1920), left an important body of song ranging from youthful German Romantic settings to songs influenced by French Impressionism. Many of his beautiful mature songs, (especially Four Impressions, settings of Oscar Wilde) illustrate how well Griffes wrote for the voice. His songs have been championed on record – as is the case with so many American composers – by the visionary Thomas Hampson.
Notable composers of American art song from the first half of the 20th century include Aaron Copland (1900-1990). As is noted on the fabulous Song of America website (sponsored by the Hampsong Foundation): "Copland, whose song opus is primarily defined by his Twelve Poems of Emily Dickinson, also arranged two sets of Old American Songs (1950 and 1952). Described as a diversified portrait of America, the former set contains Copland's arrangement of the Shaker tune Simple Gifts, whereas the latter set includes the minstrel song Ching-a-Ring Chaw, famous for its nonsense syllable-laden chorus." The recording of reference here is that by baritone William Parker.
The adaptation of American folk and popular song was not confined to Copland. John Jacob Niles (1892-1980) composed original settings but also arranged many folksongs (including I Wonder as I Wander as sung by the sublime Karina Gauvin) and more recently Steven Mark Kohn, who arranged a series entitled American Folk Song Settings (beautifully performed by baritone Andrew Garland).
Other distinguished composers of the era included the so-called dean of African-American composers, William Grant Still (1895–1978), and especially the post-Romantic Samuel Barber (1910-1981). Barber, nephew of the celebrated contralto Louise Homer, had a beautiful baritone voice (he recorded his own song cycle, Dover Beach). His essentially lyrical vocal style was ideal in setting many European poets but also one of the defining songs in American art-song literature, a poem by James Agee, Sure on This Shining Night – once again as performed by Finley and Drake – and the cycle Knoxville: Summer of 1915 (search out the contrasting versions by Eleanor Steber, Leontyne Prince and Dawn Upshaw).
The pre-First World War generation of composers included the eccentric Mark Blitzstein, whose innovative style (described as "abstract neo-classicism") was exemplified in such songs as The Cradle will Rock (superbly recorded by William Sharp and Steven Blier), and the equally eccentric Leonard Bernstein, who demonstrated his personal compositional style in such works as I Hate Music : A Cycle of Five Kid Songs.
For the post-1918 generation of composers, the rising influence of American poetry became and remained important in the musically accessible yet modern vocal language of composers such as Ned Rorem (born 1923), Lee Hoiby (1926–2011) and Dominick Argento (born 1927). Rorem's more than 200 songs display a wide variety of styles and a sculptured harmonic language. The songs are set to a vast number of poets and range from miniatures to lengthy cycles (Evidence of Things Not Seen comprises 36 songs). Among the numerous cycles, the 1969 War Scenes (as recorded in part by Finley) and Five Poems of Walt Whitman (especially as recorded by Susan Graham) are most striking.
Lee Hoiby's more than 100 songs are characterized by humour and a winning lyrical manner in music affiliated to the romantic tradition of Barber, as in the cycle The Shining Place. Like Hoiby, Argento's vocal music displays a particularly personal lyrical strength. His cycle From the Diaries of Virginia Woolf (wonderful recording by Janet Baker) won him the Pulitzer Prize in 1975 but other works such as Casa Guidi (especially in a recording by Frederica von Stade) bear discovery.
American art song appears to have risen to new heights in the last generation. William Bolcom's (born 1938) wildly popular Cabaret Songs are representative of a music that "demonstrates his flair for the dramatic, his fondness for experimentation, and his knack for combining pre-existing styles with his own dissonant textures and jaunty vernacular idiom" (Song of America). Bolcom's exact contemporaries John Corigliano and John Harbison have also left songs of distinction, as have Thomas Pasatieri (born 1945) and especially the lyrically inclined Stephen Paulus (born 1949).
The song output of female composers Libby Larsen (born 1950) and Lori Laitman (born 1955) displays a strikingly evocative vocal language and a personal method of word-setting. Songs by Tom Cipullo (born 1956) and Jake Heggie (born 1961) – brilliantly recorded by Andrew Garland – eloquently demonstrate that the American art song continues to engage and build upon a most impressive tradition.
This page is also available in / Cette page est également disponible en:

Francais (French)