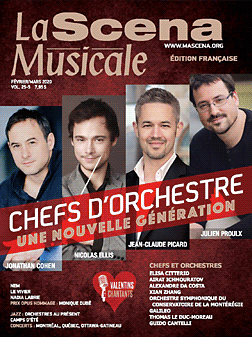 Advertisement / Publicité
Autour de la flûte
The flute-driven early-music series programmed by Mika Putterman offers a house concert on Feb. 5 under the title Hygge (pronounced "hoo-ga"). "This Danish concept cannot be translated into one word but encompasses a feeling of cozy contentment and well-being through enjoying the simple things in life," the website explains. On March 31 the concept is Ivoire. Expect to hear an original 19th-century flute made entirely of ivory and a fortepiano at the Espace Knox at 6215 Godfrey Ave. www.autourdelaflute.com
OSM
February at the OSM begins on Feb. 5 with a visit by the American conductor James Gaffigan (Mozart's Symphony No. 40) and the Canadian pianist Jan Lisiecki (Brahms's Piano Concerto No. 1). The five-minute appetizer is Aqua by the Canadian composer Vivian Fung. There is a repeat on Feb. 8. On Feb. 9 a one-off Sunday afternoon concert brings the Chinese woman conductor Xian Zhang to the podium for Dvořák's Symphony No. 9 ("From the New World") in a program also including Erich Wolfgang Korngold's Violin Concerto as played by the prizewinning Canadian Timothy Chooi.
Kent Nagano takes the stage on Feb. 18 and 20 in a program highlighted by the North American premiere of Waves, Duo for Organ and Orchestra by Pascal Dusapin, a noted French composer. OSM organist emeritus Olivier Latry is the soloist. Beethoven's Symphony No. 6 ("Pastoral") and the "Royal Hunt and Storm" from Berlioz's Les Troyens are the classic selections. If you find yourself in Toronto on the Feb. 19 you can hear this program in Roy Thomson Hall.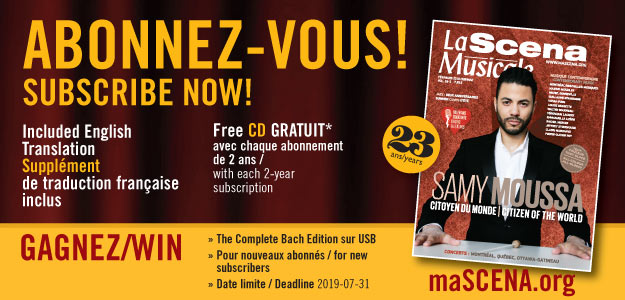 From late February through much of March the OSM is guided by guest conductors while Nagano pursues operatic activities in Germany, where he serves as music director of the Staatsoper Hamburg. The German composer and conductor Matthias Pintscher visits on Feb. 26 and 27 in a program including Debussy's La Mer and Prelude à l'après-midi d'un faune plus Mozart's Piano Concerto No. 20 with the old pro Emanuel Ax as soloist. A piece composed by Pintscher himself completes the program. On March 4 and 5, Valery Gergiev, one of the best-known conductors in the world, pays a visit with Bruckner's formidable Ninth Symphony. Hungarian violinist Kristóf Baráti plays Mendelssohn's Violin Concerto as a warmup.
Another significant visitor is the French conductor Lionel Bringuier, returning to the Maison symphonique in Ravel's Valses nobles et sentimentales and Florent Schmitt's La tragédie de Salomé. Shostakovich's powerful Violin Concerto No. 1 is also heard, with the excellent Leonidas Kavakos. These concerts take place March 14 and 15. Louis Langrée, the French-born music director of the Cincinnati Symphony, makes his OSM debut on March 17 (with two repeat concerts on March 19). The substantial program comprises Brahms's Tragic Overture, Schoenberg's Pelleas und Melisande – not to be confused with the Debussy opera – as well as Liszt's Piano Concerto No. 2 as played by Marc-André Hamelin.
To conclude the month on March 27 and 28, Nagano returns with an "Éclaté" event, combining music, movement, dance and, more surprisingly, clothing. Marie Saint-Pierre is the fashionable guest of honour, together with Maestro Kent Nagano. Bach's Brandenburg Concerto No. 3 starts the program – presumably "with the participation of models," as the program promises. Dress well! www.osm.ca
MOSTLY BEETHOVEN AT BOURGIE HALL
When it comes to Beethoven, Bourgie Hall has outdone all other venues in programming concerts of this composer's music. After having presented the complete string quartets, it moves on to the 32 piano sonatas. Stellar pianist Louis Lortie will be heard in seven recitals spread over the course of this year and the next. The series opens with dates on Feb. 7 and 9 and two more in April (3 and 6). Also on tap are recitals of Liszt's transcriptions for piano of the nine symphonies. The Chapelle musicale Reine-Élisabeth of Belgium co-produces this series with the following guests playing one symphony each: on Feb. 8, Djordje Radevski and Josquin Otal share a double bill performing the First and the Third respectively, likewise for Luigi Carroccia and Lorenzo Bovittuti on April 4, the former playing the Second, the latter the Sixth. The remaining transcriptions (4, 5, 7, 8 and 9) will be heard in the fall, at dates to be announced. Nestled between those solo recitals are three chamber trio performances, all scheduled in March. On three consecutive nights (13,14,15), the Grimard-Gastinel-Cassard Trio from France shares the spotlight with its Canadian counterpart Strauss-McNabney-Haimovitz. Each group will play on its own, then mix and match for one piece (a string quintet) and another for quartet and piano. For lovers of French music, mark March 27 on your calendars, because last year's OSM Competition Grand Prize winner, cellist Bryan Cheng, will devote his concert to that repertoire, with his sister Silvie sitting at the piano. www.sallebourgie.ca
FORESTARE BAROQUE
Numbering twelve strong, with one double bassist added, the Forestare Guitar Ensemble breathes new life into works of the Baroque era. By turns whimsical, their presentations focus on the life and times of its most emblematic composers (Vivaldi, Bach, Lully), all viewed from a contemporary lens. Credits go to Alexandre Éthier and Sylvain Massé for scriptwriting, with Dave Pilon and David Ratelle arranging the music. A Conseil des arts de Montréal en tournée presentation, in performance on Feb. 16., 3 p.m., at Église de la Visitation. www.accesculture.com
VIOLONS DU ROY IN FOUR VARIATIONS
For its first variation, Les Violons du Roy cooks up a feast on Valentine's Day. Entitled Un banquet baroque avec Maurice Steger, the performance will showcase the formidable talents of this flamboyant flutist and conductor. For the second variation on the evening of Feb. 23 (Cantates de Bach, un regard vers nous), Jonathan Cohen is in charge of the proceedings. Countertenor Alex Potter, tenor Nick Pritchard and baritone Tyler Duncan are also billed on this concert held under the auspices of Arte Musica for its cycle of Bach Cantata performances. Also on Feb 23, but at 2:30 p.m., the third variation will wed poetry to music. Comme résonne la vie, dans le regard d'Hélène Dorion will allow the woman poet to read from a work of her own where "life resonates," as per its title, all to the sounds of Gesualdo, Bertrand, Schubert, Pärt and Janáček. The final variation, for its part, will not be performed at the Bourgie Hall like the previous ones, but at the Maison symphonique. Bernard Labadie will be at the rostrum for a performance of Requiems by Fauré and Duruflé (Apr. 4 at 7:30 p.m.). Soloists that evening will be Lydia Teuscher, soprano; Julie Boulianne, mezzo-soprano; and Jean-François Lapointe, baritone; with the choir La Chapelle de Québec in tow. www.violonsduroy.com
LMMC PRESENTS ELIAS STRING QUARTET AND PAVEL HAAS QUARTET
Founded in 1998 at the Royal Northern College of Music in Manchester, England, the Elias String Quartet borrowed its name from Mendelssohn's oratorio Elijah. Since its inception, this second-place award winner at the International String Competition in London has played the most hallowed halls in the world. In 2015, it completed its "Beethoven Project" at Wigmore Hall with a flourish by performing the complete quartets. Pollack Hall, Feb. 23, 3:30 p.m. The Pavel Haas Quartet, for its part, has established itself as one of the most brilliant chamber music ensembles in our midst. Founded in 2002, this winner of the Prague Spring event and the 2005 Premio Paolo Borciani Competition in Italy has been lauded by the international press for its prize-winning recordings. Its name pays tribute to a Czech composer who died in 1944 at age 45. Pianist Boris Giltburg joins the strings in a performance of a Dvořák quintet. Pollack Hall, March 15, 3:30 p.m. www.lmmc.ca
OM INVITES HAN-NA CHANG AND BENJAMIN BEILMAN
Orchestre Metropoliain performs Shostakovich's Symphony No. 10 on Feb. 28 under the baton of the amazing cellist turned conductor Han-Na Chang. Just as stunning, violinist Benjamin Beilman makes a long-awaited return appearance with the OM as soloist. Since earning top honours at the CMIM in 2010, this go-getter's career is still blossoming. He will perform Beethoven's Violin Concerto on two occasions during his stay, the first in LaSalle on Feb. 26., the second two days later at the Maison symphonique, with a 7:30 p.m. start for both shows. De Londres à Paris is the title of a concert directed by Jane Glover. Guest soloist Louis-Philippe Marsolais wlll be on hand to perform Mozart's Horn Concerto No. 1, followed by the premiere of a work commissioned from one of the orchestra own horn players, Simon Bourget. Rounding off the evening are the Symphony No. 85 by Haydn and No. 31 by Mozart. In concert on March 17, 18 and 20 in three city boroughs and at the Maison symphonique the following day at 7:30 p.m. www.orchestremetropolitain.com
ATELIER D'OPÉRA DE L'UNIVERSITÉ DE MONTRÉAL DOES OFFENBACH
Robin Wheeler conducts performances of Jacques Offenbach's La Vie parisienne in collaboration with the Atelier d'Opéra de l'Université de Montréal and its head Jean-François Rivest. In the latter's own words: "At the peak of his glory, Offenbach brings out all of the heavy artillery here in his merciless lampooning of Parisian society. What with its cast of dubious characters, lushes and high-society poseurs singing along merrily in duos, trios, septets and all at the same time, how can one not be amused by their spectacles?" Credit goes to Alain Gauthier for the stage production. Were it not for the operettas of that era and how they evolved, today's musicals may well never have materialized. Salle Claude-Champagne, Feb. 27-29. musique.umontreal.ca
OPERA MCGILL STAGES ACIS AND GALATEA
To close off its season, Opera McGill under the direction of Hank Knox join forces with the McGill Baroque Orchestra and Cappella Antica to perform Handel's Acis et Galatea. Produced for stage by Patrick Hansen, this opera recounts the story of Acis, a sheep herder enamoured of the nymph Galatea, but violently opposed by the jealous cyclops Polyphemus. A pre-performance talk on this work will take place an hour beforehand. Pollack Hall, Feb. 27-29. www.mcgill.ca/music
15th FESTIVAL DE CASTELIERS
The Festival de Casteliers is celebrating its 15th birthday from March 4 to 8. Come and enjoy this acclaimed international gathering dedicated to the art of the marionette. This anniversary edition will include prestigious companies from China, Finland, Belgium, Greece, France, the United Kingdom, Mexico as well as puppeteers from British ­Columbia and Quebec. Plenty of fun for everyone! www.casteliers.ca
NYCKELHARPA AND TRADITIONAL SWEDISH MUSIC AT BOURGIE HALL MARCH 10,
PRESENTED BY LA NEF
La Nef originates, produces and presents concerts, multidisciplinary and multimedia shows, physical and digital albums, musical tales and audio books. Its activities are aimed at audiences of all ages. The next concert will take place at Bourgie Hall on Tuesday, March 10 at 7:30 p.m. Under direction of Alex Kehler (nyckelharpa, violin) and Sylvain Bergeron (archlute, baroque guitar), it will feature the Swedish nyckelharpa and explore the common traits of traditional Irish and Swedish music and Baroque music. Original arrangements are featured from the compositions of Turlough O'Carolan (1670-1738) and from traditional Swedish music. For a change of winter scenery, this is an invigorating escape, beneficial to body and mind.www.la-nef.com
BEETHOVEN AND THE QUATUOR SAGUENAY
Having committed all of the Beethoven string quartets to disc, the highly respected Quatuor Saguenay and its members, violinists Marie Bégin and Nathalie Camus, violist Luc Beauchemin and cellist David Ellis, will be reprising two of their magnificent performances: Opus 18 No. 1 (the first of the 16 published by the composer) and Opus 59 No. 1. Église de la Visitation, March 22, 3 p.m. www.accesculture.com
ARION EMERGES INTO THE LIGHT OF BACH
Guest conductor Hank Knox has been entrusted the task of revealing the magic of Bach's wondrous music to lead us out of the darkness into the light and thus see all of the beauty of life, even projected through the prism of death. The angelic voice of Catalan soprano Núria Rial will lend her artistry to the cause in the company of Arion Baroque Orchestra's guiding spirit, flutist Claire Guimond. Complementing the vocal part of the evening are two orchestral suites. Bourgie Hall, March 28, 29 and Apr. 1 www.arionbaroque.com
A ROMANTIC EVENING AT THE OUM
In the flurry of Beethoven concerts, the Orchestre de l'Université de Montréal joins the fray with its own special presentation. Conductor Jean-François Rivest pairs the Symphony No. 3 ("Eroica") with three works by Richard Strauss, among these the Metamorphosen. Written in the wake of the 1944 bombing of the Munich opera house, this opus echoes the despair of the aging octogenerian for an institution he regarded to be "his opera." One of its six main themes alludes quite clearly to the funeral march heard in the Eroica, with an "In Memoriam" provided as endquote in the score. Salle Claude-Champagne, April 4, 7:30 p.m. musique.umontreal.ca
MUSICA CAMERATA MONTRÉAL
The long-running chamber society presents a characteristically compelling program of semi-rarities on April 4 at the Chapelle historique du Bon Pasteur, 100 Sherbrooke St. E. The 90-minute concert, starting a 6 p.m., brings together Mahler's Piano Quartet in A minor (in one movement), Chopin's Sonata for Cello and Piano and Richard Strauss's Piano Quartet. Quite a bit of work for the pianist Berta Rosenohl! www.cameratamontreal.com