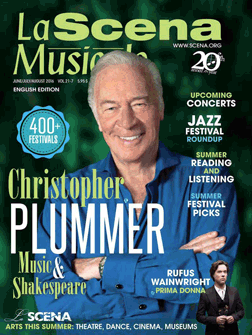 This page is also available in / Cette page est également disponible en:

Francais (French)
by Renée Banville, Jeanne Hourez, Caroline Rodgers,
& Kiersten van Vliet
Montreal chamber
Montreal, June 3-19
The pre-festival activities of the Montreal Chamber Music Festival began on February 23, but the festival proper begins on June 3rd – with an homage to acclaimed jazz pianist Oliver Jones – and will continue until June 19.  A duo concert with soprano Measha Brueggergosman and trumpet player Jens Lindemann evokes the legendary collaboration of Kathleen Battle and Wynton Marsalis (June 9). Israeli clarinetist Alexander Fiterstein returns for a second year, performing with the festival string quartet, along with pianist André Laplante and soprano Aline Kutan (June 11).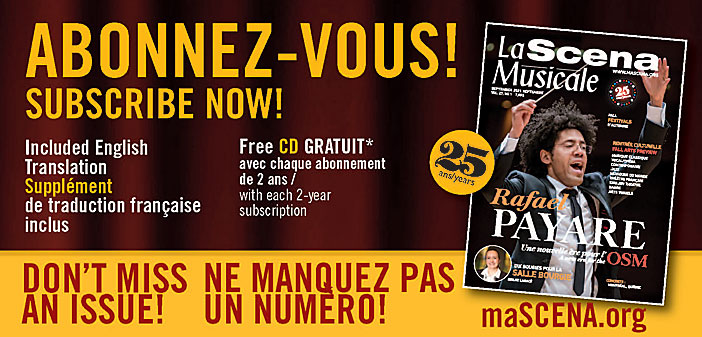 A musical setting of Mordecai Richler's Jacob Two Two Meets the Hooded Fang by Dean Burry will receive its world premiere, and will be narrated by tenor Ben Heppner, a 2016 recipient of the Governor General's Performing Arts. The program also features Stravinsky's L'Histoire de Soldat for septet narrated by Albert Millaire, Danièle Henkel, and Manon Gauthier (June 12). Heppner will also be narrating Enoch Arden by Richard Strauss with pianist Stéphane Lemelin (June 18). Two recently discovered transcriptions by the Viennese composer Ignaz Lachner  will ­receive their Canadian premiere alongside two Mozart concertos performed by pianist Alon Goldstein, the Fine Arts Quartet, and bassist Ali Yazdanfar (June 14).
In the days following see the Goldberg Variations with pianist Simone Dinnerstein (June 15) and the rare opportunity to hear Casals' cello played by Israeli cellist Amit Peled (June 16). Pollack Hall and Bourgie Hall. www.festivalmontreal.org RB
Prix d'Europe
Montreal, June 5-12
The first Canadian pianist to win a medal at the prestigious International Chopin Piano Competition, Charles Richard-Hamelin was also the 2011 winner of the Prix d'Europe and has since become its spokesperson. The jury for the 105th edition is made up of five distinguished French and Canadian musicians: French mezzo-soprano Sophie Fournier, ­pianist Jean-François Latour, composer Gabriel Thibaudeau and two laureates of the Prix d'Europe, oboist Philippe Magnan (1987) and violinist Olivier Thouin (1997). The Prix d'Europe scholarship of $25,000 is awarded to the finalist with the greatest number of points from all categories, while various ­special prizes go to finalists from each category. The auditions for the 28 finalists in voice, keyboards, strings and winds will take place from June 5 to 10 at the Chapelle historique de Bon-Pasteur. The gala concert will be on June 12 at Bourgie Hall, featuring the competition winners as well as guests of honour ­Vincent Boucher, organist (Prix d'Europe 2002) and Benoît Loiselle, cellist (Prix ­d'Europe 1999). www.prixdeurope.ca RB
Domaine Forget
St. Irénée, June 18-August 21
Retreat to Charlevoix this summer to reconnect both with nature and your musical favourites. The festival opens with Les Violons du Roy conducted by Jean-François Rivest in a program bookended by Schubert's Overture in B-flat Major and his Symphony No. 5. Let Pepe Romero serenade you on July 9 with Barrios, Turina, and Torroba. On July 16, Jan Lisiecki stops by for a program of Bach, ­Rachmaninoff, Chopin, and Schubert. Alain Trudel conducts I Musici de Montreal on ­August 6 for a pairing of music and literature. The festival closes with the return of Les ­Violons du Roy under Bernard Labadie with Marie-Nicole Lemieux for Vivaldi's Stabat Mater and works by Mozart and Haydn. Yoga lovers can refresh every Saturday morning with yoga in the Harmonic Sculpture Garden. See public masterclasses at the academy by Benedetto Lupo (June 23), Ana Vidović (July 5), Romero (July 12), Rachel Barton Pine (July 21), Johannes Moser (July 26), Régis Pasquier (August 2), François Rabbath (August 4), The Swingle Singers (August 18), and many more. www.domaineforget.com KVV
Canadian Music Competition
Drummondville, Jun. 18-Jul. 3
The finals of the 2016 Canadian Music ­Competition (CMC) will be held in Drummondville, a strategic choice since the city has the infrastructure to host a competition of this magnitude while being at the juncture of ­several major cities. The CMC is still one of the biggest music competitions in Canada, attracting many participants (about 600 applicants this year) and remains a mainstay in the training of young Canadian musicians. Kerson Leong and Charles Richard-Hamelin are past winners. Marie-Claude Matton, executive director of the competition, announced the creation of a national artistic committee to evolve and grow the event. This will include increased participation in areas like Saskatchewan or the ­Maritimes. The structure of the CMC as well as how to integrate its various components is currently at the heart of discussions to allow the competition to adapt to the current ­context. Matton also wants to strengthen collaboration with the various players in the music scene in Canada, that is to say, teachers, educational institutions, broadcasters, sponsors (like the JMC foundation, of which she was the former president), and of course other competitions in order to continue to recognize the importance and quality of the country's musical talent. www.cmcnational.com JH
Festival Opéra de St-Eustache
St-Eustache, June 23-July 10
See a concert of Lebanese and traditional ­operatic works on July 8 along with the ­Consul General of Lebanon in Montreal, Fadi Ziadeh, who will honour the audience with his presence. The following day Hugo Laporte is joined by a cast of his friends, Jessica Latouche (soprano), Marie-Andrée Mathieu (mezzo) and Louis-Charles Gagnon (tenor) to sing some of the greatest arias in the repertory. On July 26, see CBC host Pierre Vachon and PhD in musicology (Université de Montreal) will present a conference on the 400-year history of opera, from Monteverdi to today, as performed by Chantale Nurse (soprano), Julie Nesrallah (mezzo-soprano), Kevin Myers (tenor), and Manuel Blais (baritone), with Jérémie Pelletier at the piano. Throughout the festival, the Théâtre Lyrichorégra is presenting an exposition of opera photos, dioramas, costumes, and décor at the Globensky Manor. www.festivaloperasteustache.com KVV
Montréal Baroque
Montreal, June 23-26
This year's theme of the flamboyant fourteenth edition of the Montreal Baroque Festival is "A Tempest in a Teapot." The programming by Matthias Maute and Suzie Napper will take place in several different venues.
On June 24, the first of four grand concerts, Prospero's Tempest, combines theatrical music by Purcell and Blow with great lines from Shakespeare's The Tempest. Spanish ­violinist Lina Tur Bonet will join the Montreal Baroque Band as a special guest of the festival. On June 25, the washed-up acrobats of the Nouvel Opera present La veuve Rebel à la foire Ville-Marie. The Montreal Baroque Band returns on June 26 for the grand closing concert featuring four young singers in three cantatas. The three grand concerts will take place at 7 PM in Redpath Hall. On June 24, the Festival spends the day in Old Montreal, with a 7PM concert at Notre-Dame-de-Bon-Secours featuring the Metis Fiddler Quartet (folk-classical crossover) and ensemble Caprice.
In a series of three intimate concerts, Lina Tur Bonet will present Bach's Six Sonatas and Partitas for solo violin. Experience gusts of wind at Los Rafales de Vento!, a unique performance with David Jacques and Ziya Tabassian playing guitar and percussion.  Hear the spirited viola da gamba of Paolo Pandolfo, more gamba playing by Les Voix Humaines with electric guitarist Tim Brady, and virtuoso Jean-François Bélanger on the nyckelharpa, a Swedish string instrument invented more than 700 years ago. There is also a special place in the festival for two recitals with up-and-coming artists.
A talk with Michael Bristol will take place on June 23 and "Breakfast Banter" led by brilliant French musicologist Gilles Cantagrel will take place from June 23 to 26. www.montrealbaroque.com RB
Sainte-Pétronille
June 30-August 18
Set course to Île d'Orléans for six Thursdays this summer to experience some of the best chamber music in an intimate setting. The festival opens on June 30 with piano giant André Laplante performing sonatas by Mozart and Beethoven as well as selections by Ravel and Liszt. Violin wunderkind Kerson Leong joins pianist Louise Andrée Baril on July 7 for works by Janáček, Prokofiev, Grieg, and Ravel. The following Thursday, see a constellation of rising stars from the Quebec region: violinists Émilie Auclair, Marjorie Bourque and William Foy, violist Charlotte Paradis, cellist Tomohiso Toriumi, clarinettist Stéphane Fontaine, and mezzo-soprano Marie-Andrée Mathieu. Acclaimed mezzo-soprano Michèle Losier graces us with her presence on July 28 with mélodie and Lied by Berlioz, Gounod, Bizet, and Gershwin. Hungarian pianist Adrienne Hauser will delight on August 4 with a program of Schumann, Bartók, and Chopin. The festival closes with a newly formed trio: harpist Valérie Milot, cellist Stéphane Tétreault, and violinist Antoine Bareil perform uncommon works by Arvo Pärt, Jacques Ibert, M. Tournier et Henriette Renié. www.musiquedechambre.ca KVV
Orford Music
Orford, July 1-August 20
Wonny Song joins the Cecilia String Quartet to launch the 65th edition of the rebranded Orford Music Festival on July 2nd in a program of Dvorak's Piano Quintet in A Major, Mendelssohn's Quartet in E minor, and Nicole Lizée's, Isabella Blow at Somerset House. This year, immerse yourself in three new compositions inspired by the works of Quebecois singer-songwriter and film director Richard Desjardins. The first, Les veuves by Uriel Vanchestein—inspired by Desjardins' song by the same name—premieres on July 9 by the New Orford Quartet. The program is filled out by Beethoven's String Quartet No. 13 op. 130 and Glenn Gould's String Quartet in F Major op. 1. The Grand Prize winner in the Orchestre Symphonique de Montréal Manulife Competition, Canadian pianist Scott MacIsaac will premiere Julien Bilodeau's composition inspired by Tu m'aimes-tu? on August 6. On August 13, hear Yannick Rieu's jazz saxophone improvisation in Simon Bertrand's La maison est ouverte for narrator, solo tenor saxophone and orchestra. www.orford.mu KVV
International Percussion Festival
Verdun, July 2-10
For its 15th edition, the International Percussion Festival will set up shop in Verdun. For nine days, check out over fifty free shows, workshops, and lectures in Athur-Therrien Park along the banks of the beautiful Saint Lawrence river, on Wellington Street, and in the Verdun Auditorium. www.percussions.ca KVV
Laurentians Classical Festival
July 2-August 20
Artistic Director Alexandre Da Costa offers up a series of 14 concerts inspired by early music, jazz, folk, and Latin music. Stéphane Tétreault joins the Orchestre de la Francophonie under maestro Jean-Philippe Tremblay on August 11 in Mont-Laurier for the Shostakovich Cello Concerto. Da Costa himself will play an open-air concert on July 29 with soloists from the Orchestre de la Francophonie for a program of tangos by Astor Piazzolla and waltzes by Johann Strauss. The festival closes on August 20 in Notre-Dame-de-Pontmain with selections by George Gershwin interpreted by Paul Merkelo (trumpet), John Roney (piano), and Marie Lacasse (violin).
See BUZZ brass quartet (July 2, Lake Tibériade in Rivière-Rouge), jazz duo Bianco Basso (July 9, Lac Saguay), Les Chantres Musiciens under the direction of Gilbert Patenaude (July 16, Labelle), Graham Wood Jazz Quartet featuring Da Costa (July 21, Mont Tremblant), Quatuor Claudel-Canimex (July 30, Duhamel), an early music cabaret with Daniel Lavoie (August 6, Vallée de la Rouge in Rivière-Rouge), Quartetto Gelato (August 7, Saint-Faustin-Lac-Carré), opera cabaret by pianist Natalie Choquette (August 13, Nominingue), the Latin rhythms of the Luis Mario Ochoa Quartet (August 19, Mont-Tremblant), and more. www.concertshautes-laurentides.com KVV
Concerts Populaires
Montreal, July 8-August 4
For more than 50 years, the Concerts Populaires have continued the tradition started by mayor Jean Drapeau: to offer high-quality classical concerts at affordable prices. This series of five concerts opens with a comedic gala that will immerse you in the most beautiful works of musical theatre, with Marc Hervieux, Robert Marien, Stéphanie Bédard, Geneviève Charest and the Sinfonia de Lanaudière, under the direction of Stéphane Laforest. Two concerts entitled Carte blanche are offered by Marc Hervieux (Aug. 2) and Yannick Nézet-Séguin (Aug. 4). Harpist Valérie Milot and violinist Antoine Bareil pay homage to Simon & Garfunkel (July 12) and the Orchestre de la Francophonie and its director Jean-Philippe Tremblay present a concert with flavours inspired by France (July 28). The public can grab a bite to eat at the Pierre-Charbonneau Center before the concerts start at 7:30 PM. www.concertspopulairesdemontreal.com RB
Lanaudière
Joliette, July 9-August 7
The Festival de Lanaudière pays tribute to its founder, Father Fernand Lindsay, by programming some of his favourite composers. On July 31, the Camp Musical musical Fernand-Lindsay, which is celebrating its 50th anniversary year, and the Fernand-Lindsay Choir, founded 30 years ago, will celebrate the cultural heritage the Father left us.
The Festival Orchestra, under Gregory Vajda, open the festival with pianist Alain Lefèvre, who interprets Tchaikovsky's First Piano Concerto. The main orchestras this year are Les Violons du Roy with Bernard Labadie and Anthony Marwood (July 15), I Musici, with Jean-Marie Zeitouni and cellist Emmanuelle Bertrand (July 16), and the Orchestre Métropolitain, under the direction of Mathieu Lussier, with soprano Karina Gauvin (July 22).
The festival ends with a grandiose weekend. For his first concert with the MSO, pianist Charles Richard-Hamelin interprets the Concerto No. 1 in D minor by Brahms (August 5). Kent Nagano returns the following day for an exploration of some of the great repertoire for choir and orchestra. The OM and its conductor Yannick Nézet-Séguin also return to close the season with two masterpieces by Rachmaninoff (Aug. 7). www.lanaudiere.org RB
Quebec Opera Festival
Quebec City, July 24-Aug. 6
For its sixth season, the Opéra de Québec Festival offers up a star-studded cast of some of the best vocalists this province has to offer. On July 24 see a concert under the stars with four Quebecois tenors: Marc Hervieux, Antoine Bélanger, Luc Robert, and Keven Geddes backed by the Sinfonia de Lanaudière under the baton of Stéphane Laforest. From July 30, catch one of the final performances of Simon Leclerc's adaptation of Luc Plamondon and Michel Berger's Starmania Opéra, featuring Marie-Josée Lord, Marc Hervieux, and Lyne Fortin. French countertenor Christophe Dumaux joins Bernard Labadie and Les Violons du Roy on July 26 for a selection of arias from Handel's Giulio Cesare. This year, the festival is launching an opera studio for young performers from the Quebec City Conservatory of Music and the Faculty of Music at Université Laval. See the fruits of their labour from July 31 to August 5 in two short operas by Mozart and Salieri, Prima la musica, poi le parole and Der Schauspieldirektor. As usual, La brigade lyrique will travel around the city for free concerts in various parks and public spaces. www.festivaloperaquebec.com KVV
Îles du Bic
Bic and St-Fabien, August 6-14
The very pastoral Îles du Bic festival celebrates its fifteenth season this year with a rich program of nine concerts. Founded by violinist Élise Lavoie and cellist James Darling in 2002, the Opus-winning event takes place August 6 to 14. On August 6 at 8 PM, pianist Mathieu Gaudet, soprano Éthel Guéret, clarinettist Jean-François Normand, and violinist Victor Fournelle-Blain perform Schubert's The Shepherd on the Rock as well as other works by the same composer as part of the concert Schubert, mon amour! On August 7 at 4 PM, cellist Elinor Frey performs Bach's Cello Suite No. 6 (BWV 1012) at the Notre-Dame-des-Murailles chapel in Saint-Fabien-sur-Mer. On August 12, the festival gives carte blanche to pianist David Jalbert, who interprets works by Prokofiev, Satie, and Stravinsky at the Église Sainte-Cécile-du-Bic. The next day, August 13, will be the gala concert with nine festival musicians and the Festival Choir at the Église Sainte-Cécile-du-Bic. www.bicmusique.com CR
OSM Classical Spree
Montreal, August 10-13
Featuring several generations of world-class performers performing the works of past and present masters, the OSM's Classical Spree (Virée Classique) is one to mark on your calendar. This collection of over 30 concerts includes an August 12 program of Chariots of Fire in honour of the summer Olympics in Rio de Janeiro, Milhaud's La création du monde, and Bruch's First Violin Concerto by Pinchas Zukerman followed by Beethoven's Ninth, all under the baton of maestro Kent Nagano. Catch Adolfo Gutiérrez Arenas and Charles Richard-Hamelin playing an intimate program of Schumann and Chopin the following day. That same evening, see OSM's organist-in-residence Jean-Willy Kunz tackle Saint-Saëns' "Organ" Symphony on the Grand Orgue Pierre-Béique. The spree kicks off on Wednesday August 10 at 8 PM with a free performance of The Planets by Holst performed in the shadow of the Olympic Tower to commemorate the 40th anniversary of the Montreal Olympic Games. www.vireeclassique.osm.ca KVV
MISQA
Montreal, August 14-27
Lovers of the string quartet can attend the 7th edition of the Montreal International String Quartet Academy. Each year, MISQA offers audiences the chance to hear immensely talented young ensembles benefit from the advice from internationally acclaimed teachers. Four outstanding quartets will perform two different programs in four concerts on August 18, 19, 25, and 26 at Pollack Hall: Argus (US), Goldmund (Germany), Meccore (Poland), and Rolston (Canada).
The opening concert on August 14 at 7 PM will be performed by the famed Borodin Quartet, which formed in 1945 at the Moscow Conservatory. The final concert on August 26 at 7 PM features the Calidore Quartet (US/Canada), who generated much excitement in the 2013 and 2014 editions of the festival. Emerging artists' concerts take place at the Tanna Schulich Hall on August 20 and 27. www.misqa.com RB
Ahuntsic en fugue
Montreal, August 20-27
Presented for its third year, the Ahuntsic en Fugue concerts promote a modern approach to chamber music. Inspired by life in the neighbourhood, the festival offers four concerts in four iconic locations. In the opening concert, soprano Kimy McLaren will perform some of the greatest songs in the French repertoire, accompanied by pianist Marie-Ève Scarfone and a string quartet. Marc-André Doran, organist at the Church of Visitation, performs a concert with cellist Chloé Dominguez, clarinettist Jean-François Normand and Toronto's Tokai Quartet. A Baroque concert by Musica Palladius will be presented in a studio normally reserved for costume making, scenery construction, and fashion. The festival concludes in a concert that celebrates the ambiance of post-revolutionary Russia. www.ahuntsicenfugue.com RB
La Fête de la musique
Mont-Tremblant, September 2-5
Close out the summer season over the Labour Day weekend with La Fête de la musique de Tremblant. There are more than 30 free concerts of classical, jazz, and world music for you to enjoy on various stages around the Tremblant village. Featuring performances by the festival's Artistic Director Angèle Dubeau and her orchestra La Pieta, Ariane Moffatt, Alain Lefèvre, and Daniel Taylor. www.fetedelamusiquetremblant.com KVV
Translation: Rona Nadler, Rebecca Anne Clark, & Kiersten van Vliet
This page is also available in / Cette page est également disponible en:

Francais (French)