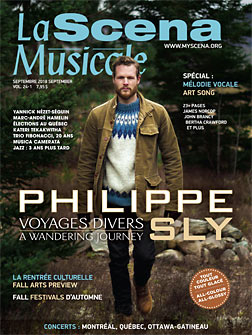 This page is also available in / Cette page est également disponible en:

Francais (French)
Les Violons du Roy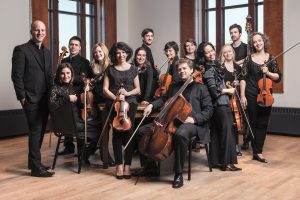 The 35th anniversary season of Les Violons du Roy will be Jonathan Cohen's first as artistic director. For the opening concert on Sept. 29 at the Maison symphonique, he is joined by countertenor Anthony Roth Costello to perform works by Handel and Glass. On Nov. 3, Bernard Labadie, still music director of La Chapelle de Québec, will join the forces of two ensembles he founded to interpret Mozart's Coronation Mass and Haydn's Nelson Mass. On Nov. 23 in Bourgie Hall, Cohen welcomes internationally acclaimed mandolinist Avi Avital. On Dec. 14, Mathieu Lussier presents a baroque program of carols by Charpentier and Lalande. www.violonsduroy.com
I Musici de Montréal
This is also the 35th anniversary for I Musici de Montréal. On Oct. 4 at Bourgie Hall, Jean-Marie Zeitouni starts his eighth year as artistic director with the Sextet from Strauss's Capriccio and Bruckner's String Quintet. On Oct. 21, he will present a journey to the heart of the feminine identity in the Maison symphonique with sopranos France Bellemare, Cécile Muhire, Marie-Ève Munger; mezzo-sopranos Mireille Lebel, Florence Bourget, Hélène Delalande; and members of the Schulich Singers. On Nov. 21 in Bourgie Hall, the ensemble welcomes pianist Nareh Arghamanyan in and all-Bach program. www.imusici.com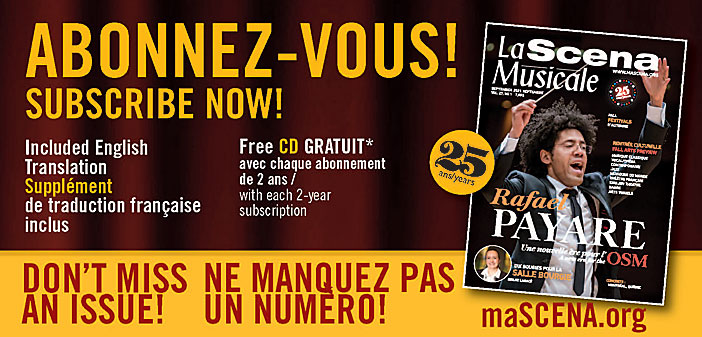 Le NEM – 30th Anniversary
On May 3, 1989, the Nouvel Ensemble Moderne (NEM), under the direction of Lorraine Vaillancourt, gave its first concert at Salle Claude-Champagne. For the opening concert of their 30th season, the NEM asked the three founding musicians who are still active in the ensemble, Lise Bouchard (trumpet), Michel Bettez (bassoon) and Julien Grégoire (percussion), to go back in time and select pieces that left their mark on their memory in the course of three decades. On the program are works by Brian Current, Pascal Dusapin, Stephen Montague and Klas Torstensson. Oct 11 at 7:30 p.m at Salle Claude-Champagne. The annual Grand Concert takes place on May 3, 2019. www.lenem.ca
The OUM – 25th Anniversary
To celebrate the 25th anniversary of the Orchestre de l'Université de Montréal (OUM), founding conductor Jean-François Rivest has created a special program to celebrate the talent and vitality of the 70 musicians of this flagship ensemble of the faculty of music. The concert of Oct. 13 at Salle Claude-Champagne includes Tchaikovsky's Symphony No. 6 ("Pathétique"). The other pieces in the program will honour laureates of the OUM's student composition and concert competitions (respectively, Joshua Bucchi and Dominique Beauséjour-Ostiguy). The latter performs Dvořák's Cello Concerto. On Dec. 8 at the Maison symphonique, the SMCQ and its conductor Walter Boudreau join the OUM in extracts from Prokofiev's Cinderella (direction Rivest), Boudreau's Berliner Momente IV and a creation of Keiko Devaux, laureate of the OUM's 2018 composition competition (direction Boudreau). With the special participation of students of the École supérieure de ballet du Québec and choreography by Gaby Baars. www.musique.umontreal.ca 
Orchestre symphonique de Laval
To observe the 150th anniversary of Berlioz's death, the Orchestre symphonique de Laval opens its season on Sept. 26 with the celebrated Symphonie fantastique. Completing the program is Jan Jarvlepp's Garbage Concerto for recycled percussion instruments and interpreted by the musicians of the Sixtrum ensemble. On Oct. 20, Johanne Morin (violin) Julie Trudeau (cello) and Michel Beauchamp (seven-string classical guitar) will interpret pieces by Spanish composers under the title Impressions of Spain for the Les Chambristes series. On Nov. 7, the OSL celebrates the centenary of Leonard Bernstein's birth. On the program: On the Town, Serenade and an arrangement for orchestra of West Side Story. www.osl.qc.ca
Orchestre symphonique de Longueuil
For its opening concert on Sept. 27, the OSDL celebrates Bernstein and Dvořák under the direction of Nicolas Ellis. The program includes excerpts from West Side Story by the former and the Symphony No. 9 ("New World") by the latter. The program also includes the John Estacio's Trumpet Concerto with Paul Merkelo as soloist. Among the other early-season concerts, let's highlight the one taking place on October 21, Beethoven habite à l'étage, a tribute to the great German composer, in which the OSDL will interpret several pieces. Led by their music director Marc David, the musicians will be joined by pianist Tristan Longval-Gagné. www.osdl.ca
Orchestre symphonique de Montréal
The OSM under the baton of Kent Nagano will present two major pieces on their opening concert (Sept. 6 and 8), Stravinsky's The Rite of Spring and Ravel's Boléro, well as a chamber opera, Chaakapesh, The Trickster's Quest, based on a Cree legend. On Sept. 27 the OSM welcomes conductor Rafael Payare in Beethoven's Symphony No. 3 ("Eroica") and Mozart's Violin Concerto No. 3 as interpreted by Andrew Wan. New York conductor James Feddeck returns to conduct the OSM in Rimsky-Korsakov's Scheherazade and Prokofiev's Symphonia Concertante, with Norwegian cellist Truls Mørk (Oct. 2 and 3). For his part, Christoph Eschenbach conducts Tchaikovsky's Symphony No. 5 and Violin Concerto with Julian Rachlin as soloist. www.osm.ca
Orchestre de chambre McGill
For their first concert of the season on Sept. 22, Boris Brott and the MCO pay tribute to François Dompierre. On the program: the Concerto de Saint-Irénée, Les Diableries and the Prélude improvisé, with Serhiy Salov on the piano and Marc Djokic on the violin. In homage to the life and legacy of saint Kateri Tekakwitha, who plays a key role in the Kahnawake community, the chamber orchestra will present Saia'tatokénhti, a theatrical piece with for solo violin solo, singers, dancers and voices by Odawa composer Barbara Croall and Mohawk author Darren Bonaparte. Indigenous Colombian filmmaker Alejandro Ronceria directs. On Nov. 27, the MCO welcomes coloratura mezzo-soprano Julie Boulianne in a program of pieces by Telemann, Bach and Vivaldi. With Theodore Baskin on oboe and Timothy Hutchins on flute. www.orchestre.ca
Orchestre symphonique de Québec
Music director Fabien Gabel opens the OSQ season with an all-Russian program on Sept. 19. The musicians will welcome pianist Lise de la Salle in Rachmaninoff's Piano Concerto No. 3, considered to be one of the hardest in the piano repertory. Also on the program are Stravinsky's Le Chant du rossignol and Borodin's Polovtsian Dances. On Oct. 3, the OSQ, this time conducted by Enrique Mazzola, will perform Beethoven's Piano Concerto No. 3 with soloist Cédric Tiberghien as well as Sibelius' Symphony No. 7. On Nov. 18, pianist Nareh Argamanyan plays Rachmaninoff's Rhapsody on a Theme of Paganini, Kodály's Variations on a Hungarian Folk Song and Liszt's Hungarian Rhapsody No. 2. www.osq.org
Orchestre Métropolitain In Tune With Rachmaninoff
For their first program of the 2018-2019 season, Yannick Nézet-Séguin and OM offer a program titled The Faces of Rachmaninoff. Pianist Nicholas Angelich performs two concertos by the Russian composer. Other works are Avril by Nicolas Gilbert (premiere) and Sibelius's Symphony No. 1. This Oct. 4 concert in the Maison symphonique (with the Piano Concerto No. 4) is repeated the following evening in Koerner Hall in Toronto; then the players return to the Maison symphonique (Oct. 6) with Rachmaninoff's Piano Concerto No. 3. There is also a regional concert on Oct. 3 in LaSalle. From Nov. 21 to 25 the OM will tour the Montreal area under conductor Kensho Watanabe with Debussy's Prélude à l'après-midi d'un faune, Korngold's Violin Concerto with Kerson Leong, Ravel's Le Tombeau de Couperin and Shostakovich's Symphony No. 1. The Maison symphonique concert is on Nov. 22.
This page is also available in / Cette page est également disponible en:

Francais (French)