Advertisement / Publicité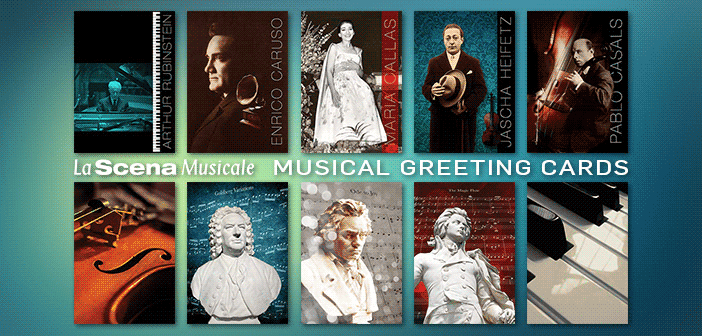 This page is also available in / Cette page est également disponible en:

Francais (French)
by Renée Banville, Wah Keung Chan, and Kiersten van Vliet
I Musici – Two Masterpieces
Jean-Marie Zeitouni and his I Musici Chamber Orchestra invite us to meditate with Mahler's sublime Das Lied von der Erde (The Song of the Earth), a "symphony for two voices and orchestra." The six lieder are interpreted by soprano Michèle Losier and tenor Richard Cox. The program is completed with Beethoven's Sixteenth Quartet, his final work (Oct. 12, 8PM, Salle Bourgie). www.imusici.com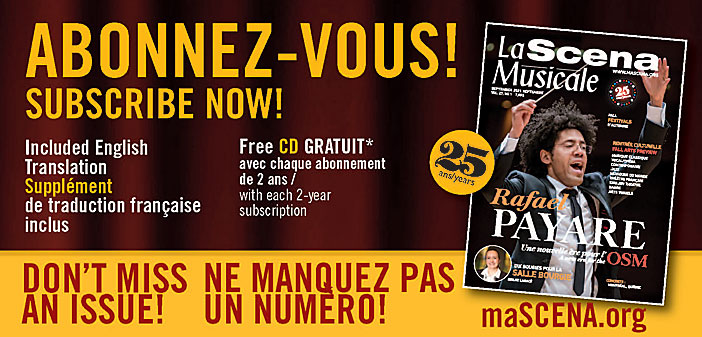 Violons du Roy – Marwood and Labadie
Conductor and violinist Anthony Marwood will lead the Violins du Roy in their first concert of the season, entitled Les caprices de la nuit. The concert continues the exploration of the greatest works for strings: the String Sextet from Richard Strauss's Capriccio, Mozart's String Quintet in G Minor, and Schoenberg's Verklärte Nacht for string orchestra (Oct. 14, 7:30PM, Salle Bourgie).
Bernard Labadie conducts the following concert, where we will hear four Bach cantatas. With soprano Lydia Teuscher, baritone Tyler Duncan, mezzo-soprano Maude Brunet, and tenor Jacques-Olivier Chartier (Oct. 30, 2PM, Salle Bourgie). www.violonsduroy.com/en
Music for the Virgin Queen
In presenting a concert of motets and madrigals that were dedicated to Elizabeth I, the Studio de Musique Ancienne Montréal (SMAM) pays homage to this queen who promoted poetry, theatre, and music, both sacred and profane. Daughter of Henry VIII, and the last of the Tudors, she was dubbed the "Virgin Queen" because she never married and, according to rumour, she also never gave in to the few favourites who courted her during her reign. Program: Tallis, Byrd, Mundy, Tomkins, Morley (Oct. 16, 3PM, Church of Saint-Léon de Westmount). www.smamontreal.ca
James Ehnes at Pro Musica
Considered one of the most exciting performers of his generation, James Ehnes is Pro Musica's guest for series of concerts in collaboration with the Orchestre Symphonique de Montréal (playing the Dvořák Violin Concerto), where he made his debut at the age of 13 (Oct. 13, 8PM & Oct. 14, 7PM, Maison symphonique). He recently recorded the complete works for violin and piano by Prokofiev and Bartók alongside American pianist Andrew Armstrong, who will be his partner in a chamber concert of Beethoven, Franck, and Ravel (Oct. 16, 2:30PM, Maison symphonique). www.promusica.qc.ca, www.osm.ca
The Soldier's Tale
Inspired by a traditional Russian tale, Stravinsky's masterpiece tells the story of a poor soldier who sells his soul to the devil to become rich. Unable to be happy despite his wealth, he ends up in Hell. The triumphant devil in the story is played by violinist Olivier Thouin and actor Jean Marchand. Circus music, jazz, tango, waltz, and ragtime, are performed by Yannick Chenevert, bass, Jean-François Normand, clarinet, Mathieu Harel, bassoon, Raymond Benjamin, trumpet, Patrice Richer, trombone, and Hugues Tremblay, percussion (Oct. 15, 2PM, Salle Bourgie). www.sallebourgie.ca
OSM – Two Composer Laureates
This season, maestro Kent Nagano reflects on the tradition, identity, and and the universal character of music. Pianist Serhiy Salov, clarinetist André Moisan, soprano Sharon Azrieli Perez and the OSM Chorus join the OSM to interpret – in addition to works by Mahler and Bernstein – an epic work by Brian Current, winner of the Azrieli Music Prize, The Seven Heavenly Halls, and a spectacular Klezmer Clarinet Concerto by Wlad Marhulets, who won the young Azrieli Prize for Jewish Music (Oct. 19, 8PM, Maison Symphonique). www.osm.ca
Chapelle Historique du Bon-Pasteur
Born in Moscow and living in Canada since the age of 14, virtuoso Ilya Poletaev will present a recital of works by Bach, Schumann, and Enesco. Considered one of the most preeminent pianists of his generation, Poletaev has won numerous awards, competitions, and scholarships (Oct. 20, 7:30PM).
For a change, comedienne Alexandrine Agostini will make you fall in love with Quand j'étais italienne by Sylvie Laliberté. She will be accompanied by Philippe Noireaut on the piano (Oct. 23, 3PM).
A flexible ensemble led by pianist and composer Antoine Bustros, Ensemble Ulysse draws inspiration from film music and integrates interpretation and improvisation in varied styles (Nov. 4, 7:30PM). www.ville.montreal.qc.ca/chapellebonpasteur
The KlangVerwaltung in Montreal
Celebrating their 20th anniversary with a North American tour, the prestigious KlangVerwaltung Orchestra, accompanied by the Chorgemeinschaft Neubeuern Chorus, under the direction of Enoch zu Guttenberg, will present two masterworks of the classic repertoire: Mozart's Requiem and Bach's Magnificat. Established in Munich, the orchestra is comprised of musicians from various renowned orchestras, acclaimed soloists and chamber musicians as well as young laureates and professors (Oct. 21, 8PM, Maison Symphonique). www.placedesarts.com
Quatuor Hermès at LMMC
Formed in 2008 by four graduates of the Conservatoire national supérieur de musique de Lyon, the Quatuor Hermès won the the first prize at the International Chamber Music Lyon 2009 and the first prize at the 2011 International Competition in Geneva. In 2012, they received one of the first prizes from the Young Concert Artist Auditions in New York. Subsequently, they were invited to perform at Carnegie Hall and the Kennedy Center in Washington, DC. Since 2013 they have been in residence at the Fondation Singer-Polignac. Quatuor Hermès performed Schumann's complete string quartets in 2014, producing a critically-acclaimed recording and winning several awards (Oct. 23, 3:30PM, Pollack Hall). www.lmmc.ca
Generation2016 with ECM+
The ninth cross-Canada Generation2016 tour of the Ensemble Contemporain de Montréal presents compositions by Taylor Brook (AB/NY), Symon Henry (QC), Sabrina Schroeder (CB/Manchester), and Adam Scime (ON). Nine concerts will take place between October 20 and November 3. Conducted by Véronique Lacroix and hosted by composer Gabriel Dharmoo, the tour will be presented in Montreal at the Salle du Conservatoire (Oct. 27, 7:30PM). www.ecm.qc.ca
Quebec's Opéra Bouffe
Written in 1898 by André Messager, Véronique is considered his most popular operetta. It will be presented by the Opéra bouffe du Québec with staging by Yvon Bilodeau, under the artistic and musical direction of Simon Fournier. Casting: Frédérique Drolet, soprano, Pierre Rancourt, baritone Martin Fortier, baritone, Jessica Lessard, soprano, Arminé Kassabian, mezzo-soprano, Sebastien Comtois, tenor, Marie-Ève Pineau, soprano and Isabeau Proulx-Lemire, tenor. Founded in 1978, Opéra Bouffe du Québec is a Laval-based company that specializes in operetta and is dedicated to upholding the grand operetta tradition (Oct. 28–Nov. 6, Maison des arts de Laval). www.operabouffe.org
Trio Zodiac
Without a doubt, music evokes images and sparks our imagination. In this program, Trio Zodiac explores this phenomenon by presenting works written with images in mind, translated into music by the composer. On the program: Le voyageur sans bagage (The Traveller Without Luggage) suite by Darius Milhaud, L'Histoire du soldat (A Soldier's Tale) by Stravinsky, Contrastes by Béla Bartók, a piece by Piazzolla, and a composition by Nicolas Gilbert. With Kliment Krylovskiy (clarinet), Vanessa Mollard (violin) and Riko Higuma (piano). Concert hosted by Edgar Fruitier (Oct. 31, 7PM, Maison de la culture Frontenac). www.accesculture.com
OM – Romanticism According to Mendelssohn
When we think of violin concertos, Mendelssohn's Second is one that immediately springs to mind. With concertmaster Yukari Cousineau, the Orchestre Métropolitain is conducted by the young Kensho Watanabe. Two other works by Mendelssohn complete the program: the Overture to The Fair Melusina and Symphony No. 3 "Scottish" (Nov. 4, 7:30PM, Maison Symphonique; and in four neighbourhoods: Ahuntsic [Nov. 1st], Verdun [2], Rivière-des-Prairies [3], and Pointe-Claire [5]). www.orchestremetropolitain.com
Romantic Quartets with Musicians from the OSM
The beginning of November seems to be filled with musical Romanticism, and the musicians of the OSM are no exception. They interpret two works by composers who admired each other greatly: Brahms and Dvořák. Marianne Dugal, violin, Sofia Gentile, viola, Anna Burden, cello, Philip Chiu, piano interpret the First Piano Quartet No. 3 in C minor and the second Piano Quartet No. 2 in E-flat Major (Nov. 4, 6:30, Salle Bourgie). www.sallebourgie.ca
Translation: Kiersten van Vliet
Musicians of the World 10 years
It's been 10 years since conductor Joseph Milo formed the Musicians of the World Symphony Orchestra to allow immigrant musicians an opportunity to play together. To celebrate, they are presenting the concert Irish Eyes, to celebreate the 100 years of birth of Ireland at Concordia's Oscar Peterson Hall. Featuring soprano Brigitte O'Halloran, tenor Seán-Paul O'Brien, The Celtic Four Ensemble, and dancers. Oct. 23 at 7:30PM. www.musiciansoftheworld.com WKC
This page is also available in / Cette page est également disponible en:

Francais (French)