Advertisement / Publicité
In March, Kiya Tabassian, the artistic director of the ensemble Constantinople and sitar virtuoso, will attend the premier of one of his works by the Orchestre Symphonique de Montréal, conducted by Kent Nagano, as part of the Adventures in the East concert. Portrait of a free-spirited voyager.

Kiya Tabassian with the Ensemble Constantinople and dancers in a performance of Sunya.
Photo Michael Slobodian
It's difficult to attach a label to Kiya Tabassian. He plays a traditional Persian instrument, the sitar, but he also composes works for the Nouvel Ensemble Moderne. He takes inspiration from early music, which he plays from a resolutely contemporary viewpoint, and he doesn't hesitate to incorporate his Persian roots with European Baroque music, Mexican folk music, or the old melodies sung by the first inhabitants of New France. His penchant for geographic and temporal fusion fits naturally with all that he creates, and gives his work an undeniable universality.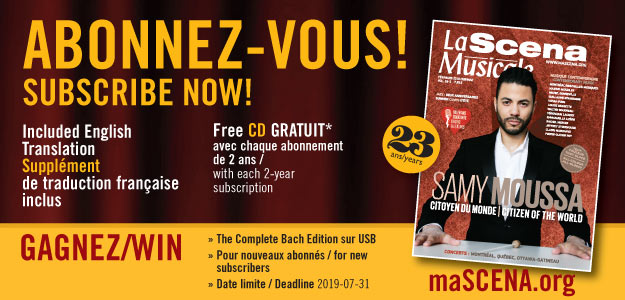 His own uprooting is probably not unrelated to his love of migrant music: "I arrived in Montreal in 1990 with my parents and my two brothers," he explains. "I already played the sitar in Iran, and I wanted to be a composer. I wanted to create."
It was because of the sitar that Tabassian chose to study Persian music, even though he could have turned toward Western music.
"When I was 11, one of my older cousins came to Tehran to study at the university, and he lived with us. He was a visual artist, but he greatly influenced my brother Ziya and me, because we grew up with him for two years and he always listened to Persian music. During this period, we attended his friend's sitar recital, and I was completely hooked! I had to learn to play this instrument. The following week, I started classes with him. I was 12. I practiced for hours every day. I learned the basic repertoire, but I amused myself by playing pieces backward and doing other things with this genre of music as a starting point."
The taste for "doing things differently" starting with a basic framework is at the heart of Tabassian's music. This approach is clearly expressed in his work as artistic director at the core of the Constantinople ensemble, whose musical project is a constant hybridization.
"I always need new nourishment," he says. "It's not a renewal, but rather an evolution that leads us to constantly look for things that can help us grow. This instinct was doubtlessly forged quite young in me, and continues to guide my actions."
His arrival in Montreal would certainly have accentuated the desire for constant evolution. "I had already started a band in Tehran, while I was studying at the Bahârlou Institute, and I composed the music for the band. The last year that I was in Tehran, we started playing on radio and TV and touring. Things were really starting to gain momentum and it was difficult to leave that behind when arriving in a completely new country, when I spoke neither English nor French. It was a real upheaval, but I believe that music and literature really helped me stay close to my roots and my native language. It helped me keep an attachment to my roots without being afraid of moving forward. We had to learn French, and then English, and that naturally encouraged a fascination with other cultures that my brother Ziya and I now apply to everything we do. I believe that if we had stayed in Iran, we would be very different musicians and human beings."
In Montreal, Tabassian had the opportunity to get in touch with Kayhan Kalhor, a great master of Persian music and a virtuoso of the kamancheh (an Iranian bowed string instrument), who became his teacher for over a year. It was also in Montreal that Tabassian discovered musique actuelle, a form of contemporary music that mixes jazz, classical, and avant-garde music, and of which improvisation is a basic ingredient.
"I believe that I was about 15 when I attended my first musique actuelle concert. It floored me! It opened a window into new ways of being creative. Improvisation wasn't new to me, but Persian music abides by very strict codes. So, from that moment, I started listening to a lot of musique actuelle and contemporary music, and because of that, I discovered a new freedom. I started writing in a style closer to these musicians and I discovered the works of Gilles Tremblay while studying at Vincent-d'Indy. I studied with him at the conservatory because his music spoke to me right away, perhaps because of its sacred dimension. Even though I'm not religious, I love this expression of a strong, deep emotion that emerges from sacred music."
Tabassian devotes much of his time to the artistic direction of the Constantinople ensemble, but he also finds time to participate in other projects, such as that of the Atlas ensemble. Based in Amsterdam and under the artistic direction of Joël Bons, Atlas brings together musicians from China, central Asia, the Middle East, and Europe.
"I've participated since 2009, and every year there is an academy where performers and composers can engage in discussion, discover old techniques, or invent new ones. These are very productive meetings where everyone can learn very important things through contact with one another."
It's also a very open approach that characterizes the recent project launched by Kyriakos Kalaitzidis, The Musical Voyages of Marco Polo, which unites his ensemble, En Chordais, from Greece and Constantinople, in a stunning musical odyssey. "With this project, we tried to create a journey over the course of which we end up no longer knowing who is who, as all the music from the different countries ends up fusing in the traveller's head. The assimilation of differences leads to the creation of new forms."
Just like Marco Polo, Kiya Tabassian has accumulated an abundance of musical experiences, which he gives back as a whole that is much greater than the sum of its parts.
Constantinople
While he was studying composition with Gilles Tremblay, Kiya Tabassian launched the Constantinople project with his colleague Mike Cole, a renaissance lute player.
"We discovered that the sitar/lute duo sounded good, and we wanted to explore the possibilities. It's the intersection of two cultures, Persian music and early European music, the whole augmented by the creative approach of two composers. That is still our way of doing things, which gives the ensemble a unique voice. We're not looking to reproduce something that's already been done … curiosity is the driving force!
"Constantinople is a very prolific ensemble, because we remain open to all kinds of diversity. For example, two years ago we collaborated with the Indo-Armenian choreographer Roger Sinha for the show Sunya, which incorporated dance and interactive videos. I really wanted the musicians to be fully engaged, and also interact with the dancers. The premier was in April 2014, and we still do a few performances in Canada;  we're also preparing an international tour."
From March 9 to 27, 2015, Tabassian will lead a residency program dedicated to world music at the Banff Arts Centre with, as a theme, Persian and Oriental traditions (with a detour to Sherbrooke on March 18 for a performance of Sunya with Constantinople at the Théâtre Centennial).
"It's a big project that's starting this year. There have always been residency programs at the Banff Centre, but they were limited to jazz or classical music. We went there twice with Constaninople for creative residencies, so I proposed launching a residency program for non-European music."
It's worth noting that Tabassian will reunite with the master whom he met upon his arrival in Canada, Kayhan Kalhor, for the concert Persian Splendours, which Constantinople will give on April 30 at Bourgie Hall. www.constaninople.ca
OSM – Adventures in the East
The OSM had the excellent idea of commissioning a piece by Kiya Tabassian for a concert including works by Saint-Saëns, Dukas, and Strauss, to go with the exposition Marvels And Mirages of Orientalism: From Spain to Morocco, Benjamin-Constant in His Time (until May 31 at the Musée des Beaux-Arts de Montreal).
The French title of the concert is L'Orient imaginaire, but of course, Tabassian's orient is somewhat less "imaginary" than those of Saint-Saëns or Dukas could have been.
"The work is inspired by Arab-Andalusian music, but I didn't want to do arrangements of traditional melodies for large orchestras. It remains a very personal music, but with the Persian colours that live within me. There's also the voice of Françoise Atlan, with whom I've worked for several years, as well as Didem Bashar, who plays the kanun [a type of tabletop zither]. It's the first time that I've composed for a symphony orchestra, and it's a great pleasure, of course. I must say that it's a work that has surprised even me! It's almost finished at the moment of this interview and I'm very pleased with the direction it's taken after a year and a half. Françoise will sing an ancient text by the Andalusian mystic philosopher Ibn 'Arabi (1165-1240); it's a poem that encourages the coexistence of different religious beliefs, of which the common driving force is love. The text is principally in Arabic, but there are also words in Hebrew."
Translation: Rebecca Anne Clark
---
2015 Concerts
• Sunya, February 6 at 8 pm, Salle Pauline-Julien, Sainte-Geneviève.
www.pauline-julien.com
• Adventures in the East performed by the OSM, March 4 at 8 pm and March 8 at 2:30 pm, Maison Symphonique de Montréal. www.osm.ca
• Sunya, March 18 at 8 pm, Centennial Theatre, Bishop University, Lennoxville. www.centennialtheatre.ca
• Splendeurs persanes, April 30 at 8 pm, Bourgie Hall, Musée des Beaux Arts de Montréal. www.constantinople.ca
• The Golden Door, June 4 at 8 pm, Bourgie Hall, Musée des Beaux Arts de Montréal. www.constantinople.ca