Advertisement / Publicité
This page is also available in / Cette page est également disponible en:

Francais (French)
Montreal
Guitar Montréal
April 29 – May 1, www.guitaremontreal.com
On Friday night at 8 pm, catch the internationally acclaimed Amadeus Duo in concert at Concordia's DB Clarke Theatre, along with The Montreal Guitar Society and last year's competition winner, Steve Cowan. Saturday at 8 pm, The Marguerite de Lajemmerais Orchestra performs along with last year's youth competition winners. Sunday afternoon wraps up the festival with the 2016 Guitar Competition finals. Guitar aficionados can browse the luthiers and vendors at Concordia on Saturday and Sunday, and won't want to miss a lecture by Dr. Éric Legault on "Guitarist postures and pain" Saturday at noon.
Festival Classica
May 29 – June 5, www.festivalclassica.com
The Classica Festival offers a wide range of styles for every taste, including Baroque, Romantic, and vocal music as well as World music, concerts for kids, and more alternative offerings such as The Art Crush Show ensemble performing Music For Heart and Breath, experimental music that's played in sync with the heart and breathing rates of the musicians performing it. Don't miss the Classica debut of Trio Canoë (Jean-Francois Normand, Marina Thibeault and Philip Chiu) in a program of Mozart's chamber music on June 3, or the star-studded performance of Rossini's Petite messe solennelle June 2.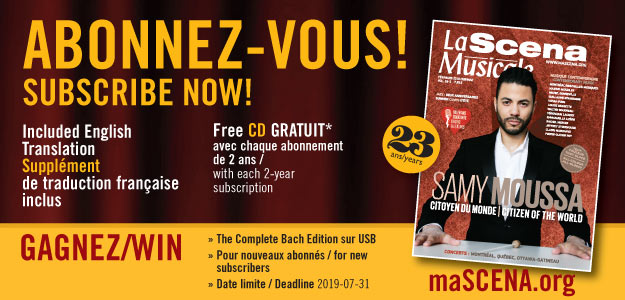 Printemps Numérique Montréal/Digital Spring
March 21 – June 21, www.printempsnumerique.info
Discover Montréal's technological creativity all spring long at over 150 venues including the Cinémathèque québécoise, the Société des arts technologiques [SAT], and various universities. On April 7, Akousma presents Électrochoc No. 6: Bédard/Dufort at the Conservatoire. If that doesn't satisfy electroacoustic fans, the Université de Montréal hosts a series of concerts dedicated to digital, electroacoustic, and video music April 26, 27, and 28. Bookworms and virtual reality fans won't want to miss the ongoing La bibliothèque, la nuit, a collaboration between the BAnQ and Robert Lepage's Ex Machina — visit banq.qc.ca to reserve your ticket in advance. The Centre Phi hosts its own virtual reality exhibit, the Jardin de réalité virtuelle, from May 11 to 31.
Festival TransAmériques
May 26 – June 8, www.fta.qc.ca
The FTA's five main shows include dance, theatre, and even opera, but there are plenty of smaller events including masterclasses, exhibitions, film screenings, and even nightly parties free for all! Don't miss Christoph Marthaler's outrageous vaudeville, Une île flottante (May 26, 27, and 28), choreographer Louise Lecavalier's Mille batailles (May 31, June 1 and 2), or Jérôme Bel's "tour de force", Gala.
Festival Accès Asie
May 5 – 29, accesasie.com
Accès Asie unites artists from various disciplines and from across a vast and diverse continent into one huge festival! Worth mentioning is the exhibition Mongolia, Land of Eternal Blue Sky by photographer Bayar Balgantseren, contrasting nomadic and urban life in Mongolia, at the Monument National until May 8. On May 6, guitarist Jérôme Ducharme and flutist Yuki Isami pay tribute to late Japanese composer Toru Takemitsu at Jeunesses Musicales Canada. The music and dance of Afghanistan, Tajikistan, Uzbekistan and Iran will be honored in the festival's closing week, and the third Middle-Eastern Dance Competition at La Sala Rossa on May 19 features specially selected artists performing six categories of dance from the Middle East.
MUTEK
June 1 – 5, www.mutek.org/en/montreal/2016
MUTEK Montréal returns to the Musée d'art contemporain for its 17th edition. Five days of electroacoustic music and audiovisual art include 28 international and local artists performing numerous premieres and special projects. Visit the website to discover more and sample tracks; this festival is so diverse and unpredictable that it's hard to pin down!
A Few More Festivals …
Festival Vue sur la relève. Multidisciplinaire, Montréal, April 5-16,www.vuesurlareleve.com
Festival international de cinéma Vues d'Afrique. Cinéma; Montréal, Québec, Ottawa, and Sherbrooke; April 17-24, http://vuesdafrique.com
Journée des musées montréalais 2016. Multidisciplinaire, Sunday, May 29
Le Festival La Grande Rencontre. Musique et danse traditionelle, Montréal, May 4-7, http://espacetrad.org
Toronto
21C Music Festival
May 25-29, www.rcmusic.ca/21c
The 21C Music Festival features over 21 premieres of cool, exciting new works. On May 25 at Koerner Hall, don't miss the Kronos Quartet with special guest Tanya Tagaq premiering works by Nicole Lizée, Mark Applebaum, Franghiz Ali-Zadeh, and two highly anticipated works by Tagaq, commissioned by the Kronos Quartet. If that's not hip enough for you, catch acclaimed ambient composer Jherek Bischoff in concert with hypnotic experimental trio Dawn of Midi and cello-piano duo The Visit on May 28 to hear "sounds from the Middle East, progressive rock, and classical chamber music." Continuum Contemporary Music highlights Japanese composers, including a commission from composer Hiroki Tsurumoto, on May 26. May 29, James Ehnes and Andrew Armstrong mix old favourites (Handel and Beethoven) with local premieres.
Sing! The Toronto Vocal Arts Festival
May 4-15, www.singtoronto.com
Sing! celebrates vocal music ranging from madrigals to barbershop quartets, passing by choral music, jazz, R&B, and pop — and in fact you can hear the whole gamut from female a capella group Duly Noted on May 7. Big names include The Nylons' final Toronto show on May 14 at the Jane Mallett Theatre, where up-and-coming a capella vocal troupe Naturally 7 perform the day before. Sing! swings on May 10 at Jazz Bistro with a capella groups The O'Pears, The Watch, FreePlay Duo, 4Skör, and Retrocity. On May 7, the Canadian Men's Chorus ends its season in concert with ASLAN Boys Choir, and on May 7 and 8, free concerts will be held all day at Trinity Square in the Distillery District.
This page is also available in / Cette page est également disponible en:

Francais (French)