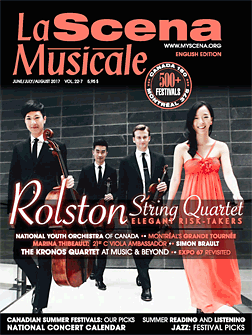 This page is also available in / Cette page est également disponible en:

Francais (French)
Running July 22 to August 4, the Ottawa Chamberfest is bound to please with featured guests Miró Quartet, Rolston String Quartet, Cinquecento, Stephen Hough, Julian Rachlin, and the Choir of Trinity College Cambridge – returning to Ottawa for the first time in 20 years. La Scena Musicale asked Roman Borys, artistic Director of the Ottawa Chamber Music Society and founding cellist of the Gryphon Trio about this year's Chamberfest, Canada 150, and the state of the arts in Canada.
"Chamberfest 2017 is a true celebration of chamber music," says Borys. "We want to show both local residents and newcomers the best of chamber music – what it has been, what it is now, and what it is becoming."
Canada's 150th anniversary has of course given many of this summer's events a unifying theme – not to mention increased funding. How has Chamberfest responded to this year's big trend? "It certainly determined and strengthened our theme in our first year partnering with the Gryphon Trio's in-school arts creation program Listen Up!," Borys explains. "Our participating school and Canadian composers James Wright and Matt Devost created an entire song cycle inspired by Canadian identity called Canada Is."
Of course, Chamberfest has also programmed an exceptional line-up of Canadian talent.
"We are excited to feature very special, high profile artists from around the world in this celebratory year, but we are equally excited to feature very special Canadian artists alongside them," Borys says. "Danny Michel is presenting his Juno-nominated love letter to the Arctic that he created with Rob Carli and astronaut Chris Hadfield." Other innovative Canadian ensembles appearing at Chamberfest include the New Canadian Global Music Orchestra, which celebrates Canada's rich cultural diversity, and the NYO, who will launch their pan-Canadian tour with The Unsilent Project at Chamberfest (see article here). The Beverley Johnston and Marc Djokic duo will marry strings with other things (including a musical saw!) in a program including Telemann and Pärt. Toronto's Bicycle Opera Project takes Juliet Palmer and Anna Chatterton's new a capella opera Sweat on the road in and around Ottawa, and the Cecilia Quartet presents Xenia, a special concert for children on the autism spectrum and their families.
"On a wider scale, the extra Canada 150 funding has resulted in all sorts of new art already, and we will see projects, particularly our own, benefit over the next couple of years," says Borys."Our next steps as an organization will reinforce our three pillars – the festival, yes, but also our concert series, which takes place from fall to spring, and our community engagement activities throughout the year. We are excited for that strength for our 25th anniversary in the coming year."
Continuing to look toward the post-150 future, Borys says, "There are so many great chamber groups emerging right now. The level of talent among young instrumentalists is going up and up – it is a pleasure to be able to feature them in our festival, concert series, and community engagement throughout the year. Alongside that, seeing the Canada Council for the Arts strengthened with more funding is very encouraging – I have to believe this will support the emergence of more artists creating more art on more incredible instruments from the Canada Council for the Art's Musical Instrument Bank, and that art will spread further and faster throughout Canada and across our borders."
This page is also available in / Cette page est également disponible en:

Francais (French)