Orchestra Filarmonica della Scala
Grosses Festspielhaus
Salzburg Festival, Austria
(seen August 25, 1999 at 8:30pm)
Riccardo Muti, boss of Milan's La Scala Opera since 1986, has had a rocky relationship with Austria's Salzburg Festival. Between 1971 and Karajan's death in 1989, Muti was a regular Festival conductor and was so sure of succeeding Der Chef, as Karajan was called, that he bought a house close to this picturesque riverside town. But Karajan was succeeded in 1991 by the dynamic Belgian Gerard Mortier, with more modernist tastes that Muti.
In 1992 Muti walked out of a modern staging of Mozart's La Clemenza di Tito he was suppposed to conduct. This year saw a partial reconciliation. Muti conducted two concerts with the Vienna Philharmonic and one with the Orchestra Filarmonica della Scala (the La Scala opera's pit band), but no opera.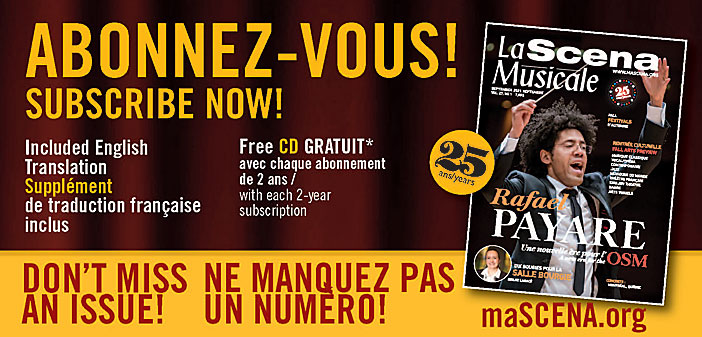 The Aug. 25 concert by the Orchestra Filarmonica della Scala was an exciting event and the normally subdued Salzburg audience was enlivened by cries of Bravo Maestro! and Bravo Italia!
The program consisted, predictably, of Italian music. The concert opened with the romantic fare Muti favours: three orchestral miniatures originally composed for piano by Neapolitan Giuseppe Martucci (1856-1909) : Notturno Op. 70, No1 (1891/1901), Novelletta Op. 82 (1905/1908), and Giga for Orchestra Op 61, No. 3 (1885/91). These light, atmospheric pieces served as warmups while we got a good look at Muti, one of the world's last celebrity conductors.
As a Neapolitan, Muti is expected to be volatile, and his baton technique was indeed combative. American conductors tend to politely coax or implore their orchestras, but Muti stabbed and punched the air with vicious jabs when he wanted loud, abrupt effects. Sometimes his arms whirled like a dervish at twice tempo, like he was doing a kung fu routine. This would look silly in America, but it is probably just the thing to galvanize the Italian musicians.
Programming Edward Elgar's In the South (Alassie) Op. 50 (1904), was quixotic, since the only sunny thing about the overture is the name. With no folkloric content and little scene painting, it is a bit of a stateless bore, neither here nor there. But Muti likes it since, as he announced in English to the German audience, he is 'from the south.'
The La Scala strings are glorious machines. The violas have an extraordinary minky warmth, the violins are incisive and incredibly unified, the cellos and basses seamlessly cushy. Overall the string section is extremely articulate and vibrant, but without the least edginess or bite. Likewise the winds were more collectively beautiful than individually virtuosic. There was never a single ugly or independent sound from any instrument or section. It was ensemble work and bel canto all the way.
Not even in Busoni's Turandot Suite Op 41 (1911), where eight characater sketches (Altoum, Turandot, etc.) call for a wide variety of individual instrumental effects, was there any solitary display. The complex tempos led to a momentary slippage between sections, but the flub was brief.
To American ears accustomed to the beefy sound of the Chicago, New York, Philadelphia, Toronto and even Montreal Symphony Orchestras, the La Scala Filarmonica sounds like a highly refined chamber orchestra. Most of their effective playing was mezzo-piano or piano. Even at forte they were half the loudness of a major American orchestra – but the pleasure given was equal or greater.
No doubt the La Scala sound has developed in the superior acoustics of small scale venues built for music in a more human age. Toronto's Hummingbird Centre, New York's Avery Fisher hall, and Montreal's Place des Arts simply can not nurture the growth of a fine flower like the La Scala Orchestra, let alone a Concertgebouw, Wiener Philharmoniker, or Berlin Phil.
In proper halls, European orchestras never have to force. And their audience is sophisticated. They've heard all the best orchestras in the world and they know music, so they don't need to be bludgeoned with circus effects. For an American, the subtlety of the La Scala sound is like the discovery of forgotten wonders of music and the capabilties of individual instruments.
The concert's cornerstone was Respighi's bombastic symphonic poem Feste Romane (1929), which gave La Scala a chance to show off their lightning dynamic changes from ppp to fff, as well as a startling battery of percussion. The work was clearly a cheval de bataille and brought the house down, though I would have preferred to hear what they could do with the more familiar Respighi such as the Pines and Fountains of Rome.
The sole encore was the overture to Verdi's La Forza del Destino, a sort of La Scala anthem. This was truly a performance to remember, probably the most fascinating musical exegesis of an overture I've ever heard. Every phrase, every theme was teased out, highlighted, polished, and faded in and out with breathtaking justesse. It was like hearing Verdi for the first time, a whole opera condensed into four minutes. Suddenly the scales fell from my eyes, and I felt that my hundreds of nights at operas other than La Scala have been wasted.
 
The Salzburg Festival continues through Aug. 29, 1999. Ticket Office: P.O. Box A5020, Salzburg, Austria. Tel. 011-43-662-80 45 579; fax: 011-43-662 80 45 760; E-mail: [email protected]