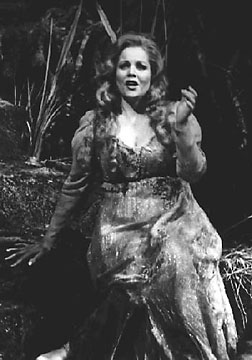 For all the talk
about the
"magic of opera", really successful
performances are so rare that dedicated operaphiles have grown
accustomed to waiting long – and travelling far – in search of a
sublime theatrical experience. Productions and performances that
succeed in creating the illusion of a believable parallel world
(even for a few minutes, let alone a whole evening) are the
exception to the rule. For every minute of Art we endure countless
hours of pretentious, banal, incompetent singing and acting. But
when that transcendental moment occurs, the floodgates of feeling
open. One's patience is rewarded and life suddenly seems worth
living.
Renée Fleming's performance in the title role of
Dvorak's Rusalka at the
Metropolitan Opera on May 10, 1997 was one of those life-affirming
artistic experiences.
Rusalka is a water-nymph who trades her
immortality for the chance to win the love of a human prince.
Rusalka is difficult role to cast because few of the vocally
qualified lyric sopranos possess the physical grace and delicacy for
the part. Fortunately Renée Fleming not only has the voice but is
blond, svelte, and feminine. She is also a completely convincing
natural actress. Rusalka's movements once she leaves her water-world
are limited to a sort of swimming through the air. Costumed in a
gauzy iridescent blue gown, Fleming's slow, amphibious movements
perfectly conveyed Rusalka's mute struggle in a strange element. The
climax of Fleming's Kabuki-like gestural theatre occurred in the
last moments of Act III when Rusalka rises from the pond to meet her
prince and watch him die. Fleming seemed to walk on water and float
through the air on this, her final, saddest errand.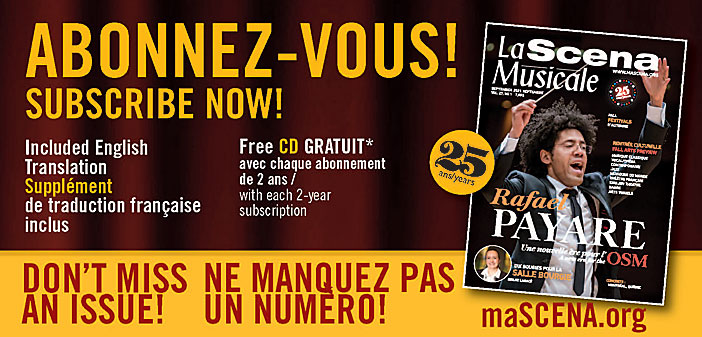 Of course the highlight of the opera was
Rusalka's "Song to the Moon." I have never seen a Metropolitan Opera
audience (especially a matinee audience!) so spellbound. The initial
respectful silence was soon broken by sobs of uncontrolled emotion.
We were all crying though we fought it because we didn't want to
miss a note of Fleming's gorgeous lyricism. Resistance was
impossible. Fleming's art made Rusalka's plaint personal. Father,
brother, lover, son – clearly everyone in the audience remembered a
prince loved or a prince lost.
Fleming's Rusalka is obviously the product
of consummate artistry and hard work. Though this is her first Met
Rusalka, she has sung the role in Seattle (1990), Houston (1991),
San Diego and San Francisco (1995). In addition to her personal
beauty and fine acting, Fleming possesses the most beautiful soprano
voice I have heard in a decade. It is womanly, with an ingratiating
timbre, pure yet personal, technically capable of the subtlest
nuances with a reserve of great power.
The rest of Dvorak's opera after the "Moon
Song" is charming but inevitably a bit anticlimactic. Fleming
continued superb. Sergei Koptchak, a great Russian bass with
remarkable pianissimo, was dramatically and vocally haunting as the
Water-Gnome. Mezzo Dolores Zajick's Jezibaba was comical and
intellectually frightening by turns. Canadian soprano Frances Ginzer
was good in the small role of the Foreign Princess. Only tenor Chris
Merritt fell short of the mark, forcing unpleasantly in order to
project and to hit high notes. Conductor John Fiore coaxed a
delicious performance out of the orchestra, who were remarkably
fresh considering they'd played Wagner all week. The production,
acquired from the Vienna State Opera and first seen at the Met on
November 11, 1993, featured naturalistic sets by Günther
Schneider-Siemssen. The prince's castle was charming. Unfortunately
the pond inhabited by the Gnome and nymphs was obviously just
glittery fabric stretched across a hole in the stage, and the tree
Rusalka inhabits beside the pond should be reinforced and oiled – it
creaked audibly throughout the opera.