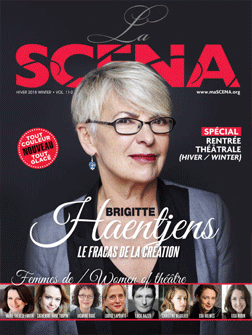 This page is also available in / Cette page est également disponible en:

Francais (French)
Originally published on June 1st, 1998 in La Scena Musicale, June 1998
Everyone's first question about Russian baritone Dmitri Hvorostovsky: "Is he as handsome in person?" Yes, the Siberian tiger lives up to his billing as the world's sexiest baritone. When he walked into the café of New York's elegant Stanhope Hotel wearing dark glasses and a black leather jacket, he radiated movie star glamour. Call it charisma or animal magnetism, Hvorostovsky is one of nature's physical aristocrats. Those sardonically sensual lips, that trademark mane of silver hair and those hooded Slavic eyes suggesting cruel Tartar ancestry – the man is totally hot and, paradoxically, cold.
But, as I found out during an interview last February, Hvorostovsky is more than just another "barihunk." He is a serious artist struggling to balance artistic and commercial pressures at "a very difficult time for classical music," he said "when even excellent musicians are being dropped by record companies."
Dima, as his friends call him, was born in 1962 in the "large but provincial" Siberian city of Krasnoyarsk. His music-loving father sent him to a school for talented children and a performing arts high school. His principal interests were boxing, soccer and girls. In 1986 he joined the Krasnoyarsk Opera and met his future wife Svetlana, a ballet dancer. Choir direction, teaching music and competitions filled the years. Legendary Russian mezzo Irina Arkhipova, who presided over the jury of the Glinka Competition Hovorsotovsky won, encouraged him to enter the 1989 Cardiff Singer of the World Competition that launched his western career. Because the Cardiff Competition is internationally televised, being photogenic was an asset. Dima found an agent and signed an exclusive five-year contract with Philips Classics immediately after his Cardiff victory.
Hvorostovsky's Cardiff win over Welsh baritone Bryn Terfel was controversial. As he recalls, "I didn't know who Terfel was until the last round of eliminations, when I heard him sing Wagner. Only then did I have my doubts about winning." Terfel won the Lieder Prize – "one of several prizes to calm down the losers," as Hvorostovsky quaintly put it. Terfel, now universally recognized as one of the world's greatest living singers, was signed up by Deutsche Grammophon.
Hvorostovsky's career exploded, with recital debuts in London (Wigmore Hall, 1989), New York (Alice Tully Hall, 1990), and opera debuts at La Fenice (Onegin, 1991), Covent Garden (I Puritani, 1992), Châtelet (Onegin, 1992), La Scala (Don Carlo, 1992), Chicago (La Traviata, 1993), Metropolitan Opera (Queen of Spades, 1995). Between 1990 and 1997 he participated in 15 recordings, including 9 solo albums, a large number for any singer.
Much of Hvorostovsky's recording career was driven by "beefcake baritone" publicity that very nearly cost him his artistic credibility. "It wasn't my idea, but I couldn't control it," he reflected. "I was immature and I had no idea about career management. I just got carried along." He is grateful the sex symbol publicity helped establish his fame, but he now shudders with embarrassment at the mention of Elle magazine's 1996 "Elvis of Opera" feature. Not that Hvorostovsky is a snob. He thinks Three Tenor-type events attract audiences to classical music, and he has done a well-paying stadium concert himself, in Iceland. But at 36, Dima's priority is to establish himself as a serious artist. He emphasizes that he is a married man with a loving wife and twins named Daniel and Alexandra. He works hard learning song cycles by Mussorgsky, Mahler, Glinka and Shostakovich. And, so far at least, he has resisted the financial lure of crossover projects.
Though billed by Philips Classics as "The Electrifying Fresh Voice of a New Russia", Hvorostovsky has lived in London, England since 1994. He sang twice with the Kirov Opera back in 1988 and 1991, when they could afford him, and he remains an admirer of Valery Gergiev's "thrilling conducting." Though Hvorostovsky's parents still live in Krasnoyarsk, he returns to Russia only three or four times annually. He has many Russian fans, but also detractors who accuse him of abandoning Russia for big bucks in the west. He is saddened by the current Russian music scene — "state subsidies dried up after Perestroika so there is much less activity" — but he is excited about his first Russian tour this summer through Belorussia, the Baltic republics and the Ukraine.
In terms of repertoire, Hvorostovsky never abandoned his Slavic roots. The Russian repertoire remains closest to his heart, and it perfectly suits his rich dark voice. His discography includes Russian opera arias, choral music and folk songs. Surprisingly, his successful 1991 folk song album Dark Eyes wasn't even his idea. As a teenager who played in a rock band and idolized Led Zeppelin, Deep Purple and Queen, these old-fashioned songs his grandmother sang were of little interest to him. Philips Classics pushed the project and the result is one of Hvorostovsky's most satisfying recordings. These days Dima is enthusiastic about several song cycles by the late Russian composer György Sviridov whom he calls "Shostakovich's best pupil." He recorded Sviridov's Russia Cast Adrift in 1994 and he declares, "if Philips Classics won't record the new song cycle Petersburg dedicated to me, I'm sure some other label will!"
This page is also available in / Cette page est également disponible en:

Francais (French)