This page is also available in / Cette page est également disponible en:

Francais (French)
The year 2018 has been one to remember for Ottawa composer Kelly-Marie Murphy. But winning the Azrieli Prize for new Jewish Music certainly tops the list. The award comes with $50,000, a concert on Oct. 15 with the McGill Chamber Orchestra conducted by Yoav Talmi in Montreal's Maison symphonique, and a recording.
The Azrieli prize follows another major coup. Murphy won Symphony Nova Scotia's first ever Maria Anna Mozart Award for Canadian female composers. That netted $10,000 and a premiere last spring in Halifax.
It's been a good run for Murphy, who lives in the Ottawa suburb of Kanata with her husband Greg Van Bavel and her daughter Cassidy, a first-year music student at the University of Ottawa, where Murphy also teaches composition and orchestration.
But not so long ago, she was in another place. Her career hit a rough patch that lasted three years starting in 2014. No one was knocking on her door.
Hit a Rough Patch
It is the risk all contemporary composers run and she is not naive. Still, it had never happened to her before. Nor did knowledge diminish the confusion and the concern that seemed overwhelming at times.
"You turn a laser focus on 'What's wrong with me? I am still writing music. I am still the creative person that I was'."
In the end, "it's not something you can figure out. It is a cycle. I know why I was popular when I was 35. I was young. Nobody knew me. I had won a competition and people liked what I was writing."
She rationalized her situation by thinking that perhaps ensembles had the pieces they wanted so they "didn't need to call me to play Give Me Phoenix Wings to Fly [perhaps her best-known work, which has just won an international prize in a competition in California]. I was still getting performances but to me what matters is filling my day. I need this mind to be focused on something. Not having that can be very destructive and demoralizing."
In 2017 the sun finally started to shine again. Commissions started to return from, for example, the Toronto Symphony Orchestra, for a 10-minute piece to mark the 85th birthday of Glenn Gould called Curiosity, Genius and The Search for Petula Clark. She was also commissioned by the Women's Music Club of Toronto to write an unusual piece for eight cellos. And then there was the Azrieli prize.
Ironically, Murphy initially puzzled over whether she should enter the competition.
"I thought I don't really have anything to offer. I didn't know what I could say."
But, in the end, she just couldn't pass it up. It meant a lot of studying and reaching out and asking about Jewish culture and history, but she found her inspiration close to home.
"My daughter's singing teacher is Jewish. I told her I wanted to submit something and asked her if she had any ideas.
"She said, 'Do you know anything about Sephardic music?'"
So Murphy listened "and I went 'Whoa'. I loved the music. I loved the emotion of it. Everything that excites me is in this music."
The piece that she has produced is called En El Escuro Es Todo Uno, which means In The Darkness All Is One. The title is in Ladino, the language of Sephardic Jews, who were expelled from Spain in 1492.
"It encourages us to think that if we took away all the trappings of society, we are all the same. You can't undo history. What I hope we can do is learn from history."
The piece is written for cello and harp with chamber orchestra.
It's a rare combination. She thinks it might be a first.
At the premiere on Oct. 15, Erica Goodman will be the harp soloist and Rachel Mercer of the NACO will play the cello. The orchestra will have double winds: a couple of horns, trumpets, two percussion and tympani along with strings.
Why the harp? "I really wanted to do that. I like a challenge."
Murphy says she learned how to write for the harp from Judy Loman, the former principal with the Toronto Symphony Orchestra.
"The harp can be sort of a guitar bringing in Spanish influences. It can be rhythmic… It can be everything.
"The harp can add so many colours, and the cello is that emotional voice to make connections. It worked, hopefully, very well."
Winning a competition like the Azrieli prize is not something one thinks about seriously when entering, she said.
"You can't plan on it. I write the proposals and move on. Sometimes they hit and sometimes they miss."
She remembers writing the Azrieli proposal thinking it would be "so cool to write this piece" and then not thinking about it until one day she was checking her voice mail and she heard a message from Sharon Azrieli.
"I think I stepped back a little and just went 'What is happening?'"
The prize money is more that Murphy earns in a year "by a considerable amount, depending on the year."
This is the life Murphy has chosen.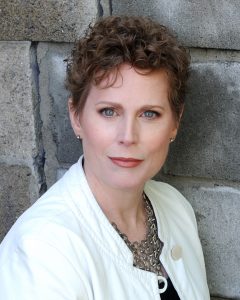 Rare Combination
It really started, for her, in a convent in Bruno, Saskatchewan near Saskatoon, where Murphy took piano lessons for the very first time.
"I am an army brat," she explains. "I have lived everywhere. I was born on a NATO base in Italy and we moved every three years." That meant across Canada from Nova Scotia to Saskatchewan to British Columbia and finally to Calgary.
In Saskatchewan, her mother insisted that eight-year-old Kelly-Marie take piano lessons.
"My parents loved music. They are the kind of people who had the radio going all the time but they liked country music."
When it came to taking lessons, "my mom said there was no debate. She said, 'You are taking lessons, it's good for you.'"
In the convent, Murphy worried the nuns would find out she was a Protestant.
"That was kind of thing that would consume my thoughts." She didn't want be kicked out, because she loved the piano. "Finally, I could do music."
"I think music saved me. My life was packing up and moving and being the new kid all the time." Music was her constant.
In Calgary, her father retired from the Air Force and she went to high school, still studying the piano and taking singing lessons.
In high school, Murphy discovered jazz and Chick Corea.
She was invited to join an ensemble preparing for a competition. They needed a pianist to handle Corea's La Fiesta.
"I looked at it just like I would look at a Beethoven Sonata and played everything that was on the page."
Her colleagues were not impressed and after a while they threatened to kick her out. Then the magic happened.
"One day during rehearsal I came to one of many big piano solos in La Fiesta and I just played. I unlocked something. … I learned what it was to improvise and to think about music in the moment and make it happen."
After high school, she was accepted into the Berklee College of Music in Boston but couldn't afford to go. So she went to the University of Calgary, thinking she would study piano and become a teacher.
Instead, after a meeting with an academic advisor, she started to study composition.
In her first class, "I had no clue. At end of the class I asked the professor when we were going to study jazz." Never was the answer.
It took some time but eventually she learned how to use the improvisational side of her brain and to combine it with the rules of composition she was being taught. She learned how to "dream it and imagine it and try to take dictation from my subconscious."
She drew on influences such as Corea, Oscar Peterson, Art Tatum.
"I had aspired to be a great pianist. I was drawn to these guys. Then I realized I loved the rhythmic things about jazz" and that led her to BeBop and players like Dizzy Gillespie and Charlie Parker.
Rhythm was and remains a key driver for Murphy. No surprise, then, that she found Bartok and Stravinsky as well. There was dance there.
She even drew upon her experience as a dance studio pianist for two years between her Masters in composition and her PhD.
"When you are playing during a Martha Graham class, you respond to the movement. I could do that. My brain can figure that out."
To make money, Murphy also picked up lounge gigs including one at the Horned Toad Lounge at the Delta Bow Valley Hotel in Calgary.
At U of C she had two important teachers. One was Allan Bell, who is a well-known Canadian composer.
"He is this amazing talent. William Jordan was another key person. They write different kinds of music. They teach differently. Allan comes from an organic place. Structure was very important to Bill. Both were great teachers and great to talk about music with."
Expanding Horizons
After her Masters, Murphy felt the need to get out of Calgary for a PhD. She applied to Canadian schools but was not accepted. She did get a spot at the University of Leeds in Britain. "I picked Leeds because it was far away. I was hurt a bit that the Canadian schools didn't take me, but looking back, thank God I got turned down."
Her PhD at Leeds was a research degree. There was not much course work, she said. "I just wrote music."
By 1994 she had finished the degree and she hit the ground running. She won the CBC Young Composers competition with a piece for string quartet called This Is My Voice. That win was critical. Her music caught the attention of Bramwell Tovey who, was music director at the Winnipeg Symphony Orchestra. He gave her very first commission.
Soon after, the Gryphon Trio commissioned Give Me Phoenix Wings to Fly. Phoenix has been performed around the world.
Over the years her music as evolved as she has. "It grows with me. I'm a sponge with everything. I find things out by going to concerts. I always go to the festivals. I hear whatever is happening. I just seek out things. I love it. I'm like a foodie, I go and try different things.
"I am very interested to make connections between real life and music. To make that emotional, personal connection, you have to have a musical language that speaks and resonates. So there is going to be this lyricism that makes you feel something. There is going to be that tension with the rhythmic stuff that makes you feel anxious because the stories I choose are strong.
"What is my job if not to interpret our experience as Canadians?"
Murphy works mostly in chamber music and in orchestra. During her time in the wilderness earlier this decade she added choral music to her repertoire.
"Musically there is always something to improve upon. If you stop, it's hard to get going again."
Kelly-Marie Murphy's En el escuro es todo uno, a double concerto for harp (Erica Goodman) and cello (Rachel Mercer), will receive its premiere on Oct. 15 at the Azrieli Music Prizes Gala Concert in Montreal's Maison symphonique. Yoav Talmi conducts the McGill Chamber Orchestra. www.placedesarts.com
Kelly-Marie Murphy: Sur les pas de la lune, a collaboration between Arte Musica and the Azrieli Foundation, Tuesday, October 9th at 7:30pm. With music by Murphy echoing Schoenberg's best-known work, the ever-intriguing Pierrot Lunaire. With Mireille Lebel, mezzo-soprano; Yehonatan Berick, violin and viola; Chloé Dominguez, cello; Hubert Tanguay-Labrosse, clarinet; Claire Marchand, flute; and Louise Bessette, piano. www.sallebourgie.com
This page is also available in / Cette page est également disponible en:

Francais (French)