SUNDAY IN THE PARK WITH GEORGE. Music and Lyrics by Stephen Sondheim. Book by James Lapine. Directed by Dave Steakley. Musical Direction by Allen Robertson. Scenic Designer: Cliff Simon. Projection Designer: Stephanie Busing. Cast: Cecil Washington, Jr. (George/George); Jill Blackwood (Dot/Marie). Janis Stinson (Old Lady/Blair Daniels), etc.
Zach Theatre
Austin, Texas
June 24, 2018
Later this week in Austin, Peter Bay and the Austin Symphony will present two full-scale performances of Leonard Bernstein's Mass. More than 300 performers will be taking part in what will surely be Austin's major contribution to the worldwide celebration of the composer's 100th birthday. Coincidentally, the Zach Theatre in Austin is offering a major work by Stephen Sondheim, one of Bernstein's longtime friends and collaborators. Sondheim contributed lyrics to both West Side Story and Candide and shared Bernstein's love of word games.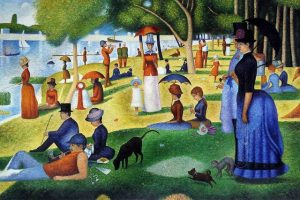 Sunday in the Park with George, which opened Off-Broadway in 1983 and on Broadway the following year to mixed reviews, nevertheless went on to win a Pulitzer Prize. This Sondheim/Lapine musical, inspired by a painting called A Sunday Afternoon on the Island of La Grande Jatte (photo: right) by French painter Georges Seurat (1859-1891) who died at 31 and never sold a painting but whose innovative techniques known as pointillism and chromoluminarism eventually had enormous influence in the art world, brings to life all the characters depicted in A Sunday Afternoon on the Island of La Grande Jatte and makes us see this, Seurat's most famous painting, in an entirely new light. But that is only Act One.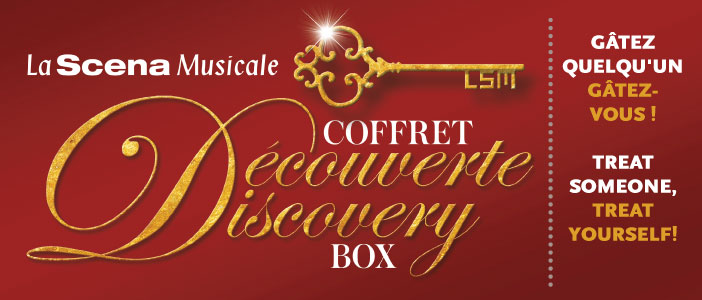 In Act Two the musical flashes forward to the Twentieth Century and imagines how a modern "George" might fare in American cultural life. The musical is a clever and highly entertaining examination of how art is made and how it relates to the social fabric in which it is made. Leonard Bernstein immediately recognized the special qualities of his friend's new musical: "brilliant, deeply conceived, canny, magisterial and by far the most personal statement I've heard from you thus far. Bravo."
As it turns out, Sunday in the Park with George really has legs; it had a Broadway revival in 2008 and another one just last year, not to mention numerous other recent productions around the country and around the world. This Austin production opened on May 31 at the Topfer in the Zach Theatre and ran until June 24. An excellent, high quality production featuring primarily local artists and performers, it is a fine tribute to the leadership of Producing Artistic Director Dave Steakley and Managing Director Elisbeth Challener.
Sunday in the Park with George, while very much an ensemble show, demands extraordinary performances from its two leads: the actor/singer playing the painter Georges Seurat in Act One and doubling as Seurat's great grandson and contemporary artist George in Act Two, and the actress/singer playing Seurat's model and mistress Dot and later George's 98-year-old grandmother Marie. In Austin we had two hugely gifted performers in Cecil Washington, Jr. and Jill Blackwood (photo: right). Washington dominated the stage whether playing the Nineteenth Century French George or the Twentieth Century American George. His impersonation of the two dogs in his painting was a tour de force by any standard. Jill Blackwood was totally credible as both the beautiful young model Dot and her daughter by Seurat at the age of 98.
Both Washington and Blackwood also excelled at delivering Sondheim's often rapid-fire pre-Hip-Hop words and music. In case you hadn't noticed, this is also the origin of the style which evolved into the idiom associated with Lin-Manuel Miranda's now universally-admired Hamilton. Sondheim was there first and he was obviously on to something. Although Sondheim has never shown much of a gift for writing memorable tunes, and some of his musical ideas can seem trivial and repetitious, his command of language, and his ability to marry words to music is incomparable. And in this fine Austin production, sound designer Craig Brock and his team made sure that we heard every one of those well-chosen words, but by no means at the expense of the music. Allen Robertson and his excellent orchestra contributed too, in near-perfect balance with the singers.
This Austin production also benefitted from the inspired work of a creative team that understood exactly how to handle this challenging material. No doubt some of the ideas were borrowed from other productions – other productions have seated the orchestra on the stage behind the actors – but the imaginative and seamless transformations of the famous painting and the real people and animals in the painting was something special. Sets, lighting, projections, music and stage direction were coordinated with remarkable precision. There was not a weak link anywhere in the large cast in which each member had to master two roles. Each character was sharply delineated. The ensemble work too, was often astonishing, as in the high-speed virtuosity of "It's Hot Up Here" which opens Act Two.
There are some observers who feel that Act Two of Sunday in the Park with George is a great letdown after Act One. Act One seems complete in itself, as the story of Georges Seurat and his most famous painting come to life. But Sondheim and Lapine had much more to say on the subject: they wanted to put the painting into its period perspective so that it could be seen from our very different time when, for better or worse, art had become more of a business and technologically more complex. With the expanded technical potential in art, they seemed to argue, the human element had all but disappeared. What, then, is the artist to do?
It was Seurat who developed the theory of chromoluminarism which separated colors into individual dots which interacted optically. This was a theory of light and colour which provided a scientific basis for artists like Seurat to try to create something entirely new. Interestingly, in Act Two of this Sondheim/Lapine musical, Seurat's great-grandson explicitly creates and presents Chromolume #7, the logical outcome of what Seurat had been attempting 100 years before. Is it successful? Who knows. As the show ends, we see a deeply conflicted George  struggling to find his way as the artist he now seems to believe he wants to be – one, who, as did his great-grandfather, strives to capture and convey the human spirit. In a book inherited from his grandmother, he reads the words written by Seurat: "White: a blank page or canvas. His favorite – so many possibilities."
Sunday in the Park with George provides a fascinating study of a great painting, but it also reminds us that in our own time, artists face the same challenges as their illustrious forebears.
Faced with a blank canvas or a blank sheet of paper, or a music manuscript without notes, how to begin? So many possibilities.