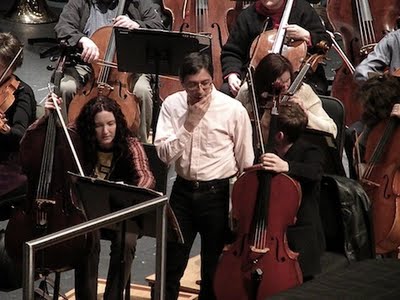 What a revolutionary idea it was to provide
surtitles
("
translated or transcribed lyrics/dialogue
projected above a stage or displayed on a screen")
in the opera house! All of a sudden, people actually understood what was going on. An art form that had been forbidding and impenetrable for millions was transformed into something welcoming and meaningful. Shame on the
Karajans
and
Levines
who, for whatever reason, delayed that monumental breakthrough in communication.
I believe the concert hall could use the same communication overhaul afforded the opera house. To my mind, vocal works should
always
have surtitles; most often, they do not. To take it a step further, as conductor Peter Bay demonstrated in Austin with
Strauss
'
Don Quixote
this week, many purely orchestral works could also benefit enormously from surtitles.
Richard Strauss's great tone poem
Don Quixote
,
like most of his orchestral music, has a story or programme attached. The work is based on episodes from
Don Quixote
, the classic novel by Miguel de Cervantes. Curiously, in his notes for this
Austin Symphony
concert at the
Long Center
, David Mead never once mentioned Cervantes.
A Verbal Match for Musical Humour
Much of the enjoyment of
Don Quixote
springs from an understanding of the episode that is being depicted at any given moment. Strauss complicates
Cervantes
' scenarios by casting his tone poem in the form of a theme or themes and variations, with each variation flowing into the next without pause. The listener is hard put to know which episode from the Cervantes' novel is being portrayed at any given time.
Peter Bay solved this problem by using surtitles, a practice frequently used in performances of this piece, but never, in my experience, this effectively. The surtitles, on this occasion, gave the audience far more than a simple headline for each variation/episode. In a few carefully chosen words and at just the right moments (setups followed by punchlines), they also revealed much of the humour present in the music. Audience members clearly loved the process since they readily laughed in all the right places – a phenomenon I had never before witnessed in performances of
Don Quixote
.
Again, the programme book erred in failing to mention the person responsible
for this brilliant contribution to our understanding. In fact, the text for the surtitles was written by Maestro Peter Bay. Technical operation (assuring that text and music meshed perfectly) was by Susan Threadgill of the
Austin Lyric Opera
. The work of this pair was so good that it could be used as a model for other orchestras and other works in the repertoire.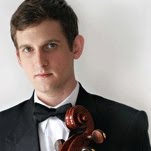 T
he Austin Symphony was substantially enlarged for this performance of
D
on Quixote
, with many more strings, including no fewer than eight double basses – additions which made a huge difference in the depth and timbre of the string sound. The entire orchestra played superbly and the solo parts, taken by section leaders, were equally good. Violist Bruce Williams made a colorful Sancho Panza and the extraordinarily gifted young cellist,
Douglas Harvey
, (photo:
right
) played Don Quixote with his usual impeccable technical command and beautiful tone. In short, this performance of Stauss's brilliant tone poem was entirely worthy of the imaginative effort that went into the surtitles.
Harvey's Dying Don Quixote not Altogether Credible
I do have one small quibble, however; it seemed to me that the expression of the final section of the piece was a little on the formal side for what should be one of the most poignant moments in the classical repertoire.
Strauss was a master of writing deeply moving orchestral and operatic epilogues and in
Don Quixote
he has given us one of the best of them. These epilogues are often nostalgic reflections on lives lived and loves lost and in this case, of a life lived in fantasy and delusion.
We can all relate to Strauss's themes to some degree and so we see and hear in Don Quixote's music the sobering recognition of what could have been and will never be. Strauss indicates in the score that this music is to be played expressively, quietly, for the most part, and with the tempo getting slower and slower as the moment of death approaches.
I suspect that when
Douglas Harvey
returns to this piece later in his life, this section will mean more to him and he will give the music a more personal character. What is needed is a slower tempo, to be sure, but also a more inward quality perhaps achieved through a greater use of tonal colors and more flexibility in the phrasing.
As always, of course, there is a fine line between genuine depth of feeling and tasteless sentimentality. For example, Strauss himself cautioned cellists performing this piece against drawing out the final
glissando
inordinately. Like any great masterpiece, however,
Don Quixote
cannot possibly yield up all its riches in any single performance; for both performer and audience, there is always more to discover.
Maestro Peter Bay deserves credit, not only for rehearsing the ASO to such a high standard in this detailed and complex repertoire, but also for his imaginative programming.
Stories and Music from Dukas and Tchaikovsky
On the first half of the program were two other well-known works inspired by literature:
Dukas
'
The Sorcerer's Apprentice
and Tchaikovsky's
Romeo and Juliet
.
Together with Strauss'
Don Quixote
, these three are very successful examples of their genre and give the audience a good deal to ponder with regard to how words and ideas can be translated into music.
The Dukas piece, as Maestro Bay pointed out in his pre-performance remarks, is already a vivid memory for many as portrayed on the screen by Walt Disney, with Mickey Mouse as the hapless apprentice. For many, Shakespeare's play
Romeo and Juliet
is also familiar from classroom study, theatrical productions or screen adaptations. By contrast, Cervantes'
Don Quixote
is unlikely to have been studied by many at school, at least in North America. Those listeners who are familiar with the work, probably know the highly successful Broadway musical version (
Man of La Mancha
), or the movie version starring Peter O'Toole as a truly memorable Don Quixote.
Overall, one might say that this evening's programme was a 'popular' one. But at the same time, each of these three works is a classical masterpiece and deserves to be taken seriously. And so they were.
I have written at length about
Don Quixote
. The other pieces also deserve discussion. Dukas'
The Sorcerer's Apprentice
is a tightly-constructed orchestral
scherzo
that builds inexorably in excitement and has a programme (or story) that is easy to follow in the music. The piece is also notable for the brilliance of its orchestration. Bay and the ASO gave us a very good performance, albeit a tad too careful to be as exciting as it can be.
The same could be said of
Romeo and Juliet
.
The performance was disciplined and well-balanced where it could have been intense and passionate. The final timpani roll was uneven and the punctuating chords half-hearted and anti-climactic.
In my experience, the sustained power desired here is best accomplished by using two sets of timpani.
Photo: Maestro Peter Bay and Austin Symphony rehearsal by
Marita