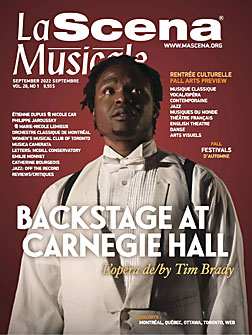 A few weeks ago I had the pleasure of driving through Amish country in southwestern Ohio, and attending performances by the Ohio Light Opera (OLO) in Wooster. Among the highlights was a first-class performance of Gilbert and Sullivan's The Pirates of Penzance.
The OLO is a unique cooperative venture with the College of Wooster and it has been going since 1979. Talented young singers from all over the United States are featured in these performances and four or five operettas and musicals are presented every summer in an 8-week season. Seeing this fine production of Pirates I was reminded that for many years the Stratford Festival offered exemplary G&S productions. But that is all gone now and instead we are offered relatively recent Broadway musicals such as this year's Chicago and next season's recently-announced rock musical Rent.
There is no question about the quality of this year's Chicago production. Director Donna Feore has demonstrated her mastery of this idiom once again and the cast is superb from top to bottom. But I couldn't help but wonder whether the Stratford Festival has lost sight of what makes it one of Canada's greatest cultural institutions.
Chicago crime reporter Maurine Dallas Watkins wrote the play Chicago in 1926. It was based on the real-life story of two girls who went on trial for murder and were acquitted. The play documented the corruption in the criminal justice system as well as the shenanigans of the sensation-seeking press. Many years later, in 1976, Bob Fosse bought rights to the play and collaborated with John Kander and Fred Ebb – the team that wrote Cabaret – to create the musical Chicago: A Musical Vaudeville. It was only moderately successful. But a revised version starring Ann Reinking appeared on Broadway in 1996 and it was a hit. A film version won the Oscar for Best Picture in 2003.
Chicago has an appealing if not very original score written in the style of the 1920s. The show also makes use of popular dances of the Roaring Twenties. And like the play on which it is based, it satirizes sleazy lawyers, corrupt prison officials, ambitious entertainers, and an easily manipulated press corps. The two murderesses, freshly acquitted in a sensational trial, quickly transform their new-found celebrity into commercial success in show business. Another version of the American Dream. The gold at the end of the rainbow is all that matters.
All aspects of the Stratford production showed both the highest degree of professionalism and imagination. Set designer Michael Gianfrancesco miraculously transformed the notoriously awkward Festival Theatre stage, often in a matter of seconds. The orchestra directed by Franklin Brasz played very well and the sound system balancing instrumentalists and miked singers was the best I have ever heard at Stratford.
Jennifer Rider-Shaw as Velma and Chelsea Preston as Roxie Hart – the two murderesses – demonstrated excellent singing and dancing skills and played their contrasting roles to the hilt. Dan Chameroy as the crooked lawyer Billy Flynn has never been better. I first saw him in 2007 at Stratford as an ideal Curly in Oklahoma, and he is clearly continuing to grow as an artist. It would be hard to imagine a more commanding presence in "Razzle Dazzle". Steve Ross as the hapless Amos brought down the house with "Mister Cellophane".
Donna Feore has always been a fine choreographer and in Chicago she has done it again. Her dancers are rehearsed to the highest level of precision, they move with endless energy and the moves they make are often fresh and surprising.
On the down side Feore often went too far in matters of taste. The program book warns the audience about "sexual innuendo" but Feore had the female dancers make moves that were both vulgar and demeaning. Does it really add to Chicago's entertainment value to have women forced to appear on stage nearly naked and in poses that make them out to be no more than sex objects? This is 2022 after all and the time is long past for women to be portrayed in this way. Incidentally, the film version of Chicago is almost as bad in this respect. Perhaps it is no coincidence that it was produced by none other than Harvey Weinstein's Miramax company.
Chicago represents the best and the worst of American commercial theatre. Is that the business the Stratford Festival is in? I don't think so. Or if it is the company has lost its way.
What really bothers me about Chicago and the upcoming Rent, is of a piece with what is happening to the Stratford Festival. What began in 1953 as a Shakespeare festival and grew to become the foremost Shakespeare festival in the world, has become a shadow of its former self with no clear sense of purpose and no clear identity either in Canada or beyond as a theatre company.
There is no doubt that the pandemic has shaken arts communities everywhere to their core. The big question: will audiences come back again? Since COVID-19 is particularly threatening to older people, the very people who have provided the most reliable ticket-buyers for generations, the answer might well be in the negative. If so, what is to be done? The obvious answer is to change the product to make it more appealing to younger people. Hence, Chicago, Rent, and modern dress versions of Richard III, The Miser, etc.
Stratford not only has to worry about losing its audience but also about being politically correct. That means providing more roles and jobs for women, blacks and indigenous people.
Did I mention that ticket prices at the Stratford Festival have become a major deterrent for ticket-buyers? A pair of tickets for Chicago can set you back more than $600. It is not surprising that part-way through the current season Stratford has been forced to discount tickets for Chicago and other shows by as much as 50%.
The Stratford Festival proudly proclaims itself to be "North America's largest classical repertory theatre company." It is certainly large, perhaps too large to have a clear and focused sense of what it is doing, but "classical" no longer. Its program is a mishmash of Shakespeare, Canadian drama of dubious quality and commercial Broadway shows. The "classical" theatre company developed by Tyrone Guthrie, Michael Langham, Jean Gascon and others is no more.
Artistic Director Antoni Cimolino and Executive Director Anita Gaffney have no easy task in steering their enormous organization through ever more troubled waters. And they obviously think they can best keep their company going by being ever more contemporary and 'with it.' In my view, they are mistaken. They could do more for Canadian theatre and for their company by looking behind them.
There is a canon of great plays, above all Shakespeare, that must be nurtured and preserved, not shunted to the side and/or updated. The Stratford Festival, among its other missions, was intended to be a kind of museum in the best sense. Celebrating what is great and striving to present it at its best for young people of all ages to learn about and come to understand and respect for what it tells us about ourselves and the human condition.
On the musical side does Pirates of Penzance do that? Or is it too dated or too English? Maybe. But there are many other operettas and older musicals well worth an airing. And let's not forget that there was a time when Stratford found room for the likes of Glenn Gould, Oscar Shumsky, Leonard Rose and Mario Bernardi to do their stuff.  To go in the direction of Chicago and Rent is to go in the direction of the crassest of American popular culture. Surely, this is a dumbing down of what Stratford was meant to be, and what it used to be. And it could be again under enlightened leadership respectful of its roots and courageous enough to be true to its artistic legacy.