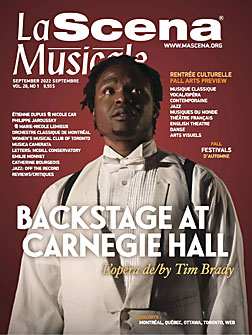 Beethoven: Symphonies 1-9
Siobhan Stagg, soprano; Ekaterina Gubanova, alto; Werner Güra, tenor; Florian Boesch, bass. Accentus Chamber Choir. Chamber Orchestra of Europe/Yannick Nézet-Séguin.
Deutsche Grammophon, July 2022
In addition to his major posts in Montreal, New York and Philadelphia, Yannick Nézet-Séguin has had a long-term relationship with the Chamber Orchestra of Europe (COE). They meet for several weeks every summer for concerts and recordings. To date they have recorded many of the Mozart operas and the complete symphonies of Mendelssohn and Schumann. This summer they concentrated on Brahms and a complete symphony set will be issued next year by Deutsche Grammophon.
The COE is not a full-time orchestra. It is more like a festival orchestra with the same ­players coming together as needed. But what players they are! They are the crème de la crème. Principal oboist Philippe Tondre holds the same position with Nézet-Séguin's Philadelphia ­Orchestra. Legendary timpanist John Chimes spent nearly 40 years with the BBC Symphony.
This new set is the first complete recording based on the Urtext from the new Beethoven Complete Edition. Listeners familiar with the Beethoven symphonies will not notice many obvious differences from what they are used to hearing. The opening of the Fifth Symphony, however, is very different. In the latest edition there is no break whatsoever between the two opening statements. No hold. No fermata.
These are not original instrument performances, but there are some historically ­informed touches. Valveless trumpets are used and open strings and limited vibrato make the opening of the second movement of the ­Second Symphony sound very different.
These are excellent performances. What makes them almost unique is Nézet-Séguin's remarkable combination of hair-trigger ­precision and singing lines. There is driving intensity in the Eroica symphony. Indeed, it is a white-hot performance and probably the highlight of the entire set. Nézet-Séguin often chooses brisk tempi but he knows when to relax, too. Except for the peasants' dance and the thunderstorm, the Pastoral Symphony is easygoing. Nézet-Séguin knows when to stop and smell the flowers.
The Ninth Symphony is as grand and inspiring as it should be and is a splendid ­culmination to Nézet-Séguin's first recorded Beethoven cycle. We can be sure it won't be the last.
My only reservation about the set is the sound. I prefer more warmth and more ­resonance. The sound that Teldec gave the COE when they recorded the Beethoven ­symphonies with Nikolaus Harnoncourt in the 1990s is more to my taste.