Chopin: Works for Piano & Orchestra. Andante spianato & Grande Polonaise brillante Op. 22. Rondo à la Krakowiak Op. 14. Variations on "La ci darem la mano" Op. 2. Fantasy on Polish Airs Op. 13. Nocturne in C sharp minor Op. posth.
Jan Lisiecki, piano.
NDR Elbphilharmonie Orchestra/Krzysztof Urbański.
DG 4796824. Total Time: 64:43.

At age 22, Canadian pianist Jan Lisiecki ­already enjoys an international reputation. He was born in ­Calgary of Polish ­descent, perhaps ­allowing him an ­­authoritative ­approach to Chopin. This CD of all-Chopin works is likely to be a crowd-pleaser.
Chopin was a pianist and composer who wrote for the piano. In his late teens he wrote six works for piano and orchestra. These youthful works display little aptitude for ­orchestration, especially the four pieces on this CD. Conductor Krzysztof Urbański has a thankless job.
These short pieces show off the piano and Jan Lisiecki. The young virtuoso gives us ­playing that both technically dazzling and ­sensitive in interpretation. He is attuned to what he calls Chopin's "bel canto style" and takes time to shape a singing line.
Probably the best piece here is the Rondo à la Krakowiak, with an interesting ­orchestral accompaniment and harmonic development. (The Krakowiak is a syncopated dance in duple time. Chopin's tune is catchy and charming).
In addition to the four pieces for piano and orchestra, Lisiecki throws in an encore piece for solo piano: the Nocturne in C# minor. Here his performance comes across as ­unexpectedly deadpan and clunky. PR
DANZAS. Music by Falla,
Paco de Lucía and Charlie Haden.
Montréal Guitare Trio (MG3). Analekta AN2 8791.
Total Time: 42:00.
In the hands of a classical guitarist, the ­Spanish guitar is an acoustic ­instrument played without sound ­enhancement or plastic picks; the technique is all in the fingers.
The Montréal Guitare Trio (MG3) keeps this legacy alive. Glenn Lévesque (guitar), Sébastien Dufour (guitar), and Marc Morin (acoustic bass and guitar) give us acoustic instruments with classic sounds. Danzas, a tribute to the great traditions of Spanish guitar music, is their seventh CD and an ­impressive one.
Paco de Lucía was one of the greatest ­flamenco guitarists. His "Mediterranean ­Sundance/Rio Ancho" makes for an exciting demonstration of MG3's virtuosity. (It risks comparison with the sublime 1981 live recording, however.)
De Lucía's more lyrical "Canción de amor" is played with grace and beauty. So too is ­Augustín Barrios Mangoré's "La Catedral". The final guitar standard is "Our Spanish Love Song" by legendary jazz bassist Charlie Haden. This is perhaps the most hauntingly beautiful piece on the disc; it lingers in the memory long after the music has stopped.
The rest of the album is devoted to transcriptions of music by Manuel de Falla from his best-known compositions: the ballet scores The Three-Cornered Hat and El Amor Brujo, the opera La Vida Breve, and three of the Seven Popular Spanish Songs. The song transcriptions are very well played. However, the dances, written for orchestra with many percussive ­effects, lose power in these transcriptions. PR
Dvořák: Symphonies Nosy 6 & 7. Othello Overture Op. 93.
London Philharmonic Orchestra/Yannick Nézet-Séguin. Total Time: 99:00 (2 CDs).

Yannick Nézet-Séguin returns to the London Philharmonic — he is a ­former guest ­conductor — for three works by Dvořák. The least-known is the Othello Overture, composed late in Dvořák's career. It is not an overture but the last of a trilogy of symphonic poems called "Nature, Life and Love". We are in the "love" ­section. A man dearly loves his wife but is wrongly convinced that she betrayed him, so he smothers her to death! It is music with both power and beauty.
Symphony No. 6 is less well known than the later Dvořák symphonies but is just as fine. Nézet-Séguin gives it a great reading: rhythms are crisp and climaxes full-throated. The Scherzo, with its infectious earthiness, is ­especially gratifying. The slower middle ­section includes a 4-bar piccolo solo that is as lovely as it is unexpected. Full credit to the maestro and unnamed piccolo player who make this passage magical.
In the last movement, the Presto is driven faster than I thought possible. First cellos, then violas, and finally all the strings put on a display of fearless virtuosity that alone is worth the price of the CD. It's great playing and a glorious climax to the symphony.
Symphony No. 7 is performed equally well, with both insistent forward motion and ­emotional depth and range. In the final bars Nézet-Séguin adds horns to the melodic line. A fully satisfying conclusion. PR
Mendelssohn: Symphonies 1-5.
Karina Gauvin & Regula Mühlemann, ­sopranos. Daniel Behle, tenor. RIAS ­Kammerchor. Chamber Orchestra of ­Europe/Yannick Nézet-Séguin. DG 479337 (3 CDs). Total Time: 200:10.
The Chamber Orchestra of Europe is a terrific band that Yannick Nézet-Séguin has worked with for years. This new Mendelssohn set is based on a concert series at the Paris Philharmonie in 2016. The playing is superb, and Nézet-Séguin displays his usual energy and ­attention to detail.
I have a few reservations. The orchestra ­simply sounds too small. There is no problem with the winds and brass. It is the string ­section, or rather the way it was recorded, that sounds thin. Another factor might be the acoustics of the Philharmonie. At any rate the strings lack fullness and warmth on these recordings.
The performances themselves reflect period practice — performers avoid vibrato, tempos are quick, notes are cut short. The "Reformation" symphony is carefully prepared and ­executed, and Nézet-Séguin leads the glorious second movement at a gratifying tempo.
Symphony No. 2 with soloists and chorus is performed with energy and sensitivity. Canadian soprano Karina Gauvin's voice lacks purity, but she makes up for it with her unique plaint. Tenor Daniel Behle impresses in both his lyrical and dramatic passages. This is a strong performance.
The "Scottish" symphony is a disappointment. The intimacy of the opening is beautifully realized, but the stormy sections suffer from poor string sound. The "Italian" ­symphony is lively and joyous, especially the final saltarello. Symphony No. 1, composed when Mendelssohn was only 15 years old, is played with great exuberance. PR
Echo/Espoir.
Joyce El-Khoury, soprano, Michael Spyres, tenor. Carlo Rizzi, The Hallé. Opera Rara.
4 Stars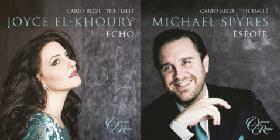 Now here's a surprise, a pair of debut ­releases by two fast-rising singers, soprano and tenor, mingling well-known arias with the fairly obscure.
El-Khoury, a Lebanese-Canadian, sticks mostly to well-trodden tracks, albeit with interesting variations. Berlioz's setting of a Freischütz piece is new to me, as is anything from Hérold's Le Pré aux clercs, which turns out to be overblown but charmingly sung.
Three arias from Meyerbeer's Robert le ­diable is at least one too many, but El-Khoury makes full amends with a compelling nine-minute extract from Halévy's La Juive, ­followed by an absolute heartbreaker from Berlioz's Benvenuto Cellini. Thrilling dynamic control allows a really satisfying delivery of shades of emotion, the mark of a singer who's on top of her game.
The American Michael Spyres, more adventurous, gives us three arias from two Halévy unseens, a shot of Verdi's Jerusalem, and a chunk of Auber's Le lac des fées, along with bites of Rossini, Donizetti and Berlioz, all emphatically well sung with a scintillating top and rich warmth. There is one exquisite duet on each disc that makes you want to see these singers immediately. NL
Walton: Violin Concerto, Variations on a theme by Hindemith, Partita. Anthony Marwood, violin, Martin Brabbins, conductor, BBC Scottish Symphony. Hyperion CDA67986.
New recordings of the Walton Concerto must be measured against that of Jascha Heifetz, who ­commissioned the work in 1935 and first performed it. Few subsequent soloists have offered a convincing alternative to the mighty Heifetz.
Now comes Anthony Marwood to turn our ears around. From first utterance he finds an expansive, Elgarian colour to the piece, a breadth of phrase that matches Heifetz and a depth of field that hints at Anglican hymnody. Even to those like me, who have consumed more Walton than a full English breakfast, this is a standout interpretation, tautly ­supported by the BBC Scottish Symphony under Martin Brabbins.
The 1963 Variations on a theme by ­Hindemith are likewise commanding, with sinuous woodwind solos and a deep structural consistency. However, Walton's 1957 Partita for orchestra fails to sustain interest and his wartime Spitfire Prelude is simply flashy. Walton is very much an on-off composer. ­Remarkably in this recording, the performances transcend his shortcomings. NL
Surviving: Jewish Women
Four recent releases explore the sounds of creative Jewish femininity. The San Francisco composer David Garner has set four female ­Jewish poets, of whom the most gripping is the ­exotic Berliner Else Lasker-Schüler, ­represented here by her "My Blue Piano". The poet's voice is unbridled and inimitable, Garner's music is more conventional; the singer is Nanette McGuinness. This recital, good on paper, never quite achieves lift-off. (Centaur HH)
A full album of 26 Lasker-Schüler poems, dating from the mid-1920s, was set to music in the 1960s by the former Hitler exile ­Wilhelm Rettich. It is evocative, subdued, ­tender and half-crazed, just like the reckless Lasker-Schüler, who slept beneath Berlin café tables and died a pauper in Jerusalem. The­ Israeli soprano Michal Shamir empathizes with Else and sings with an admirable ­economy of vibrato. Vag Papian is the pianist. It's a Deutschlandfunk/Gideon Boss production, well worth seeking out. (HHHH)
I fell in love with Rachel Talitman's ­playing of the late Berthold Goldschmidt's Fantasy for Oboe, Cello and Harp, a work that dates from the exiled composer's rediscovery in the 1980s. Here the harp is given a voice to match the two other instruments. Talitman pairs this exquisite work with a sonata by the Dutch-Jewish composer Samuel Dresden, new to me, and several works by the Munich exile Paul Ben-Haim, who found refuge in Palestine. Ben-Haim's Largamente for solo harp is a fusion of ­European and near-Eastern sound, written to great effect for the most reticent of instruments. Must be heard. (Harp & Co HHHH)
The Russian composer Joel Engel, a folksong collector, migrated to Palestine in 1924 and died there three years later at age 59. He wrote music for the Habima Theatre's epic production of The Dybbuk and produced ­numerous arrangements of Yiddish and ­Hebrew songs, mostly for women's voices. Toccata's pioneering album of Engel's work from the Pittsburgh Jewish Music Festival is well worth exploring. (Toccata HHH) NL
Unheard. Ebony Quartet: Channel Classics.
In the 1990s Decca made a series of recordings, Entartete Musik (Music of the Degenerates), that broke the silence that had settled on a ­generation of composers who had fled Nazi Germany or died in its concentration camps.
None of the music on this gripping compilation will be familiar to anyone alive. Even the names of the composers cause some scratching of heads. Erich Itor Kahn (1905–1956) is known to me only from an adoring memoir by his widow. Kahn was lucky to escape to the US but never found recognition there. His 1924 string quartet fragment is a precocious deconstruction of classical form in the edgy Weimar style of the young Kurt Weill. It demands to be heard.
Hans Walter Süsskind (1913–1980) dropped his first name and the umlaut to make a conducting career in Britain and the US. His 1933 song cycle Accountability for Us sounds like a send-up of Brecht and Weill, with a distinctively acrid assault on all musical tendencies. Josef Matthias Hauer (1883–1959) is the odd man in this collection, as he quietly remained in Vienna through the Nazi era. Hauer worked on a 12-tone system five years before Schoenberg; his 1924 ­quartet sketches are beyond fascinating.
The second string quartet by Otto Jokl (1891–1963) owes much in sophistication to his teacher Alban Berg. It won a New York competition in 1948 before embracing oblivion. Louis Gruenberg (1884–1964) had his moment at the Met with an all-American opera, The Emperor Jones. His Four Indiscretions for string quartet are, unusually for the era, positively upbeat.
Much of the music on this album is ­essential listening. You won't understand the music of the last century without it. NL