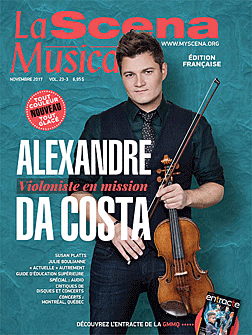 This page is also available in / Cette page est également disponible en:

Francais (French)
Seiji Ozawa: Looking back at a thrilling career
Bartók: Music for Strings, Percussion and Celesta
Concerto for Orchestra. Boston Symphony Orchestra/Seiji Ozawa/Rafael Kubelik. Pentatone PTC 5186247. Time: 69:53.
New Year's Concert 2002
Music by Johann Strauss, Josef Strauss and Josef Hellmesberger. Vienna Philharmonic Orchestra/Seiji Ozawa. Arthaus Musik DVD 109315. Time: 109:00 + 32:00 (special features).
Haruki Murakami: Absolutely on Music: Conversations with Seiji Ozawa.
New York: Alfred A. Knopf, 2016. 325 pages.
This past September Seiji Ozawa celebrated his 83rd birth­day. In spite of a serious cancer in recent years, Ozawa remains active as a conductor.Next sum­­­mer he plans to conduct a Beeth­oven festival.
Ozawa has a special association with Tor­onto. He conducted his first concerts there in 1964, causing a sensation. He was immediately hired as the TSO's next music director. At the time he was 28 years old and barely spoke a word of English. Con­ducting Prokofiev's Sym­phony No. 5 and Tchaikovsky's Symphony No. 5, Ozawa drew in­spir­ed performances via an extra­ordinarily precise and graceful baton technique. He re­mained in Tor­onto for only a few exciting years, 1965-1969, before being snatched away by the Boston Symphony, his long-time musical home.
With the Boston Symphony, Ozawa recorded extensively for Deutsche ­Grammophon and Philips. Pentatone has remastered a number of recordings and reissued them as Super Audio CDs. A recent release ­features Ozawa and the BSO in Bartók's Music for Strings, Percussion and Celesta, with deeply expressive playing but very slow tempos.
Ozawa also had a long association with the Vienna Philharmonic. In 2002 he was invited to conduct its annual New Year's Concert, and this has recently been reissued on DVD. Ozawa is at his absolute best here, charming musicians and audience alike with his infectious energy and good humour. He conducts without a baton and leads the entire concert from memory, including such obscure pieces as Johann Strauss' Carnival Ambassador Waltz and Josef Strauss' polka The Jabbering Woman. The concert is a delight from ­beginning to end.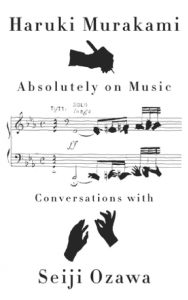 Haruki Murakami. one of Japan's leading novelists, has also had a lifelong ­interest in music. He lived in Boston for several years and developed a friendship with the ­conductor. ­Murakami has now documented their long ­conversations about music. Ozawa is not by ­nature a man given to articulate analysis of music — even in Japanese — or of technique. He prefers to just "do it" rather than talk about it. Nonetheless, there are some useful anecdotes. Ozawa has quite a lot to say about Glenn Gould's different recordings of Beethoven's Piano ­Concerto No. 3 as ­conducted by Karajan and Bernstein ­respectively. Ozawa also tells a story about ­performance of Mahler's Das Lied von der Erde with Jessye Norman and Ben Heppner. ­Heppner used a music stand for the ­performance. In one passage Ozawa flailed his arms with such exuberance he caught his little finger under the edge of Heppner's stand — and broke the finger! Ozawa gritted out the rest of the performance before going to the hospital for surgery.
A Gala in Hamburg — Grand Opening of the Elbphilharmonie
Elbphilharmonie Hamburg Grand Opening Concert. Music by multiple composers. NDR Chorus & Bavarian Radio Chorus. NDR Elbphilharmonie Orchester/Thomas Hengelbrock. Bonus Documentary: The Elbphilharmonie — Hamburg's New Landmark. Blu-ray Disc 741504. Time: 165:00.
The new Elbphilharmonie in Hamburg received much attention during its inaugural concerts this past January. An extraordinary piece of architecture, the concert hall is built on top of a red brick warehouse in Hamburg's busy port. The structure dominates its surroundings as surely as the Sydney Opera House now signifies its harbour. The Grand Hall occupies the middle of the glass section on top of the warehouse. The audience sits in a series of pods distributed asymmetrically around the hall.
Thomas Hengelbrock is the music director of the NDR Elbphilharmonie Orchester and the man who put together the unusually thoughtful program for this concert. It opens with a piece for solo oboe by Benjamin Britten — the oboe being the instrument that traditionally tunes the orchestra. Oboist Kalev Kuljus plays from the rear and is heard but not seen: a clever way to have the audience focus on the sound. The program goes on to showcase ensembles large and small and music from many periods. Several pieces have a Hamburg ­connection, e.g. a motet by Praetorius (1586-1651) composed for a wedding. The concert ends with a celebration of the choral ­movement of Beethoven's Ninth.
The disc includes both a documentary and the ex­ternal light show that blazed during the ­concert.
The Tchaikovsky Ballets: A Russian festival of sound
Tchaikovsky: Swan Lake. The Sleeping Beauty. The Nutcracker. James Ehnes, violin. Robert deMaine, cello. Bergen Philharmonic/Neeme Järvi. Chandos 5204 (5 CDs). Time: 6 hours, 32 minutes.
Here are all three of Tchaikovsky's great ballet scores gathered ­together in one box, in ­superlative performances with an uncommonly rich and full ­recorded sound. Can­adian James Ehnes is the brilliant violin soloist. The set commemorates conductor Neeme Järvi's 80th birthday, and it deserves a warm welcome.
When it comes to Swan Lake or The ­Nutcracker, a ballet conductor has little choice but to follow tradition. Not so for concert ­performances. Neeme Järvi has been steeped in Russian music-making from the time he first learned to read music. He ­conducts these ballet scores with obvious love for the music but also with expansive ­phrasing and a keen ear for telling details.
In these ballets Tchaikovsky comes up with one fresh idea after another. Instruments are ­deployed with a keen understanding of their range of sound. The violin solos in The Sleeping Beauty and Swan Lake are beautiful pieces in themselves, quite apart from the ballets. James Ehnes is a grand violinist and he plays them with gorgeous tone and impeccable technique.
There have been many fine recordings of these Tchaikovsky ballet scores, but these Chandos versions are among the best. Congratulations to producer Brian Pidgeon and chief engineer Ralph Couzens and to the Grieghallen, the fine 1,500 seat hall in Bergen where the recordings were made.
Saint-Saëns: the complete Violin Concertos
Saint-Saëns: Violin Concertos (complete). Violin Concerto No. 1 in A major Op. 20. Violin Concerto No. 2 in C major Op. 58. Violin Concerto No. 3 in B minor Op. 61. Andrew Wan, violin. Orchestra symphonique de Montréal/Kent Nagano. Analekta AN 28770. Total Time: 74:04.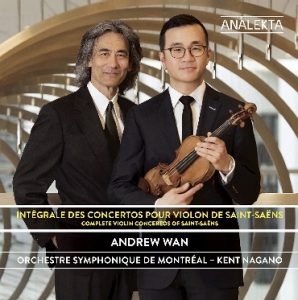 This is a terrific recording from the OSM and deserves attention. The Violin ­Concerto No. 1 is only thirteen minutes long and is barely a concerto at all. But it is charming and ought to be played more often. The Concerto No. 2 is much more ­substantial and almost the equal of the better-known Concerto No. 3. The first movement is a powerful and complex movement with a ­cadenza full of technical challenges. The second movement with prominent harp and wind solos is in Saint-Saëns' best lyrical vein. Only the ­finale seems a little lightweight in comparison.
Andrew Wan has been co-concertmaster of the OSM since 2008 and is also a founding member of the New Orford Quartet. He plays brilliantly in all three concertos with dazzling technique and a voluptuous tone. Nagano and the OSM provide sensitive and committed ­accompaniments; soloist and conductor demonstrate a special affinity for the ideal ebb and flow of these scores. Principal oboe Theodore Baskin plays with great beauty and subtlety of phrasing in the several slow movements.
These performances were recorded live in the Montreal's Maison symphonique. The hall's acoustics enabled the marvellous sound quality, with kudos as well to producer Carl Talbot.
This page is also available in / Cette page est également disponible en:

Francais (French)