This page is also available in / Cette page est également disponible en:

Francais (French)
Tales of Two Cities: The Leipzig-Damascus Coffee House
Tafelmusik Baroque Orchestra/Jeanne Lamon. Trio Arabica. Alon Nashman and Maryem Tollar, narrators. Conceived by Alison Mackay. Tafelmusik Media TMK 1035 DVD & CD. Total Time: 97:15 (DVD); 70:00 (CD).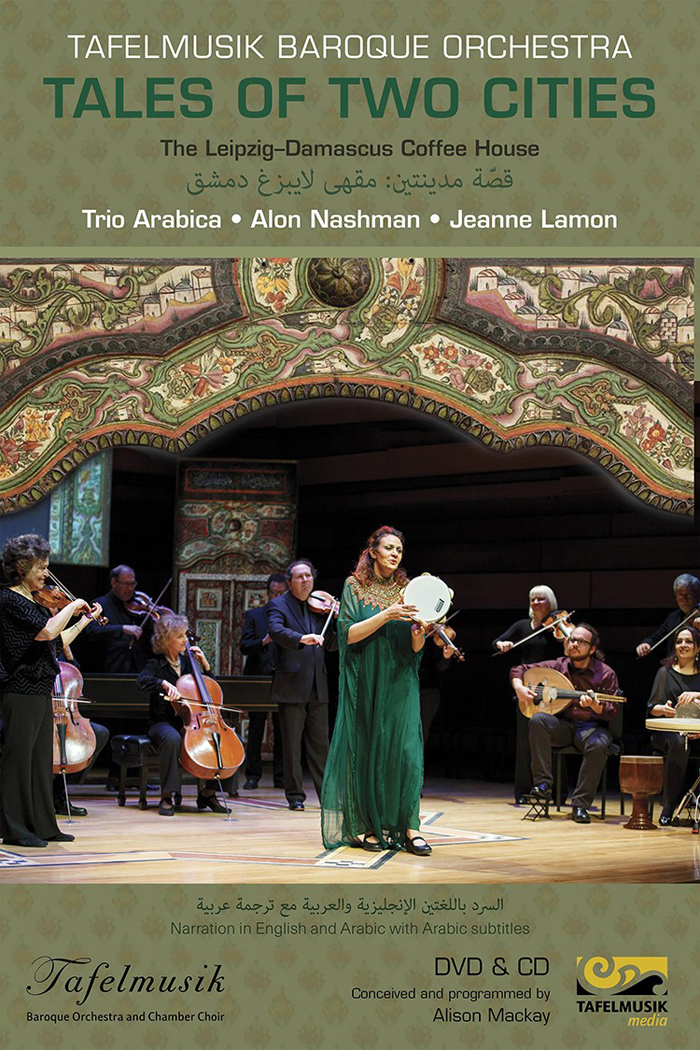 A founding member of Tafelmusik, Alison Mackay has also developed such multi-disciplinary projects as The Four Seasons: A Cycle of the Sun, The Galileo Project, House of Dreams. The latest, Tales of Two Cities, draws together music, history and culture from Europe and the Muslim world, drawing attention to what we have shared for centuries.
Leipzig and Damascus have long been important as centres of trade, learning and scholarship. Mackay and stage director Marshall Pynkoski bring together the Tafelmusik Baroque Orchestra and the Trio Arabica, the latter playing qanun, oud and percussion on the stage of the Aga Khan Museum in Toronto. Alun Nashman provides lively narration.
Pre-recorded at Grace Church on-the-Hill, the CD provides the soundtrack for the DVD. No matter. It all works beautifully as a film as directed by Gordon Henderson. Playing under Jeanne Lamon is superb. Violist Patrick G. Jordan is wonderful in the Telemann concerto; violinist Aisslinn Noksy is stunning in Torelli. Trio Arabica is no less impressive in its musical world. Maryem Tollar sings beautifully and the work of the (amplified) percussionist Naghmeh Farahmand is a tour de force. The groups play together – perfectly naturally – in the first and last pieces.
A bonus feature concerns the restoration of the Damascus Room in Dresden, which inspired the sets used in Tafelmusik's Toronto concert. We have heard about Syrian refugees and their warm reception in Canada. Tales of Two Cities gives us hope that cultures can learn to embrace and even enrich each other. PR
This page is also available in / Cette page est également disponible en:

Francais (French)