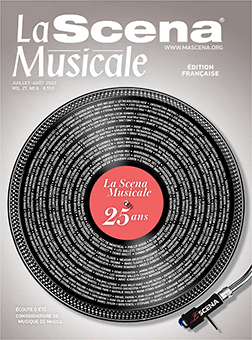 This page is also available in / Cette page est également disponible en:

Francais (French)
Martha Argerich Live Vol. 6. Chopin: Piano Concertos Nos. 1 & 2, Mozart: Piano Sonata K. 576, Bach: Partita No. 2, Schumann: Piano Sonata No. 2, Ravel: Gaspard de la Nuit, Prokofiev: Piano Sonata No. 7
DOREMI DHR-8173/4 (2 CDs)

Argentine-born pianist Martha Argerich won the International Chopin Competition in 1965 when she was 24 years old. She went on to confirm her stature as one of the finest Chopin interpreters. This new set includes superb live performances of the Piano Concerto No. 1 (Amsterdam, 1968) and the Piano Concerto No. 2 (Hamburg, 1969). Argerich shows off a superlative technique but also a gift for meltingly beautiful phrasing.
Then there is a recital recorded in Budapest in 1971 that includes Bach's Partita No. 2 in C minor that features clarity and precision of articulation to rival Glenn Gould. But perhaps the highlight of the set is Argerich's performance of Prokofiev's Piano Sonata No. 7, the second of his "War" sonatas dating from 1942. This was one of Argerich's party pieces when she was young and she has recorded it several times. This performance is as fine as any she has given and the toccata-like final movement is absolutely hair-raising.
This page is also available in / Cette page est également disponible en:

Francais (French)