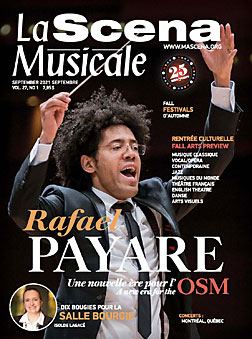 This page is also available in / Cette page est également disponible en:

Francais (French)
Isaac Stern & Pinchas Zukerman Live.
Works for two violins by Leclair, Prokofiev, Spohr and Wieniawski, and for violin and viola by Mozart
Isaac Stern, violin. Pinchas Zukerman, violin and viola
DOREMI DHR-8099 
★★★★★
In 1976 Isaac Stern was 56 and at the height of his fame, and his protégé Pinchas Zukerman was only 29 but already a star soloist. And how extraordinary it was that they should appear together Feb. 9, 1976 – just the two of them, no colleagues and no orchestra – in Toronto's Massey Hall. As one might expect, it was an evening of superlative violin playing – and some memorable viola playing – in repertoire that is not often played or recorded. Stern was renowned for the beauty and fullness of his tone and it is well captured here. And in matters of tone quality, Zukerman was never far behind his mentor. In this concert he matches him every step of the way. 
Prokofiev's Sonata for Two Violins Op. 56 is perhaps the highlight of the concert for both its substance and the virtuosity the players bring to the piece. But Mozart's Duo for Violin and Viola No. 1 in G major K. 423 is just as satisfying, with Zukerman demonstrating why he is often called the best violist in the world. This is a unique and unforgettable recording. Incidentally, DOREMI is celebrating the artistry of Isaac Stern in a big way. So far there have been no fewer than eight volumes of live performances by the great American violinist.
This page is also available in / Cette page est également disponible en:

Francais (French)