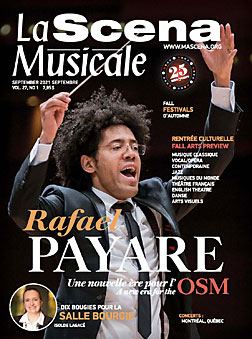 This page is also available in / Cette page est également disponible en:

Francais (French)
Dutilleux: Le Loup; Sonatine for flute and orchestra (orch. Kenneth Hesketh).
Sonate for oboe and orchestra
(orch. Hesketh). Sarabande et Cortège for bassoon and orchestra (orch. Hesketh)
Sinfonia of London/John Wilson
Chandos CHSA 5263
★★★★✩
French composer Henri Dutilleux (1916-2013) wrote music that in his early years showed the influence of Debussy, Ravel and Poulenc, but it was constantly evolving. He was still composing in his 70s and 80s and the later music was as fresh as ever but very much in touch with current trends, including serialism and improvisation. The music on this new recording was composed in his younger days between 1943 and 1953. It is well-crafted and tuneful. Le Loup is a ballet score from 1953 in the manner of Poulenc and is highly entertaining.
The other works are equally stylish and accessible. Orchestrations are deft and convincing – not surprisingly, perhaps, because the British composer Kenneth Hesketh was one of Dutilleux's students. This is the latest release from the Sinfonia of London as revived a few years ago by conductor John Wilson. It is basically a recording orchestra but it is making its concert debut this summer at the Proms. It is a crack ensemble composed of London's finest and, as in previous CDs, offers superlative performances. The excellent soloists are flutist Adam Walker (principal, London Symphony), oboist Juliana Koch (principal, London Symphony) and bassoonist Jonathan Davies (principal, London Philharmonic).
This page is also available in / Cette page est également disponible en:

Francais (French)