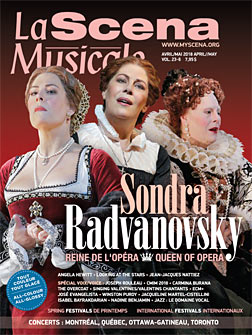 This page is also available in / Cette page est également disponible en:

Francais (French)
DUETS Music by Bizet, Gounod, Boito, Donizetti, Verdi, etc. Rolando Villazón, tenor. Idar Abdrazakov, bass. Orchestre Métropolitain de Montréal/Yannick Nézet-Séguin DG 00028947969044 Total Time: 61:22
Villazón and Abdrazakov first crossed paths in 2009 when they worked together at the Met in Lucia di Lammermoor. Of course, for Canadian music-lovers this CD provides another cause for celebration. It is the first recording by the Orchestre Métropolitain de Montréal (as the OM is identified abroad) on a major international label. It is another indication of Nézet-Séguin's extraordinary loyalty to the orchestra that gave him his first opportunity.
The CD begins with the most famous of all tenor/baritone duets, from Bizet's opera The Pearl Fishers. The reference recording for this piece has always been the 1951 recording by Jussi Björling and Robert Merrill. But this new version is very much a contender. Villazón contributes a thoughtful rendering of the opening bars, and later the kind of emotional intensity that has made him a star. Not to mention some thrilling high notes that are fearlessly approached and dead on in tune. Abdrazakov is a solid partner and Nézet-Séguin and his orchestra provide a totally committed accompaniment.
Wonderful singing from beginning to end on this new CD with conductor and orchestra very much equal partners. This is a triumph for all concerned and most especially for the Orchestre Métropolitain. The orchestra has a busy recording schedule with Nézet-Séguin for ATMA – a cycle of all the Bruckner symphonies is complete – but on the strength of this CD it has surely earned the right to moonlight now and again for Deutsche Grammophon too.
This page is also available in / Cette page est également disponible en:

Francais (French)