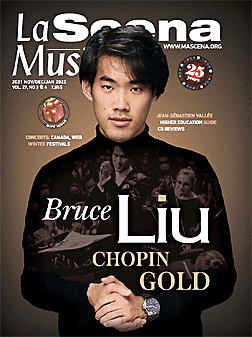 This page is also available in / Cette page est également disponible en:

Francais (French)
Korngold: Die Tote Stadt
Jonas Kaufmann, Marlis Petersen.
Bavarian State Opera Orchestra and Chorus/Kirill Petrenko
Bayerische Staatsoper Recordings BSOREC2001 (Blue-ray disc).  – ★★★★1/2
Erich Wolfgang Korngold composed his three-act opera Die Tote Stadt (The Dead City) in 1919 when he was only 23. It is a remarkable achievement for a man so young and it was a huge success at its premiere and immediately afterwards. The work is based on the 1892 novel Bruges-la-Morte by Georges Rodenbach. The libretto was written by the composer and his father, Julius. Die Tote Stadt is about Paul, a man who has recently lost his wife, Marie, and can't get over it. He meets a woman who reminds him of Marie and he becomes obsessed with the idea that Marie has come back to him. Bad dreams ensue but Paul eventually comes to terms with his loss.
The Bavarian State Opera has given us an updated version of the opera with imaginative direction by Simon Stone and a highly versatile revolving set by Ralph Myers. Tenor Jonas Kaufmann is outstanding as Paul and soprano Marlis Peterson is just as good as Marietta. Both roles require pages of singing in the upper register and often at full volume to carry over the huge orchestra. The dramatic requirements are even greater. There is a lot of great music in the opera but I do think it goes on too long. Korngold originally intended to write a one-act opera on this subject. It might have been the wiser choice. Nonetheless, the final scene is meltingly beautiful and could hardly be rendered better than it is in this performance. Kirill Petrenko's conducting is both intense and masterful and the Bavarian State Opera Orchestra responds with playing that is often electrifying. 
This page is also available in / Cette page est également disponible en:

Francais (French)