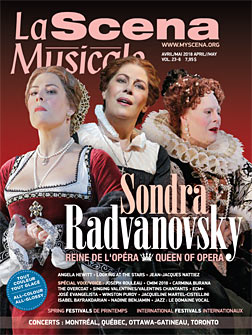 This page is also available in / Cette page est également disponible en:

Francais (French)
ENCOUNTERS Staniland: Phi, Caelestis. Lizée: Keep Driving, I'm Dreaming. Lau: Dark Angels. National Arts Centre Orchestra/Alexander Shelley. Analekta AN2 8871-2 (2 CDs) Total Time: 87:02
Several years ago the National Arts Centre developed a project called Encounters to bring together three composers and three choreographers as part of the commemoration of Canada's 150th birthday. The three collaborations in the form of an evening of one-act ballets were given their premieres in April, 2017. Ideally, these new dance pieces would have been filmed and released on a DVD so that one could appreciate how the dancing and music fit together. One assumes that raising the extra money required was the problem here. But with this Analekta CD we have at least three major new musical compositions to consider.
The ballet score that really got my attention was Kevin Lau's Dark Angels. Of the three works on this album it is the most traditional in the sense that it is tonal, it has development of musical ideas and it has a beginning, a middle and an end. Lau has been a Toronto Symphony Affiliate Composer (2012-2014) but he has also produced no fewer than 15 film scores. Dark Angels could also be mistaken for a film score, but if so, I would love to see the film. It has beautiful and evocative melodic ideas and builds to several exciting climaxes. It also reflects a masterful command of orchestration. Finally, it is probably the only piece on this album that might have a successful afterlife as a concert piece.
In all three works the National Arts Centre Orchestra plays exceptionally well and even better than that in Dark Angels.
This page is also available in / Cette page est également disponible en:

Francais (French)