Advertisement / Publicité
This page is also available in / Cette page est également disponible en:

Francais (French)
Tosca and La Cenerentola
The Opéra de Montréal launches its season with the tragic story of the diva Floria Tosca, by Puccini, from September 16 to 23. Melody Moore, the American soprano who played Madame Butterfly in 2015, portrays the soprano who lets herself become manipulated by Baron Scarpia, the chief of police, played by Canadian baritone Gregory Dahl. Chilean tenor Giancarlo Monsalve will debut in his interpretation of the role of the painter Cavaradossi, Tosca's lover. Canadian baritone Patrick Malette, former member of the Atelier lyrique de l'Opéra de Montréal, will take on the role of the fugitive, Angelotti. This production will be a chance to discover the reputed Italian maestro, Giuseppe Grazioli, and director Jose Maria Condemi, to boot.
From November 11 to 14, the OdM will present La Cenerentola for its second production of the season. In this Rossini opera based on Jacopo Fserretti's libretto, Angelina, or Cinderella, is the servant of her half-sisters and step-father. At a ball, Prince Ramiro, disguised as a butler, sees through the two-faced sisters and finds himself charmed by the kindness of the heroine. The OdM production showcases Canadian mezzo-soprano, Julie Boulianne, in the principal role of Angelina. Several artists will debut at Salle Wilfried-Pelletier: Italian baritone Pietro Spagnoli will play Don Magnifico, American tenor Juan José de León will interpret the role of Prince Ramiro and his valet, Dandini, will be played by Italian baritone Vito Priante. The famous tale is directed by Joan Font, with maestro José Miguel Pérez-Sierra conducting the Orchestre Métropolitain. Salle Wilfrid-Pelletier. www.operademontreal.com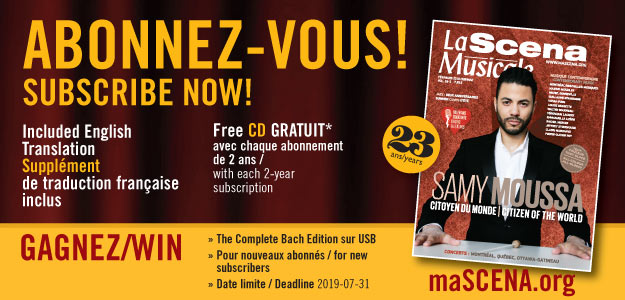 Mélodies romantiques
British-German soprano Sarah Wegener is the visiting artist at the next concert of the OSM's chamber music series, held on September 22. For the occasion, Olivier Thouin (violin), Jean-Sébastien Roy (violin), Natalie Racine (alto), Sylvain Murray (cello), and the musicians of the OSM come together to interpret a program focused on the lied: Melisande's Song by Fauré, the Fünf Ophelia-Lieder by Brahms, Nacht, an excerpt from the Sieben frühe Lieder by Berg, and Sechs Gesänge, Op. 107 by Schumann (arr. A. Reimann). In addition, the string quartet will perform Wolf's Italian Serenade in G Major, Webern's Langsamer Satz, and Mendelssohn's String Quartet No. 1 in E-flat Major, Op. 12, at Bourgie Hall. www.osm.ca
Lemieux and Spinosi
Contralto Marie-Nicole Lemieux and conductor Jean-Christophe Spinosi will open the next season of the Violons du Roy. These long-time friends will be reacquainted through the works of Mozart and Rossini on September 28 at 8 PM at Palais Montcalm in Quebec City, and September 30 at 7:30 PM at the Maison symphonique in Montreal. www.violonsduroy.com
Tribute to Reynaldo Hahn
The Société d'art vocal de Montréal, devoted to promotion of burgeoning vocalists as well as established artists on the operatic stage, will present a tribute to Reynaldo Hahn in collaboration with the Atelier Lyrique de Mon
tréal on October 15. With staging and narration by Isabeau Proulx Lemire, three soloists from the Atelier Lyrique, Lauren Margison, Katie Miller, and Sebastian Haboczky, accompanied by pianist Marie-Ève Scarfone, will delve into the career of this French composer for 70th anniversary of his death. On December 10, the SAVM will welcome tenor Frédéric Antoun for a concert of arias and song, with piano accompaniment by Martin Dubé. Conservatoire de musique de Montréal Amphitheatre. www.artvocal.ca
Rigoletto and Carmen
The Opéra de Québec will take its audience to the palace of Mantua from October 21 to 28, where the court jester Rigoletto entertains the fickle Duke of Mantua. A Verdian masterpiece, Rigoletto boasts some of opera's most best-known arias. Canadian tenor Steeve Michaud will perform the famous La donna è mobile. Canadian baritone Gregory Dahl will play the jester who tries to protect his daughter from the ravaging charms of the corrupt Duke at all costs. Despite his efforts, his daughter Gilda, incarnated by soprano Raphaëlle Paquette, falls so in love that she is willing to sacrifice herself to save the Duke. Playing the role of Maddalena, Geneviève Lévesque completes the famous quartet for Bella figlia dell'amore in Act II. This production's musical direction is by Derek Bate, directed by François Racine.
Next May, the Opéra de Québec will also present a new original production of the popular French opera Carmen, showcasing mezzo-soprano Ketevan Kemoklidze and tenor Thiago Arancam, two winners of the prestigious Plàcido Domingo's Operalia competition, which took place in Quebec City in 2008. Baritone Armando Piña and soprano Myriam Leblanc round out its cast. This opera is directed by Jacqueline Langais, with musical direction by Giuseppe Grazioli. Grand Théâtre de Québec www.operadequebec.com
The Gypsy Baron
L'Opéra bouffe du Québec will present The Gypsy Baron, Johann Strauss II's Viennese operetta set in Hungary, from November 10 to 19. Directed by Yvon Bilodeau, its cast features Ruben Shaym Brutus (the Baron), Audrey Larose-Zicat (Saffi), Frédérique Drolet (Arsena), Éric Thériault (Zsupán), Rachèle Tremblay (Czipra), Arminè Kassabian (Mirabella), Guillaume Beaudoin (Ottokar), Dominic Lorange (Homonay), and Richard Fréchette (Carnero). This production's musical direction is by Simon Fournier. Maison des Arts de Laval. www.operabouffe.org
L'accent français
The Orchestre Métropolitain has devoted a full program to French musical poetry, which they will later take on tour in Europe. Contralto Marie-Nicole Lemieux will sing Les Nuits d'été by Berlioz, pianist Alexandre Tharaud will be the soloist of Ravel's Concerto for the left hand, and cellist Jean-Guihen Queyras will perform the Cello Concerto No. 1 by Saint-Saëns. The OM, conducted by Yannick Nézet-Séguin, concludes the program with Debussy's La Mer. At Maison symphonique, November 22. www.orchestremetropolitain.com
Translated by Isabel Garriga
This page is also available in / Cette page est également disponible en:

Francais (French)