Advertisement / Publicité
This page is also available in / Cette page est également disponible en:

Francais (French)
This year, the Montreal landscape will be particularly animated by the creations of operas, thanks to the dedication of the ECM + and Chants Libres. The Opéra de Montréal's programming will take part in this celebration with two Montreal creations, which will give the young artists of its Atelier Lyrique the chance to take part. In the rest of Canada, Edmonton will receive Lilies, historical events in Toronto will inspire the creation of a new work and Vancouver will give a new life to a classic.
Bandits in the Valley
Tapestry Opera, one of Canada's leading contemporary opera companies, will present a world premiere of Bandits in the Valley, a collaboration between composer Benton Roark, librettist Julie Tepperman and artistic director Michael Mori, winner of the Dora 2017 Award for Outstanding Leadership at opera or musical theater. Set in 1860 Toronto, the work recounts the adventures of a group of bandits, assisted by members of a Gilbert and Sullivan troupe, who plot to steal a mysterious object belonging to a family of wealthy citizens living in Don Valley. Six singers – tenor Jacques Arsenault, baritone Alex Dobson, tenor Keith Klassen, soprano Sara Schabas, soprano Jennifer Taverner and mezzo-soprano Stephanie Tritchew – will sing and play various instruments in the historic site of Todmorden Mills. Every Saturday and Sunday in September (except September 17), Todmorden Mills. www.tapestryopera.com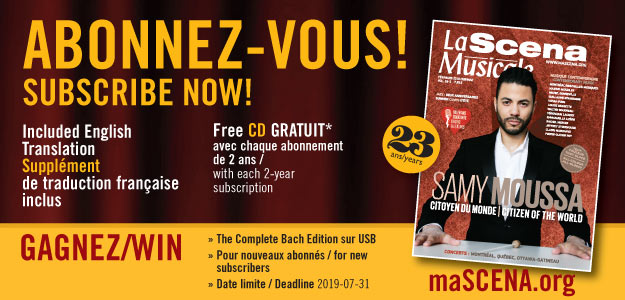 Love Songs Opéra
Mezzo-soprano Marie-Annick Béliveau, artist-in-residence at Chants Libres, will perform Ana Sokolovi's favorite poems on the occasion of an adaptation of her work Love Songs Opéra as part of a co-broadcast with Le Vivier to begin Chants Libres's season. The Canadian composer of Serbian origin created Love Songs in 2008, as part of a commission from Queen of Puddings Music Theater. Deploying in 16 movements and sung in 100 languages, the work seeks to affirm the universality of love. This time, the production is a new version for voice and saxophone that will unite Jean Derome with the voice of Marie-Annick Béliveau in a staging by Frédérick Gravel. September 27 and 28, 8 pm and September 30, 4 pm, Le Gesù. www.chantslibres.org
Street Opera: Humanitudes
In collaboration with the International Literary Festival, the artists of the Atelier Lyrique de Montréal will present a concert version with piano of "Street Opera" Humanitudes, on September 29th. Born of the partnership between composer Éric Champagne, librettist José Acquelin and the organization Le sac a dos, this opera created last May is the meeting of the universe of the Montreal Opera and the homeless in Montreal. The work will be presented at the Chapelle historique du Bon-Pasteur. www.operademontreal.com
Lilies
A play and film by Quebec playwright Michel Marc Bouchard and adapted by the Opéra de Montréal in a setting by Australian composer Kevin March in May 2016, Les Feluettes (Lilies) will be in Edmonton next October. Described as "the Roméo et Juliette québécois" by Serge Denoncourt, the operatic adaptation had been a resounding success in Québec when it was created, and it attracted the audience of the Pacific Opera Victoria last April. Edmonton Opera, in turn, will celebrate Canada's 150th anniversary. This production will be conducted by Giuseppe Pietraroia and directed by Jacques Lemay. www.edmontonopera.com
The Kingdom of Michabous
The Atelier Lyrique of the OdM, in collaboration with the Highlands Opera Studio, will present a new opera by Cree composer Andrew Balfour, on December 16 at the studio theater Alfred Laliberté of UQAM. Combining opera, First Nations singers and instrumentalists, the work is based on the legend of Michabous, a deceiving spirit that transforms into several creatures and appears to the Ojibwa people as a giant rabbit. www.operademontreal.com
JFK
JFK was premiered at Fort Worth Opera, Texas, in April 2016 and will be presented at Wilfrid-Pelletier from January 27 to February 3, as a co-production of Fort Worth Opera, American Lyric Theater and Montreal Opera. With music by David T. Little based on a novel by Royce Vavrek, the work in two acts tells the last night US President John F. Kennedy spent with his wife in his room at Hotel Texas in Fort Worth before his assassination in Dallas on November 22, 1963. Henry Stewart of Opera News describes the work as "not a biography, but rather a love story, very sad, about aging, but not getting old enough old." www.operademontreal.com
Svadba
Since its creation by Queen of Puddings Music Theater in Toronto in 2011, Svadba has been on tour in Europe and Canada, and it is now Montréal's turn to discover this cappella chamber opera by Ana Sokolović, from 24 as at 31 March. Svadba, "marriage" in Serbian, tells the day before Milica's wedding as she prepares with five of her friends according to the rituals of her country. The Montreal premiere, for the occasion, will bring together 6 Canadian women – including 4 members of the Atelier lyrique and a former member. Sung in Serbo-Croatian, the work will be presented in the main room of the Theater ESPACE GO, directed by Martine Beaulne. Dáirine Ní Mheadhra and John Hess will collaborate for the direction of the music. www.espacego.com
The Overcoat – a Musical Tailoring
A co-production between the COC and Tapestry Opera, The Overcoat – a musical tailoring, will be held at Vancouver Opera, from April 28 to May 12. It is an operatic reinterpretation of the famous play The Overcoat by Morris Panych and Wendy Gorling. With music by Canadian composer James Rolfe and a libretto by Morris Panych, the work tells the story of an office worker whose life is capsized by the theft of his coat. The production will bring together the original creative team, and baritones Geoffrey Sirett and Peter McGillivray will assume the main roles. The work will be presented at the Bluma Appel Theater from 27 March to 14 April. www.coc.ca
Hockey Noir, l'Opéra
ECM+ will bring together music lovers and hockey fans, on May 3rd and 4th, to create the Hockey Noir opera. On a score by André Ristic and a libretto by Cecil Castellucci, the opera is inspired by the "black" films of the 1950s, while incredible scenes will host celebrities, hockey players and mysteries that will surround the holding of playoff equally amazing. Pascal Beaudin (soprano), Marie-Annick Béliveau (mezzo), Michiel Schrey (tenor) and Pierre-Étienne Bergeron (baritone) will be the main performers and Véronique Lacroix will lead ECM+. After its creation in Montreal, the work will go on tour to Toronto, Los Angeles and Mons and Brussels, in Belgium. www.ecm.qc.ca
This page is also available in / Cette page est également disponible en:

Francais (French)